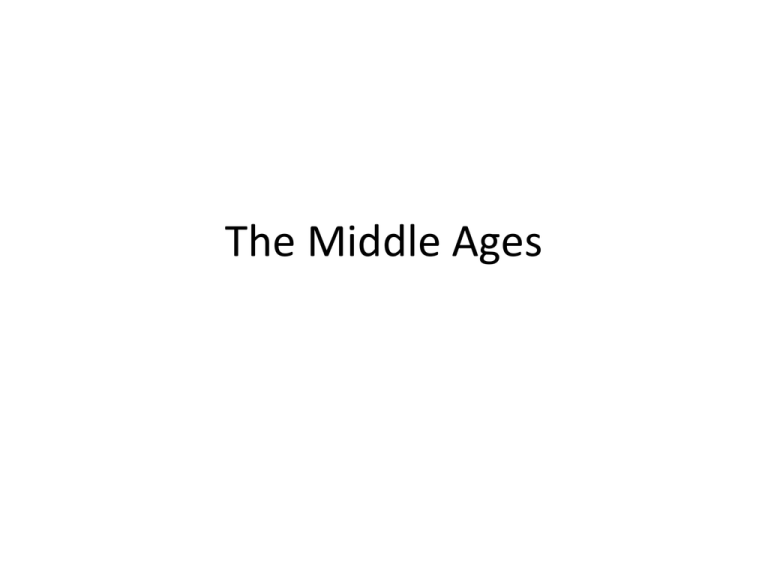 The Middle Ages
Agenda
1. Bell Ringer: Why would religion be a
dominant force after the fall of the Roman
Empire?
2. Brief Lecture: The Middle Ages
3. Video Clip: Clovis
4. Video Clip: Charlemagne
5. Feudal System Chart and Analysis.
6. Discussion: The Church and Feudalism
7. Test outline and Review Guide.
Early Middle Ages
• These are the Dark Ages
• Little literature, or
technological
advancement is
occurring.
• Everyone is invading and
pillaging.
• Germanic Tribes carved
up the Roman Empire,
and 489, Clovis converts
people to Christianity.
Feudalism
• Violence from tribes led
to local lords controlling
land and offering
protection.
• Lords -> Vassals
• Granted a fief – real
estate
• The lord protects vassal,
while the vassal pledges
loyalty to the lord.
High Middle Ages: England
• William of Normandy enters in
1066, establishes a strong,
central monarchy.
• Under Henry II, Common law
replaces individual codes.
– Wanted to punish Clergy.
– Thomas Becket murdered in
the process.
• Magna Carta signed in 1215
under King John (overuse of
powers)
• Parliament developed under
Edward I, begins an era of
collaboration and conflict.
High Middle Ages: France
• Hugh Capet takes over
after the Caroligian rulers.
– Not very powerful.
– Takes over 100 years to
develop a central
monarchy.
• A Royal bureaucracy
develops in the 13th
Century.
• First meeting of the
Estates-General in 1302,
the last would be 1789…
Religion in the High Middle Ages
• Catholic Church reaches
the height of their power
in the High Middle Ages.
– They could influence royal
families with papal
sacraments.
• Sacraments also made
the Church an integral
part of people's lives.
• Architecture expands on
the idea of the light of
God. Gothic Cathedrals.