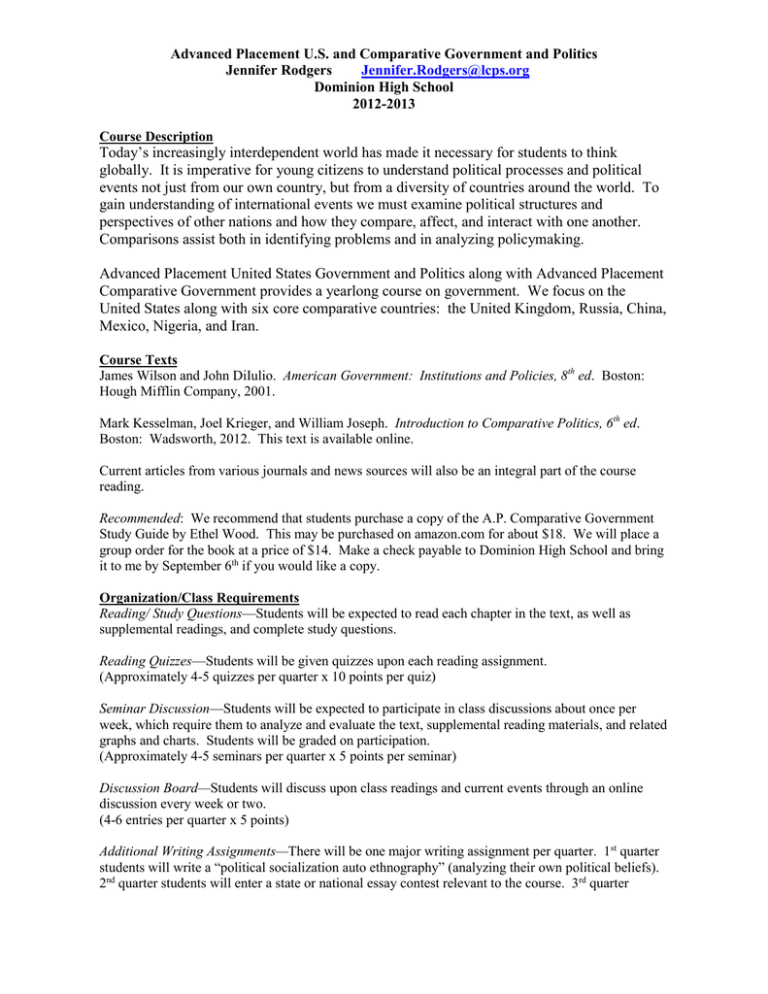 Advanced Placement U.S. and Comparative Government and Politics
Jennifer Rodgers
Jennifer.Rodgers@lcps.org
Dominion High School
2012-2013
Course Description
Today's increasingly interdependent world has made it necessary for students to think
globally. It is imperative for young citizens to understand political processes and political
events not just from our own country, but from a diversity of countries around the world. To
gain understanding of international events we must examine political structures and
perspectives of other nations and how they compare, affect, and interact with one another.
Comparisons assist both in identifying problems and in analyzing policymaking.
Advanced Placement United States Government and Politics along with Advanced Placement
Comparative Government provides a yearlong course on government. We focus on the
United States along with six core comparative countries: the United Kingdom, Russia, China,
Mexico, Nigeria, and Iran.
Course Texts
James Wilson and John DiIulio. American Government: Institutions and Policies, 8th ed. Boston:
Hough Mifflin Company, 2001.
Mark Kesselman, Joel Krieger, and William Joseph. Introduction to Comparative Politics, 6th ed.
Boston: Wadsworth, 2012. This text is available online.
Current articles from various journals and news sources will also be an integral part of the course
reading.
Recommended: We recommend that students purchase a copy of the A.P. Comparative Government
Study Guide by Ethel Wood. This may be purchased on amazon.com for about $18. We will place a
group order for the book at a price of $14. Make a check payable to Dominion High School and bring
it to me by September 6th if you would like a copy.
Organization/Class Requirements
Reading/ Study Questions—Students will be expected to read each chapter in the text, as well as
supplemental readings, and complete study questions.
Reading Quizzes—Students will be given quizzes upon each reading assignment.
(Approximately 4-5 quizzes per quarter x 10 points per quiz)
Seminar Discussion—Students will be expected to participate in class discussions about once per
week, which require them to analyze and evaluate the text, supplemental reading materials, and related
graphs and charts. Students will be graded on participation.
(Approximately 4-5 seminars per quarter x 5 points per seminar)
Discussion Board—Students will discuss upon class readings and current events through an online
discussion every week or two.
(4-6 entries per quarter x 5 points)
Additional Writing Assignments—There will be one major writing assignment per quarter. 1st quarter
students will write a "political socialization auto ethnography" (analyzing their own political beliefs).
2nd quarter students will enter a state or national essay contest relevant to the course. 3rd quarter
students will prepare an annotated bibliography and 4th quarter students will complete a public policy
research paper. (50-100 points per writing assignment)
Projects/Presentations/Internet Search Activities—Students will complete additional assignments that
utilize internet resources to supplement the textbook. (10- 20 points, depending on the assignment)
Tests—Tests consist of a vocabulary short answer section, as well as multiple choice questions and
free response questions similar to those students can anticipate seeing on the A.P. exam. (Each test is
worth 100-150 points)
Journal—Bellringers, closure activities, practice Free Response Questions, and other in-class
formative assessments will be kept in a class journal. Journals will be checked at the end of the
quarter. Journals will be graded on completion of each entry and accuracy of two entries (one selected
by the teacher, one selected by the student). 50 points
**The summer assignment will count for 70 points in the first quarter.
Course Sequence
Introduction
Week
Lesson
Reading/Data Analysis
1-2
*Kesselman Chapter 1
Introduction
Projects and Special
Assignments
* Data analysis
Political Culture
3-4
4-5
American
Political
Culture,
Public
Opinion,
Political
Participation
Comparative
Political
Culture
*Wilson Chapter 4, 5, 6
*Political Ideology
Surveys
*Political autoethnography
*relevant pages from Kesselman
*Country comparisons
* Propaganda
Assignment
Political Culture Test
Constitutional Underpinnings
5-6
The
*Wilson Ch. 2
Constitution
*U.S. Constitution
*Federalist No. 10 and No. 51
6
Comparative
Constitutions
*primary sources (country
Constitutions)
*re-write the
Constitution in your
own words
*Comparative
Constitutions Activity
7
Federalism
*Wilson Ch. 3
8
Comparative:
Federal vs.
Unitary
Governments
* relevant pages from Kesselman
*Research and
presentation of
laws/cases related to
federalism
* Country Comparisons
Federalism Test
Linkage Institutions
9-10
U.S. Political
Parties and
Elections
10-11
Comparative
Political
Parties and
Elections
*Wilson Chapters 7 and 8
*Presidential elections
project
* relevant pages from Kesselman
*Essay contests
*Country Comparisons
12
U.S. Interest
Groups
*Wilson Chapter 9
*websites of various interest
groups
13
Comparative
Interest
Groups
* relevant pages from Kesselman
Political Parties and
Elections Test
*Interest Groups
research assignment
* Country Comparisons
Interest Groups Test
Institutions
15-16
Legislative
Branch
*Wilson Chapter 11
*A More Perfect
Constitution
17-18
*relevant pages from Kesselman
*Country comparisons
* Question Hour
*Women in Politics
Comparative
Legislative
Branches
19-20
Institutions, continued
Legislative Branch
Test
th
Midterm Review: January 7 - 11th
Exams: January 14th- 17th
21-22
22-23
Executive
Branch:
Presidency,
Bureaucracy,
and Foreign
Policy
Comparative
Executive
Branches
*Wilson Ch. 12
*Wilson Ch. 13
*Wilson Ch. 20
* relevant pages from Kesselman
*State of the Union
*More Perfect
Constitution
*Begin working on
Public Policy Research
Paper
*Country Comparisons
Executive Branch Test
23-24
Judiciary
*Wilson Ch. 14
*More Perfect
Constitution
25
Comparative
Judicial
Branches
* relevant pages from Kesselman
*Country Comparisons
Judiciary Test
Civil Rights and Civil Liberties
25-26
Civil Liberties *Wilson Chapters 18 and 19
and Civil
*Supreme Court Opinions (from
Rights
oyez.org)
*research and
presentations of
landmark court cases
27
*Country comparisons
28-29
30-31
Comparative
Civil Liberties
and Civil
Rights
U.S. Public
Policy
Comparative
Public Policy
32-33
Globalization
34-35
Exam Review
5/14
A.P. Exam
* relevant pages from Kesselman
Civil Liberties and
Civil Rights Test
*relevant chapters from Wilson
*finish public policy
research paper
*relevant chapters from Kesselman *Country presentations
*relevant pages from Kesselman
*Finish country
presentations
The Exam: Tuesday, May 14th
The AP U.S. Government and Politics Exam is 2 hours and 25 minutes long. It includes a 45
minute multiple choice section consisting of 60 questions and a 100 minute free response
section consisting of 4 questions. This exam is administered in the morning.
The AP Comparative Politics Exam is 2 hours and 25 minutes long. It includes a 45 minute
multiple choice section consisting of 55 questions and a 100 minute free response
section consisting of 5 short answer concept questions, 1 conceptual analysis question,
and 2 country context questions.