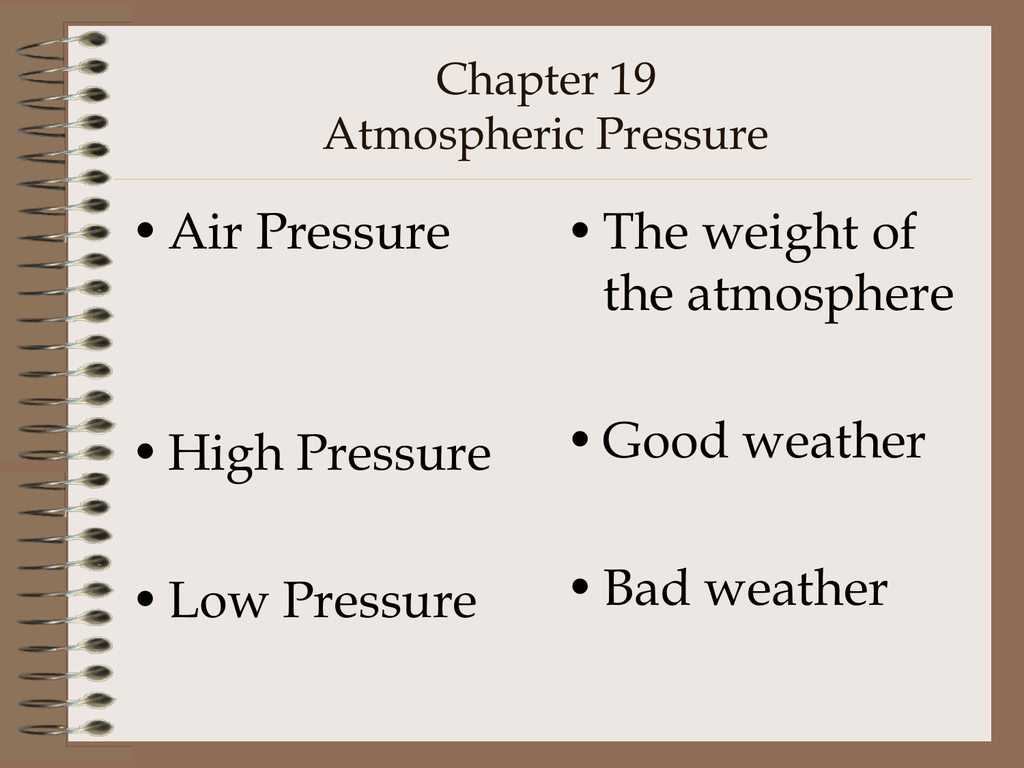 Chapter 19
Atmospheric Pressure
• Air Pressure
• The weight of
the atmosphere
• High Pressure
• Good weather
• Low Pressure
• Bad weather
• Barometer
• Instrument used
to measure
atmospheric
pressure
• Either in mmHg
or in millibars
• Dry Air……..
• Heavy
• Humid
Air……….
• Lighter because
the water
molecules push
the nitrogen and
oxygen apart
• Isobar
• Lines that
connect points of
equal PRESSURE
• Low pressure
area
• High pressure
area
• Air moves
counterclockwise
and in toward
the low
• Air moves
clockwise and
out away from
the High
pressure area
• WIND!!!!!
• The movement of
air from an area
of high to low
pressure
• Coriolis Effect
• Because the
earth rotates to
the East, winds
on earth get
deflected or
turned to the
west
Jet Stream
Land & Sea Breezes
• Warm breeze at • …the unequal
heating of land
night and a
and water
cool breeze
during the day
due to …..
• Anemometer
• Measures wind speed
• Wind Vane
• Measures the
DIRECTION of the
wind
Chapter 21
• Climate is the long-term weather of an area
• Weather changes day to day; climate
changes once every couple of centuries.
• Virginia's Climate is MILD.