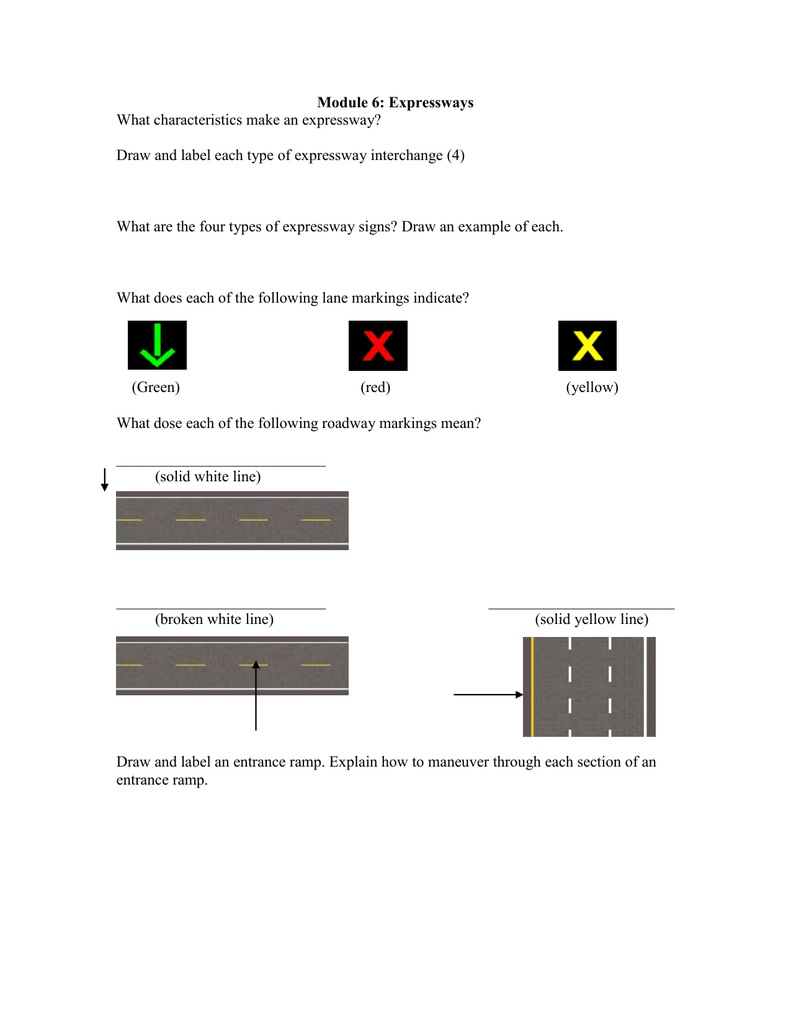 Module 6: Expressways
What characteristics make an expressway?
Draw and label each type of expressway interchange (4)
What are the four types of expressway signs? Draw an example of each.
What does each of the following lane markings indicate?
(Green)
(red)
(yellow)
What dose each of the following roadway markings mean?
___________________________
(solid white line)
___________________________
(broken white line)
________________________
(solid yellow line)
Draw and label an entrance ramp. Explain how to maneuver through each section of an
entrance ramp.
When should you drive in…
The left lane
Center lane
Right lane
What acronym should you remember to help pass a vehicle safely? What does each letter
stand for?
When being passed what could you do to increase your safety?
Draw and label an exit ramp. Explain how to maneuver through each section of an exit
ramp.
What is a weave lane? How may it make entering or exiting an expressway more
difficult?
Define highway hypnosis
List situations when you will need increased following distance on an expressway.
List 5 don'ts on an expressway
List 5 possible expressway dangers
Define rubber necker. List 3 situations when you may see driver's rubber necking.
What effects can rubber necking have on the expressway?
What are some tips that you should follow when driving through construction zones to
protect yourself and workers?
Explain how to properly drive through a tollbooth?