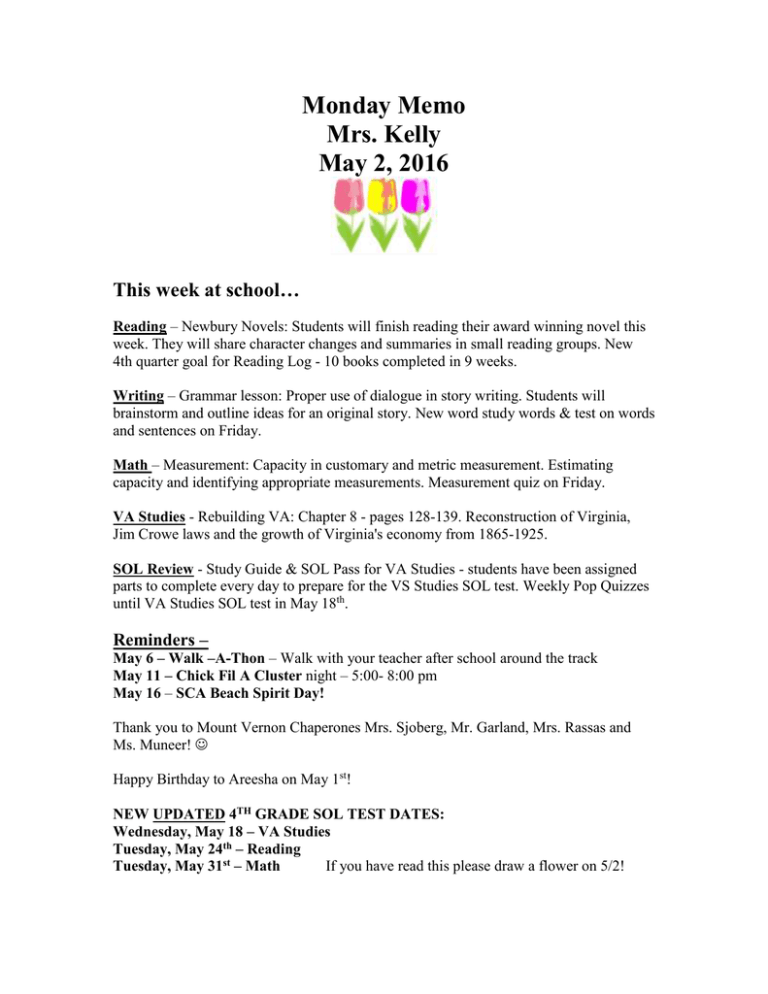 Monday Memo
Mrs. Kelly
May 2, 2016
This week at school…
Reading – Newbury Novels: Students will finish reading their award winning novel this
week. They will share character changes and summaries in small reading groups. New
4th quarter goal for Reading Log - 10 books completed in 9 weeks.
Writing – Grammar lesson: Proper use of dialogue in story writing. Students will
brainstorm and outline ideas for an original story. New word study words & test on words
and sentences on Friday.
Math – Measurement: Capacity in customary and metric measurement. Estimating
capacity and identifying appropriate measurements. Measurement quiz on Friday.
VA Studies - Rebuilding VA: Chapter 8 - pages 128-139. Reconstruction of Virginia,
Jim Crowe laws and the growth of Virginia's economy from 1865-1925.
SOL Review - Study Guide & SOL Pass for VA Studies - students have been assigned
parts to complete every day to prepare for the VS Studies SOL test. Weekly Pop Quizzes
until VA Studies SOL test in May 18th.
Reminders –
May 6 – Walk –A-Thon – Walk with your teacher after school around the track
May 11 – Chick Fil A Cluster night – 5:00- 8:00 pm
May 16 – SCA Beach Spirit Day!
Thank you to Mount Vernon Chaperones Mrs. Sjoberg, Mr. Garland, Mrs. Rassas and
Ms. Muneer! 
Happy Birthday to Areesha on May 1st!
NEW UPDATED 4TH GRADE SOL TEST DATES:
Wednesday, May 18 – VA Studies
Tuesday, May 24th – Reading
Tuesday, May 31st – Math
If you have read this please draw a flower on 5/2!