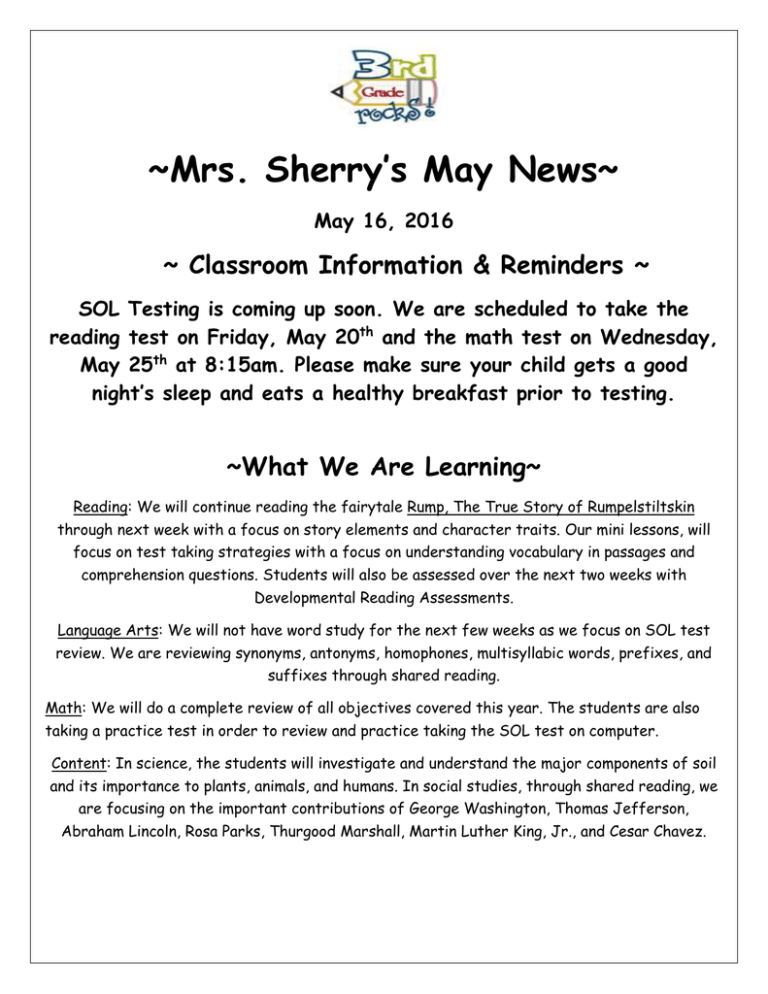 ~Mrs. Sherry's May News~
May 16, 2016
~ Classroom Information & Reminders ~
SOL Testing is coming up soon. We are scheduled to take the
reading test on Friday, May 20th and the math test on Wednesday,
May 25th at 8:15am. Please make sure your child gets a good
night's sleep and eats a healthy breakfast prior to testing.
~What We Are Learning~
Reading: We will continue reading the fairytale Rump, The True Story of Rumpelstiltskin
through next week with a focus on story elements and character traits. Our mini lessons, will
focus on test taking strategies with a focus on understanding vocabulary in passages and
comprehension questions. Students will also be assessed over the next two weeks with
Developmental Reading Assessments.
Language Arts: We will not have word study for the next few weeks as we focus on SOL test
review. We are reviewing synonyms, antonyms, homophones, multisyllabic words, prefixes, and
suffixes through shared reading.
Math: We will do a complete review of all objectives covered this year. The students are also
taking a practice test in order to review and practice taking the SOL test on computer.
Content: In science, the students will investigate and understand the major components of soil
and its importance to plants, animals, and humans. In social studies, through shared reading, we
are focusing on the important contributions of George Washington, Thomas Jefferson,
Abraham Lincoln, Rosa Parks, Thurgood Marshall, Martin Luther King, Jr., and Cesar Chavez.