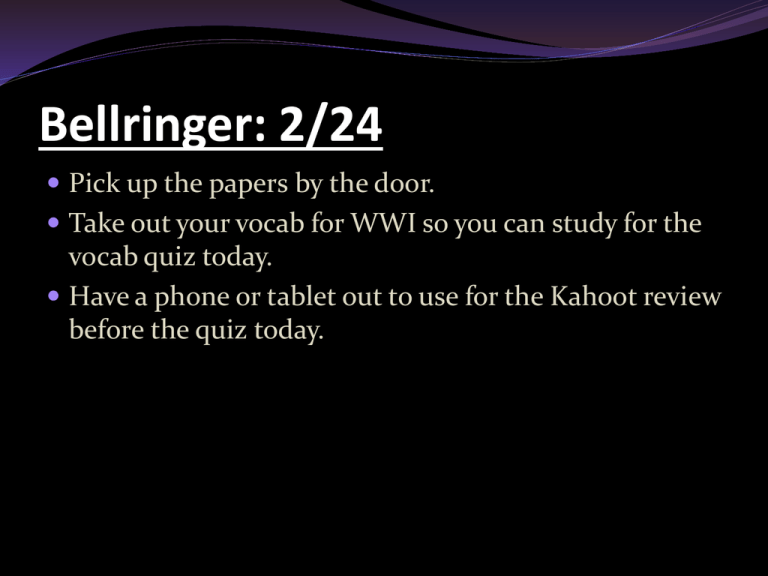 Bellringer: 2/24
 Pick up the papers by the door.
 Take out your vocab for WWI so you can study for the
vocab quiz today.
 Have a phone or tablet out to use for the Kahoot review
before the quiz today.
After the quiz:
 Put your quiz in the class drawer.
 Work on the final touches of your WWI weapons
brochure and turn that into the class drawer.
 Write down your HW:
 Make sure your notebook is in order for your notebook
quiz on FRIDAY 2/26. Covers pages 76-100!
 Make the following additions to your ToC:
 107: Notes: WWI Ends, Peace Begins
 108: Notes: Russian Rev.
 109: Vocab Quiz: WWI
Agenda:
 1. Vocab Review
 2. Vocab Quiz – WWI
 3. Notes: WWI Ends, Peace Begins/Treaty of Versailles
 4. Simulation: Treaty of Versailles
 5. Notebook Quiz Organization (time-permitting)
A new kind of war: Life
on the Front Lines of WWI
The Reality of Soldier's Lives
War takes a toll on soldiers
 "war of attrition"
 Once, young and eager
soldiers proud to serve
their country, now had
little faith in their cause.
 Some soldiers were
mentally or physically
wounded while many
others lost their lives.
Effects of the War of the Home Front
Wartime Propaganda
Women and the age of "Total
War"
 Women poured into the
workforce replacing
men who went off to
war
 Jobs:
 Ran farms
 Factory workers
 Office assistants
 Nurses
 Middle and upper class women: paramilitary
organizations
 40,000 nurses
 Cooks
 Drivers
 Mechanics
 13,000 Women's Land Army
Women's Wages and Changing Roles
 Paid less than men
 After the war, women were "demobilized" to make
room for men in their jobs.
 Women discovered benefit of financial autonomy
 Some refused to return to domestic service
 Women won the right to vote throughout Europe
Wartime economics
 WWI left the world financially
stressed
 To finance war costs
governments:
 Raised taxes
 Took out loans
 Rationed food, clothing,
gasoline
 Set prices
 Forbid strikes
 Forced civilian labor
 Enforced "drafts"
Mobilizing for Total War
 Citizens back home made huge sacrifices ("Victory
Gardens")
 Governments controlled industries, rationing
Creating a "New" Europe
Woodrow Wilson and The
Fourteen Points
 By joining the war, America was helping
to safeguard democracy  established a
high, idealistic purpose for WWI.
 14 Points created by Woodrow Wilson
to create a more just world
 spoke to congress outlining a set of ideas
for a more just world once the war
ended.
 6 points contained plans of a general
nature.
 8 points dealing with specific countries
and regions: Russia, Belgium, AlsaceLorraine, and the Balkans.
6 General Points
1.
No secret treaties.
2. Freedom of the seas for all nations.
3. Removal of all economic barriers, such as tariffs.
4.
Reduction of national armament.
5. Adjustment of colonial claims so the were fair to both the
imperialist powers and colonial peoples.
6. Establishment of a "general association of nations" to
guarantee political independence and protection to small
and large states.
League of Nations
 Wilson's 14th Point
 #14: Create an International Cooperative
Organization called the League of
Nations
 PROBLEM: U.S.A. DID NOT JOIN
 Did they League of Nations work?
 NO!! – COULD NOT ENFORCE
DECISIONS
Paris Peace Conference
 Dominated by the leaders
of the four major Allied
Powers:
 Woodrow Wilson (U.S.)
 David Lloyd George
(Britain)
 George Clemenceau
(France)
 Vittorio Orlando (Italy)
"The Big
Four"
Problems Facing the Peacemakers
 Wilson wanted a treaty
that was fair to all.
 European Allied
governments insisted on
dictating the peace
settlement.
 Russia was not invited.
 Other Central Powers
were given a small role in
peace writing terms.
Reparations & Peacekeeping
 Reparations: Payment
for war damages.
 Who should pay?
 How much?
 Many Allied leaders
wanted Germany to bear
the cost of the war
Conflicting Viewpoints of Peace
 Wilson believed the peace
settlement should be fair and
not so harsh that it would
kindle future wars.
 Many allies felt hatred
towards Germany. They felt
that Germany started the war
and they should pay for it.
 Some countries wanted
concrete guarantees that
Germany would never
Treaty of Versailles
 Dealt harshly with Germany.
 Made Germany admit that it was guilty of
starting the war and must alone pay
reparations.
 Took land from Germany
 Carved large chunks of territory from Germany and
placed many restrictions on the German government.
Territorial Changes at Germany's
Expense
 Alsace-Lorraine returned to
France.
 Belgium gained some small
territories along its boarders.
 Germany agreed not to fortify
Rhineland, Allied troops
occupied.
 A "demilitarized zone" **
 Poland restored as an
independent nation.
Treaty of Versailles
 Provided for the formation of the League of Nations.
Germany Questions Treaty
 Germans strongly object to
paying reparation, denying
it alone started the war.
 Treaty did not state a
specific amount of
reparations to be paid.
 June 1919, German's sign
treaty.
Germany's Restrictions
 Not allowed to manufacture heavy artillery, tanks, or
airplanes.
 Navy could have FEW warships, but NO submarines.
 Rules/Restrictions meant to ensure Germany was
unable to start a war.
 Allies lacked ability to enforce imposed restrictions.
Treaty of Brest-Litovsk, 1918
Republics Replace Monarchies
 Austro-Hungarian Empire:
 Poland
 Austria
 Hungary
 Czechoslovakia
 Russia: END OF IMPERIAL RULE
 Finland
 Estonia
 Latvia
 Lithuania
 Serbia  Yugoslavia
Europe 1914
Europe 1918
MANDATES – territory under
"temporary" control of a European
nation
 Ottoman Empire is GONE
 France and Great Britain divide former Ottoman Empire
 Britain- Iraq, Transjordan, and Palestine
 France- Syria and Lebanon
 THIS DIVISION PLANTED SEEDS FOR FUTURE
CONFLICT IN THE MIDDLE EAST!!!