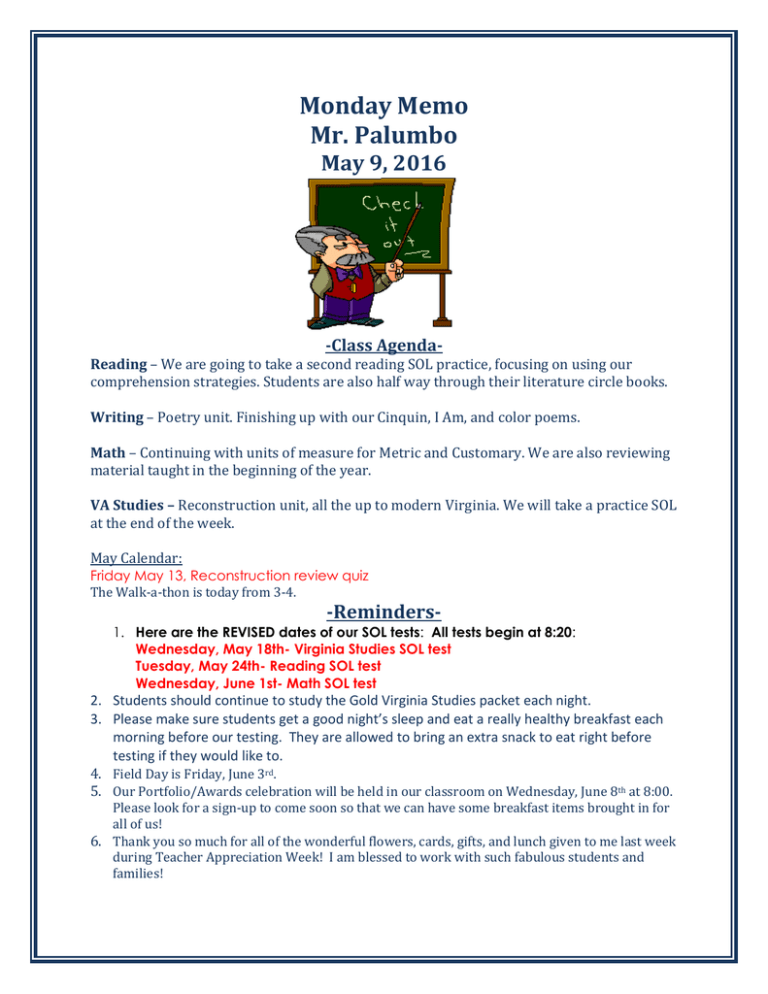 Monday Memo
Mr. Palumbo
May 9, 2016
-Class AgendaReading – We are going to take a second reading SOL practice, focusing on using our
comprehension strategies. Students are also half way through their literature circle books.
Writing – Poetry unit. Finishing up with our Cinquin, I Am, and color poems.
Math – Continuing with units of measure for Metric and Customary. We are also reviewing
material taught in the beginning of the year.
VA Studies – Reconstruction unit, all the up to modern Virginia. We will take a practice SOL
at the end of the week.
May Calendar:
Friday May 13, Reconstruction review quiz
The Walk-a-thon is today from 3-4.
-Reminders-
1. Here are the REVISED dates of our SOL tests: All tests begin at 8:20:
Wednesday, May 18th- Virginia Studies SOL test
Tuesday, May 24th- Reading SOL test
Wednesday, June 1st- Math SOL test
2. Students should continue to study the Gold Virginia Studies packet each night.
3. Please make sure students get a good night's sleep and eat a really healthy breakfast each
morning before our testing. They are allowed to bring an extra snack to eat right before
testing if they would like to.
4. Field Day is Friday, June 3rd.
5. Our Portfolio/Awards celebration will be held in our classroom on Wednesday, June 8th at 8:00.
Please look for a sign-up to come soon so that we can have some breakfast items brought in for
all of us!
6. Thank you so much for all of the wonderful flowers, cards, gifts, and lunch given to me last week
during Teacher Appreciation Week! I am blessed to work with such fabulous students and
families!