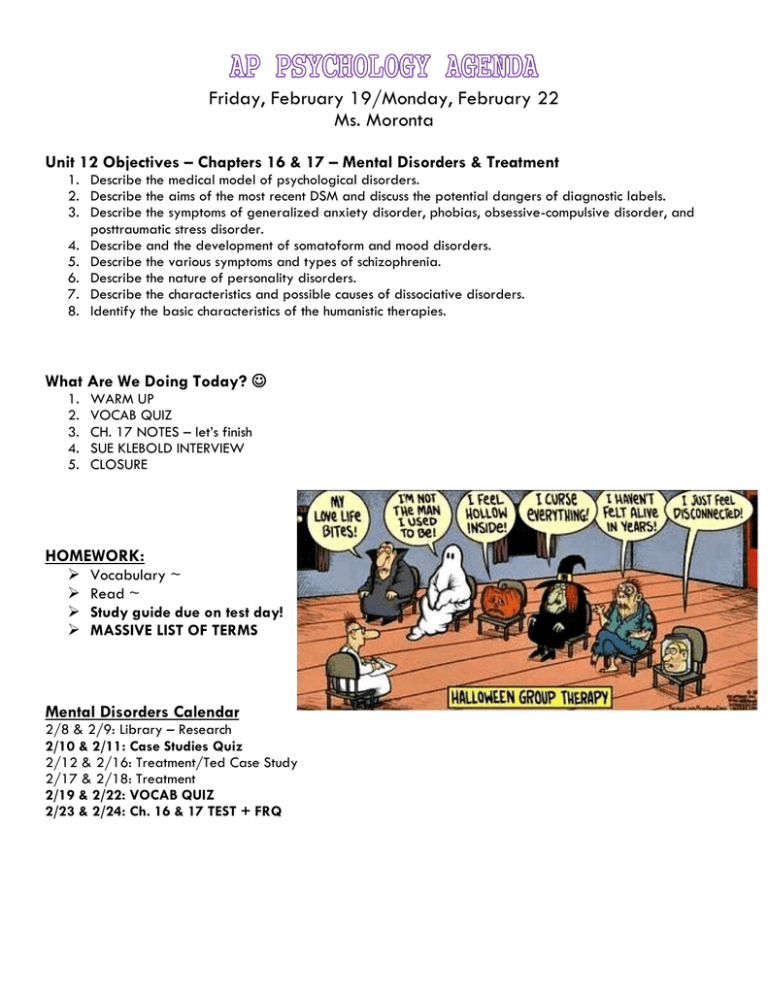 Friday, February 19/Monday, February 22
Ms. Moronta
Unit 12 Objectives – Chapters 16 & 17 – Mental Disorders & Treatment
1. Describe the medical model of psychological disorders.
2. Describe the aims of the most recent DSM and discuss the potential dangers of diagnostic labels.
3. Describe the symptoms of generalized anxiety disorder, phobias, obsessive-compulsive disorder, and
posttraumatic stress disorder.
4. Describe and the development of somatoform and mood disorders.
5. Describe the various symptoms and types of schizophrenia.
6. Describe the nature of personality disorders.
7. Describe the characteristics and possible causes of dissociative disorders.
8. Identify the basic characteristics of the humanistic therapies.
What Are We Doing Today? 
1.
2.
3.
4.
5.
WARM UP
VOCAB QUIZ
CH. 17 NOTES – let's finish
SUE KLEBOLD INTERVIEW
CLOSURE
HOMEWORK:




Vocabulary ~
Read ~
Study guide due on test day!
MASSIVE LIST OF TERMS
Mental Disorders Calendar
2/8 & 2/9: Library – Research
2/10 & 2/11: Case Studies Quiz
2/12 & 2/16: Treatment/Ted Case Study
2/17 & 2/18: Treatment
2/19 & 2/22: VOCAB QUIZ
2/23 & 2/24: Ch. 16 & 17 TEST + FRQ
WARM UP 

If you are a psychiatrist who as just prescribed the following drug, what does it do and why did you
prescribe the drug?
o Thorazine
o Xanax
o Zoloft
o Lithium

Why is group therapy effective?
CLOSURE

Explain how depression best illustrates regression towards the mean.