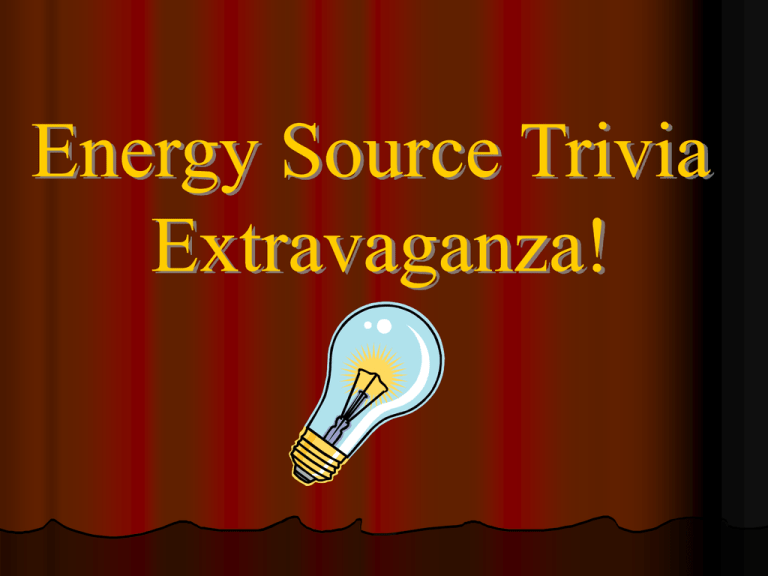 Question 1:
This Energy Source was
formed from the remains of
prehistoric plants and
animals
Fossil Fuels
Question 2:
Where does Geothermal
Energy come from?
Heat within
the earth
Question 3:
Which Energy Source is
caused by the uneven
heating of the earth?
Wind
Energy
Question 4:
What equipment do we use
to harness solar energy?
Photovoltaic (PV)
Panels
Question 5:
What energy source is
harnessed by burning
organic matter?
Biomass
Question 6:
What is the process of
splitting atoms that is used
in nuclear power plants
called?
Nuclear
Fission
Question 7:
What is currently the least
expensive energy source to
use?
Hydropower
Question 8:
What energy source can help
underdeveloped countries
with their energy needs?
Biomass
Question 9:
What energy source helps
businesses stay open during
power outages?
Solar
Question 10:
What are two types of
geothermal energy?
Flash Plants and Hybrid Plants
Question 11:
What are the 3 types of fossil
fuels?
Coal
Oil
Natural Gas
Question 12:
What energy source has
commercial and residential
turbines?
Wind
Question 13:
What is nuclear energy most
often used for?
To provide electricity for
homes
Question 14:
What energy sources use
steam to produce energy?
Fossil Fuels, Biomass,
Geothermal, and Nuclear
Question 15:
What energy source can
disturb fish habitats?
Hydropower
Question 16:
What wildlife may be
threatened by wind energy?
Birds
Question 17:
Solar Energy does not
produce this type of
pollution?
Air Pollution
Question 18:
Biomass produces this
greenhouse gas
Methane
Question 19:
2.7% of the energy in the
United States comes from
this energy source
Hydropower
Question 20:
What energy source provides
nearly all of France's
energy?
Nuclear
Question 21:
What energy source costs the
most per kWh?
Fossil Fuels at $0.085/kWh
Question 22:
What countries is geothermal
energy found in large
amounts?
The Ring of Fire: Indonesia,
Phillippines, Japan, and the
Western parts of the
Americas
Question 23:
What are two uses, other
than generating electricity,
of wind energy?
Grinding Grain and
Pumping Water
Question 24:
How much money can a
homeowner save by using
geothermal heating?
Up to $20,000
Question 25:
Name one other use for solar
energy besides generating
electricity
Heating Homes,
Greenhouses, Pools, etc.