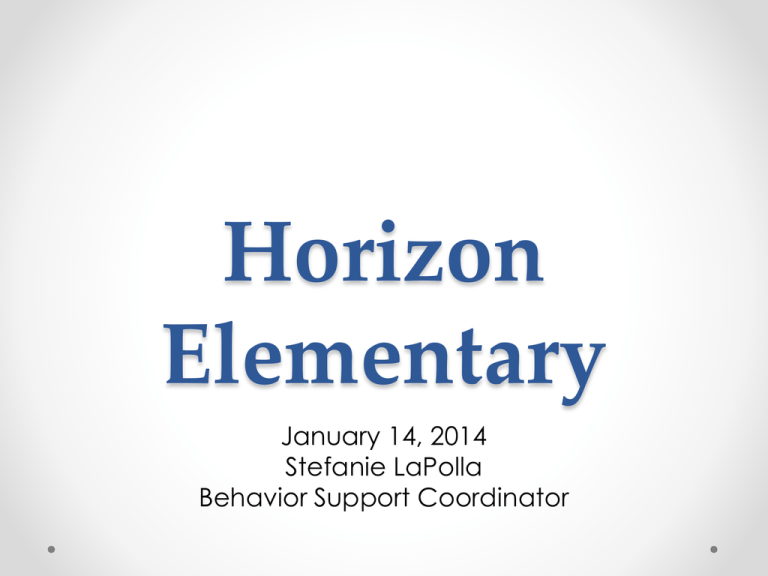 Horizon
Elementary
January 14, 2014
Stefanie LaPolla
Behavior Support Coordinator
What are YOU
teaching?
http://www.youtube.com/watch?feature=player_detailpage&v=R
wlhUcSGqgs
Suicide
Prevention
Positive
Behavioral
Interventions
& Supports
Crisis
Intervention
Food Allergy
Awareness,
Safety &
Prevention
Bullying
Prevention
Safe
Schools
Threat
Assessment
Behavior
Intervention
Plans & Safe
Use of Seclusion
& Restraint
Safe School
Ambassadors
Individual
Health Care
Plans
PEER
Helper
Positive Behavioral
Interventions and Supports
(PBIS)
Loudoun County Public
Schools
• 70 schools currently implementing PBIS
46
37
30
22
5
09–10
08–09
07–08
10–11
52
70
12–13
13-14
89
14-15
11–12
Horizon Elementary joined the
PBIS family in 2011
Multi-tiered System of Behavioral Support
~5%
Primary Prevention:
School-/ClassroomWide Systems for
All Students,
Staff, & Settings
~15%
Tertiary Prevention:
Specialized
Individualized
Systems for Students
with High-Risk Behavior
Secondary Prevention:
Specialized Group
Systems for Students
with At-Risk Behavior
~80% of Students
Academic
+
Social Behavior
PBIS…
• Is an approach for
teaching children
appropriate behavior
and providing the
supports necessary to
sustain that behavior.
• Is not a curriculum - it is
a framework to identify
needs, develop
strategies, and evaluate
practice toward
success
PBIS Goals
Strategies and systems to
• create common language
• create consistent expectations
• establish positive school cultures
• increase instructional time
• increase safety
• decrease problem behavior
Supporting Social Competence &
Academic Achievement
OUTCOMES
SYSTEMS
PBIS Team
Faculty Commitment
Implementation Plan
DATA
Data Entry & Analysis
Evaluation
Supporting
Staff Behavior
PRACTICES
Discipline Procedures
Expectations Developed
Recognition Program
Lesson Plans
Classroom Systems
Supporting
Student Behavior
Supporting
Decision
Making
Consistency Matters
Common
Vision
School
Community
Common
Practices
Common
Language
Discipline Works When
….
Prevention creates more Positive than negative
consequences
Reinforcement
(success)
4:1
Punishment
(failure)
Continuum of
Reinforcement
Natural Success
 Nod, wink, thumbs up
 "Thanks"
 Public acknowledgement
 Token acknowledgement
 Privileges
 Tangibles (small to large)

*The ultimate goal is to be towards the upper portion of
the continuum.
HORIZON ELEMENTARY SCHOOL
Expectation
Revised
6/30/11
Bathrooms
3
Hallways
4
Courtesy
Place trash in
trash cans.
Stay silent in
the hallways.
Respect yourself,
others, and school
property.
Keep walls,
floors, and sink
areas clean.
Stay in your
personal
space.
Use good manners.
Respect
privacy &
personal space.
Care
Flush, wash,
and leave.
Be responsible and
pay attention.
Playground
5
Play safe,
include
others, and
share
equipment.
Cafeteria
1
Use good
manners at
your table and
in line.
Assembly
7
Sit on your
bottom, listen,
and watch.
Bus
2
Face forward
and stay on
your bottom,
and use kind
words.
Clean up your
eating area.
Collect
equipment
and return it to
your
classroom.
WALK in a
straight line to
the right.
Use
equipment
properly.
Face forward
and stay with
your line.
Stay in front of
the trees and
track.
Stay on the
sidewalks/
concrete.
Use an inside
voice.
Stay in your
personal space.
Respect peers
and adults.
Keep your
hands and
feet to
yourself.
Sidewalks/
Dismissal
6
Keep your hands
and feet to
yourself.
Keep your
hands and
feet to
yourself.
Be aware of your
surroundings and
watch for others.
Use appropriate
applause.
Listen to and
follow
directions
given by the
bus driver.
Walk slowly and
carefully to the
right.
Lend a helping
hand.
Cooperation
Listen and follow
directions.
Work together.
Raise your
hand for help.
Stay in your
seat and use
an inside
voice.
Use a quiet
voice and stay
in your seat.
Follow directions
given by adults.
It's a RAP
Courtesy, Care, Cooperation,
These are the 3 C's of Comet
Conduct.
Practice them daily, be the
best that you can be.
Work together, learn a lot,
have some fun this week!
School Wide Incentives
• When a staff member sees a class
demonstrating the 3C's—the class receives
a compliment.
• Once the class has filled their compliment
chart they take it to the office.
• Once the jar is filled, there is a slide show
highlighting these students.
The quickest way to change
behavior….in anyone.
PBIS means:
Being Proactive instead of reactive.
o We brainstorm where problems might occur:
• In the car
• Family room
• Bathroom
o We brainstorm when problems might occur:
• Transitions
• Meal times
• Academics/homework
o We brainstorm who might have problems:
• Certain children together
• Certain children when they are overtired
We want to be one step ahead of the children.
How can you catch your
kids being good…
• …in the grocery store
• …getting ready for bed
• …in the car
• …playing with their
friends
PBIS at Home
The _________________ Family's Home Expectations
Morning
Routine
Courteous
Caring
Cooperation
Homework
Chores
Bed
Time
A Partnership
• Success breeds success - the more your child is
successful, the harder they will work.
• By working together with your child's teacher, we
can increase the chance that your child will be
successful at home and at school! It is important
that the child knows we are on the same team!!
Questions???