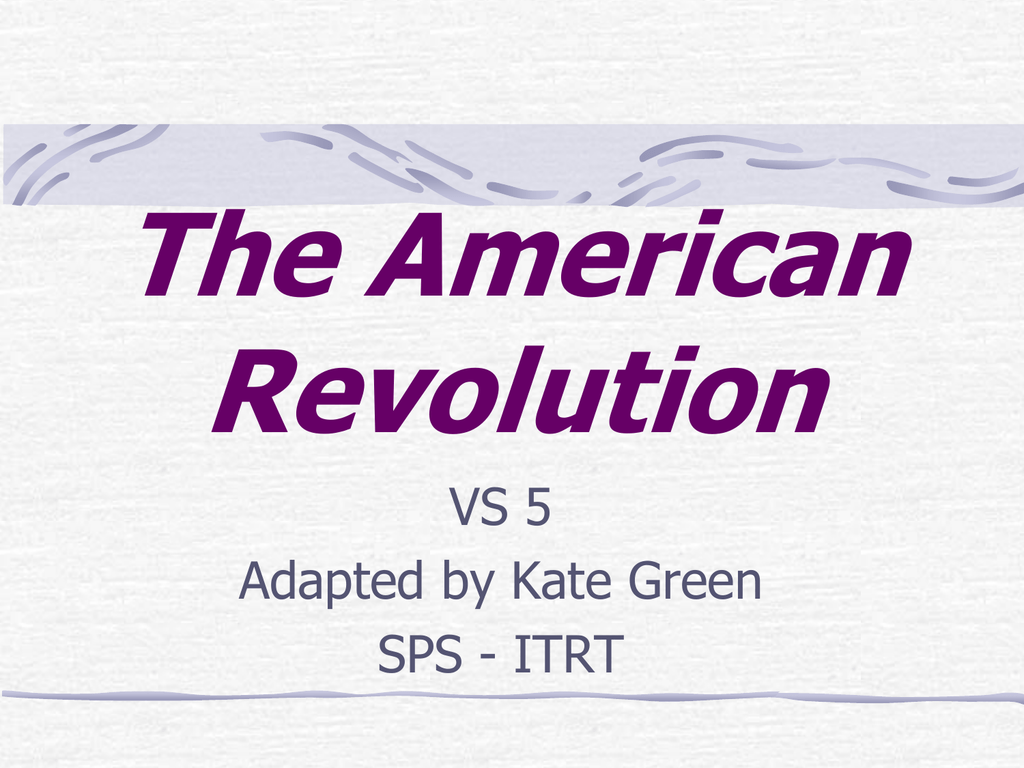 The American
Revolution
VS 5
Adapted by Kate Green
SPS - ITRT
Britain believed that
Parliament had legal
______________
authority in the colonies,
while the colonists believed
their local assemblies had
legal authority.
The colonists believed
they should not be taxed
since they had no
representation in
_________________
Parliament.
Patrick Henry inspired
other patriots when he
spoke out against
His famous _________
taxation without
phrase: ________________.
representation
"…give me liberty or give me
death."
What document expresses
the reasons for colonial
independence?
It was written by a Virginia
hero…
The Declaration of
Independence states that
the authority to govern
people
belongs to the ________
rather than to kings.
The Declaration of Independence
states that all people are created
equal and have the right to:
life,
liberty,
and the
pursuit of
happiness
The army fighting
for independence
was the
Continental
_________________
army.
In favor of
independence:
Opposed to
independence:
Some did not take sides:
Some slaves fought for
the English because they
were promised…
Who was a slave from
Virginia that served
in the Continental
army and was given
his freedom after the
war?
Who had more
responsibility at
home during the war?
Who was the
commander-in-chief of
the Continental army?
Georgie Boy,
our hero!
The capital was
moved from
Williamsburg to…
Richmond was a more
central
__________
location.
The population was
westward
moving __________.
Richmond's location was
trade
better for _______.
Richmond was
safer
______
from
British attack.
The British army
surrendered after the
American victory at …
And the
United States of
America was born!