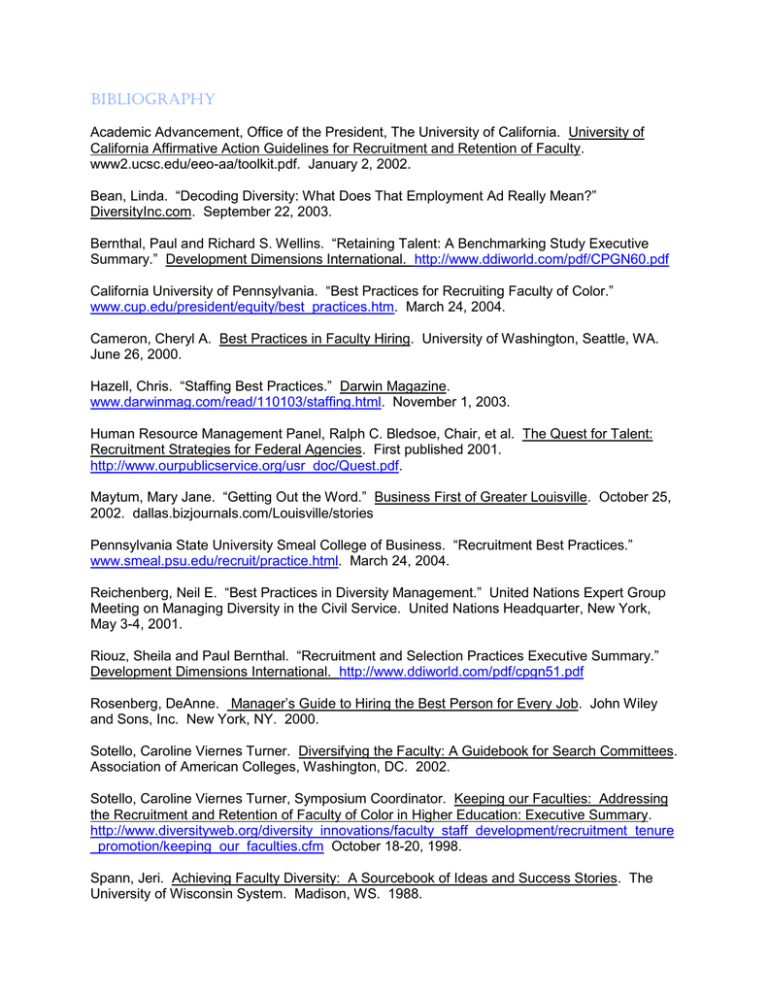 Bibliography
Academic Advancement, Office of the President, The University of California. University of
California Affirmative Action Guidelines for Recruitment and Retention of Faculty.
www2.ucsc.edu/eeo-aa/toolkit.pdf. January 2, 2002.
Bean, Linda. "Decoding Diversity: What Does That Employment Ad Really Mean?"
DiversityInc.com. September 22, 2003.
Bernthal, Paul and Richard S. Wellins. "Retaining Talent: A Benchmarking Study Executive
Summary." Development Dimensions International. http://www.ddiworld.com/pdf/CPGN60.pdf
California University of Pennsylvania. "Best Practices for Recruiting Faculty of Color."
www.cup.edu/president/equity/best_practices.htm. March 24, 2004.
Cameron, Cheryl A. Best Practices in Faculty Hiring. University of Washington, Seattle, WA.
June 26, 2000.
Hazell, Chris. "Staffing Best Practices." Darwin Magazine.
www.darwinmag.com/read/110103/staffing.html. November 1, 2003.
Human Resource Management Panel, Ralph C. Bledsoe, Chair, et al. The Quest for Talent:
Recruitment Strategies for Federal Agencies. First published 2001.
http://www.ourpublicservice.org/usr_doc/Quest.pdf.
Maytum, Mary Jane. "Getting Out the Word." Business First of Greater Louisville. October 25,
2002. dallas.bizjournals.com/Louisville/stories
Pennsylvania State University Smeal College of Business. "Recruitment Best Practices."
www.smeal.psu.edu/recruit/practice.html. March 24, 2004.
Reichenberg, Neil E. "Best Practices in Diversity Management." United Nations Expert Group
Meeting on Managing Diversity in the Civil Service. United Nations Headquarter, New York,
May 3-4, 2001.
Riouz, Sheila and Paul Bernthal. "Recruitment and Selection Practices Executive Summary."
Development Dimensions International. http://www.ddiworld.com/pdf/cpgn51.pdf
Rosenberg, DeAnne. Manager's Guide to Hiring the Best Person for Every Job. John Wiley
and Sons, Inc. New York, NY. 2000.
Sotello, Caroline Viernes Turner. Diversifying the Faculty: A Guidebook for Search Committees.
Association of American Colleges, Washington, DC. 2002.
Sotello, Caroline Viernes Turner, Symposium Coordinator. Keeping our Faculties: Addressing
the Recruitment and Retention of Faculty of Color in Higher Education: Executive Summary.
http://www.diversityweb.org/diversity_innovations/faculty_staff_development/recruitment_tenure
_promotion/keeping_our_faculties.cfm October 18-20, 1998.
Spann, Jeri. Achieving Faculty Diversity: A Sourcebook of Ideas and Success Stories. The
University of Wisconsin System. Madison, WS. 1988.