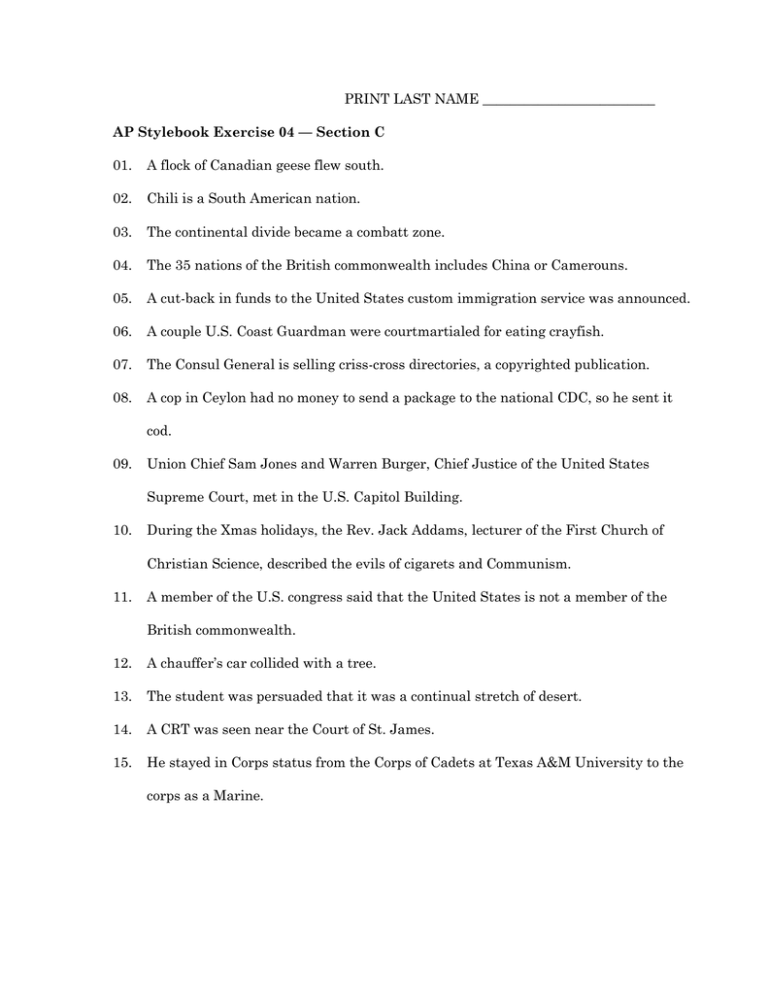 PRINT LAST NAME _________________________
AP Stylebook Exercise 04 — Section C
01.
A flock of Canadian geese flew south.
02.
Chili is a South American nation.
03.
The continental divide became a combatt zone.
04.
The 35 nations of the British commonwealth includes China or Camerouns.
05.
A cut-back in funds to the United States custom immigration service was announced.
06.
A couple U.S. Coast Guardman were courtmartialed for eating crayfish.
07.
The Consul General is selling criss-cross directories, a copyrighted publication.
08.
A cop in Ceylon had no money to send a package to the national CDC, so he sent it
cod.
09.
Union Chief Sam Jones and Warren Burger, Chief Justice of the United States
Supreme Court, met in the U.S. Capitol Building.
10.
During the Xmas holidays, the Rev. Jack Addams, lecturer of the First Church of
Christian Science, described the evils of cigarets and Communism.
11.
A member of the U.S. congress said that the United States is not a member of the
British commonwealth.
12.
A chauffer's car collided with a tree.
13.
The student was persuaded that it was a continual stretch of desert.
14.
A CRT was seen near the Court of St. James.
15.
He stayed in Corps status from the Corps of Cadets at Texas A&M University to the
corps as a Marine.