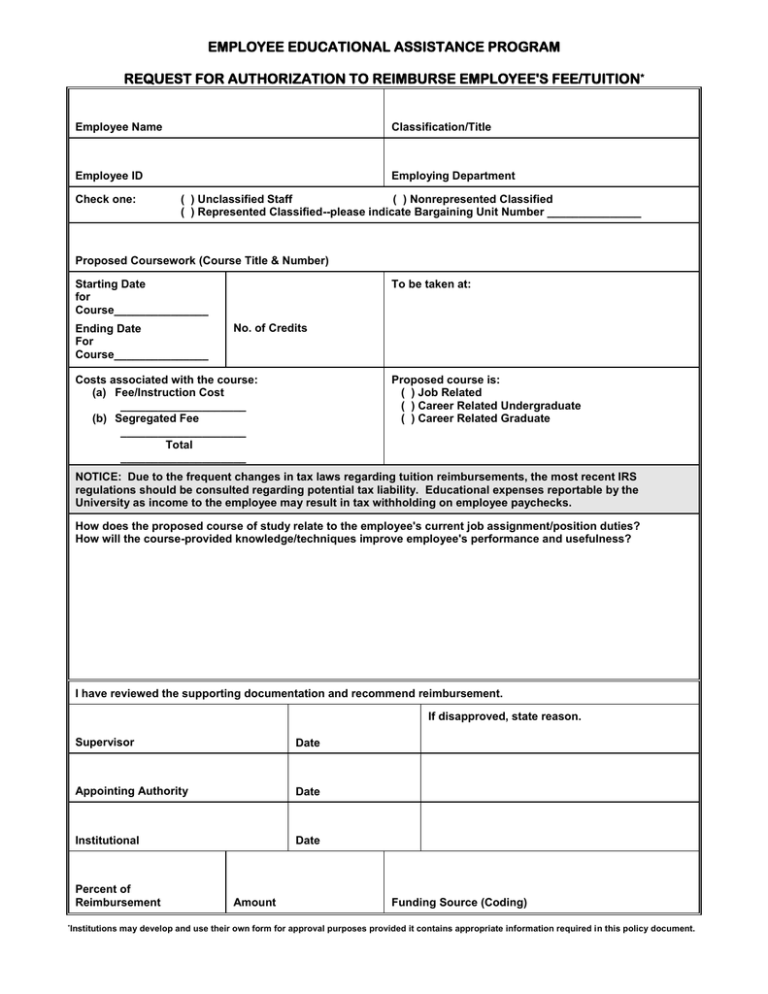 EMPLOYEE EDUCATIONAL ASSISTANCE PROGRAM
REQUEST FOR AUTHORIZATION TO REIMBURSE EMPLOYEE'S FEE/TUITION*
Employee Name
Classification/Title
Employee ID
Employing Department
Check one:
( ) Unclassified Staff
( ) Nonrepresented Classified
( ) Represented Classified--please indicate Bargaining Unit Number _______________
Proposed Coursework (Course Title & Number)
Starting Date
for
Course_______________
Ending Date
For
Course_______________
To be taken at:
No. of Credits
Costs associated with the course:
(a) Fee/Instruction Cost
____________________
(b) Segregated Fee
____________________
Total
____________________
Proposed course is:
( ) Job Related
( ) Career Related Undergraduate
( ) Career Related Graduate
NOTICE: Due to the frequent changes in tax laws regarding tuition reimbursements, the most recent IRS
regulations should be consulted regarding potential tax liability. Educational expenses reportable by the
University as income to the employee may result in tax withholding on employee paychecks.
How does the proposed course of study relate to the employee's current job assignment/position duties?
How will the course-provided knowledge/techniques improve employee's performance and usefulness?
I have reviewed the supporting documentation and recommend reimbursement.
If disapproved, state reason.
Supervisor
Date
Appointing Authority
Date
Institutional
Date
Percent of
Reimbursement
*Institutions
Amount
Funding Source (Coding)
may develop and use their own form for approval purposes provided it contains appropriate information required in this policy document.