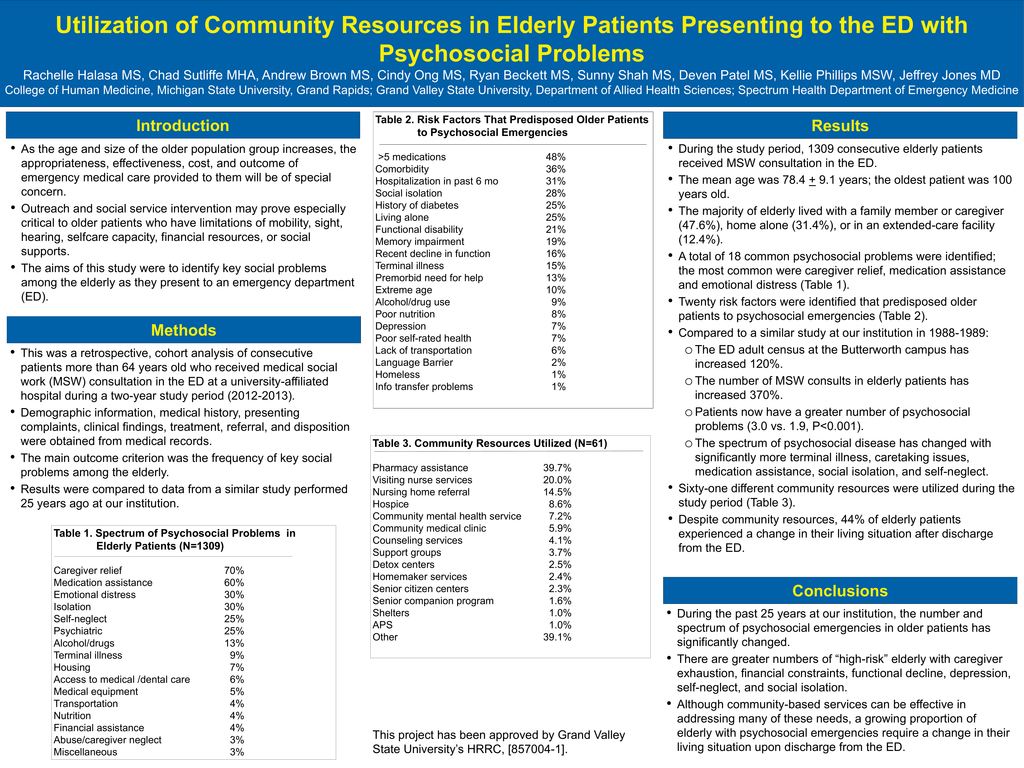 Utilization of Community Resources in Elderly Patients Presenting to the ED with
Psychosocial Problems
Rachelle Halasa MS, Chad Sutliffe MHA, Andrew Brown MS, Cindy Ong MS, Ryan Beckett MS, Sunny Shah MS, Deven Patel MS, Kellie Phillips MSW, Jeffrey Jones MD
College of Human Medicine, Michigan State University, Grand Rapids; Grand Valley State University, Department of Allied Health Sciences; Spectrum Health Department of Emergency Medicine
Table
2. Risk
FactorsGrand
That Predisposed
Older Patients
College of Human Medicine, Michigan
State
University,
Rapids; Spectrum
Health Department of Emergency Medicine
Introduction
•
•
•
As the age and size of the older population group increases, the
appropriateness, effectiveness, cost, and outcome of
emergency medical care provided to them will be of special
concern.
Outreach and social service intervention may prove especially
critical to older patients who have limitations of mobility, sight,
hearing, selfcare capacity, financial resources, or social
supports.
The aims of this study were to identify key social problems
among the elderly as they present to an emergency department
(ED).
Methods
•
•
•
•
This was a retrospective, cohort analysis of consecutive
patients more than 64 years old who received medical social
work (MSW) consultation in the ED at a university-affiliated
hospital during a two-year study period (2012-2013).
Demographic information, medical history, presenting
complaints, clinical findings, treatment, referral, and disposition
were obtained from medical records.
The main outcome criterion was the frequency of key social
problems among the elderly.
Results were compared to data from a similar study performed
25 years ago at our institution.
Table 1. Spectrum of Psychosocial Problems in
Elderly Patients (N=1309)
Caregiver relief
Medication assistance
Emotional distress
Isolation
Self-neglect
Psychiatric
Alcohol/drugs
Terminal illness
Housing
Access to medical /dental care
Medical equipment
Transportation
Nutrition
Financial assistance
Abuse/caregiver neglect
Miscellaneous
70%
60%
30%
30%
25%
25%
13%
9%
7%
6%
5%
4%
4%
4%
3%
3%
Results
to Psychosocial Emergencies
>5 medications
Comorbidity
Hospitalization in past 6 mo
Social isolation
History of diabetes
Living alone
Functional disability
Memory impairment
Recent decline in function
Terminal illness
Premorbid need for help
Extreme age
Alcohol/drug use
Poor nutrition
Depression
Poor self-rated health
Lack of transportation
Language Barrier
Homeless
Info transfer problems
48%
36%
31%
28%
25%
25%
21%
19%
16%
15%
13%
10%
9%
8%
7%
7%
6%
2%
1%
1%
•
•
•
•
•
•
Table 3. Community Resources Utilized (N=61)
Pharmacy assistance
Visiting nurse services
Nursing home referral
Hospice
Community mental health service
Community medical clinic
Counseling services
Support groups
Detox centers
Homemaker services
Senior citizen centers
Senior companion program
Shelters
APS
Other
39.7%
20.0%
14.5%
8.6%
7.2%
5.9%
4.1%
3.7%
2.5%
2.4%
2.3%
1.6%
1.0%
1.0%
39.1%
•
•
Conclusions
•
•
•
This project has been approved by Grand Valley
State University's HRRC, [857004-1].
During the study period, 1309 consecutive elderly patients
received MSW consultation in the ED.
The mean age was 78.4 + 9.1 years; the oldest patient was 100
years old.
The majority of elderly lived with a family member or caregiver
(47.6%), home alone (31.4%), or in an extended-care facility
(12.4%).
A total of 18 common psychosocial problems were identified;
the most common were caregiver relief, medication assistance
and emotional distress (Table 1).
Twenty risk factors were identified that predisposed older
patients to psychosocial emergencies (Table 2).
Compared to a similar study at our institution in 1988-1989:
o The ED adult census at the Butterworth campus has
increased 120%.
o The number of MSW consults in elderly patients has
increased 370%.
o Patients now have a greater number of psychosocial
problems (3.0 vs. 1.9, P<0.001).
o The spectrum of psychosocial disease has changed with
significantly more terminal illness, caretaking issues,
medication assistance, social isolation, and self-neglect.
Sixty-one different community resources were utilized during the
study period (Table 3).
Despite community resources, 44% of elderly patients
experienced a change in their living situation after discharge
from the ED.
During the past 25 years at our institution, the number and
spectrum of psychosocial emergencies in older patients has
significantly changed.
There are greater numbers of "high-risk" elderly with caregiver
exhaustion, financial constraints, functional decline, depression,
self-neglect, and social isolation.
Although community-based services can be effective in
addressing many of these needs, a growing proportion of
elderly with psychosocial emergencies require a change in their
living situation upon discharge from the ED.