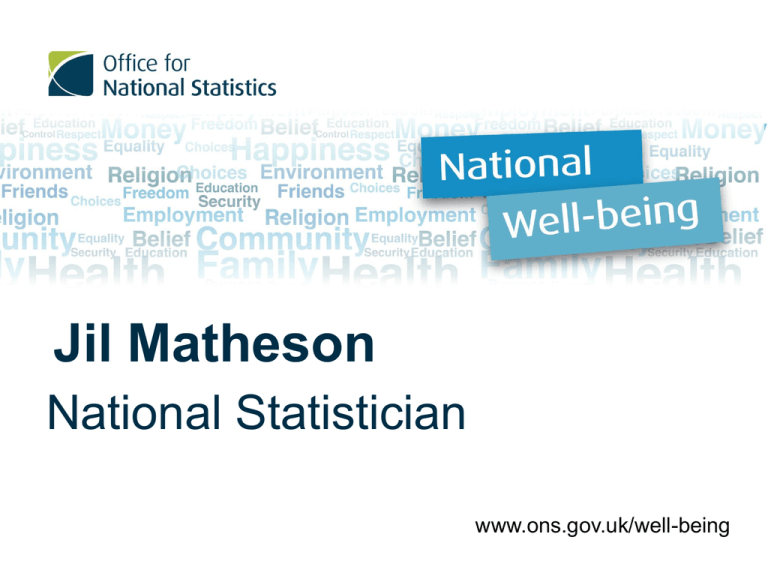 Jil Matheson
National Statistician
www.ons.gov.uk/well-being
Measures of Progress: UK Perspective
• Measuring National Well-being.
• Sustainable Development Indicators.
• Plethora of national and international examples of measuring
progress to learn from.
• Align approaches in a consistent conceptual framework.
• Can we join up?
Measures of National Well-being (1)
Measures of National Well-being (2)
Proposed Sustainable Development
Headline Indicators
Economy
Society
Environment
Economic prosperity
Healthy life expectancy Greenhouse gas
emissions
Long term
unemployment
Social Capital
Natural resource use
Poverty
Social mobility in
adulthood
Wildlife and
biodiversity
Knowledge and skills
Housing provision
Water availability
Measures of Progress: Further
Developments
Environmental Accounts
• Interaction between the economy and environment.
• EU regulations.
Experimental Ecosystems Accounts
• Published a roadmap of development to 2020.
• Development of Ecosystem accounts such as soil,
fisheries, forests, etc (ONS & DEFRA).
• Challenging experimental area.
• Challenges in attempting to value natural capital.
Lessons Learnt from UK Experience
• Consultation and Engagement.
• Multi-dimensional concept - dashboard of indicators rather
than single index.
• 3 Pillars - Economy, Social and Environmental.
• Subjective and objective measures needed.
• Current/future well-being should be reflected (capital stocks
and flows are important).
• Distributions as well as averages.
UK Response to Rio+20
• Align developments in measuring well-being, progress, SDGs
and MDGs agendas
• Join up initiatives (UN/OECD/EU Commission/ILO/National
Statistics Institutes).
• Draw on a consistent conceptual framework.