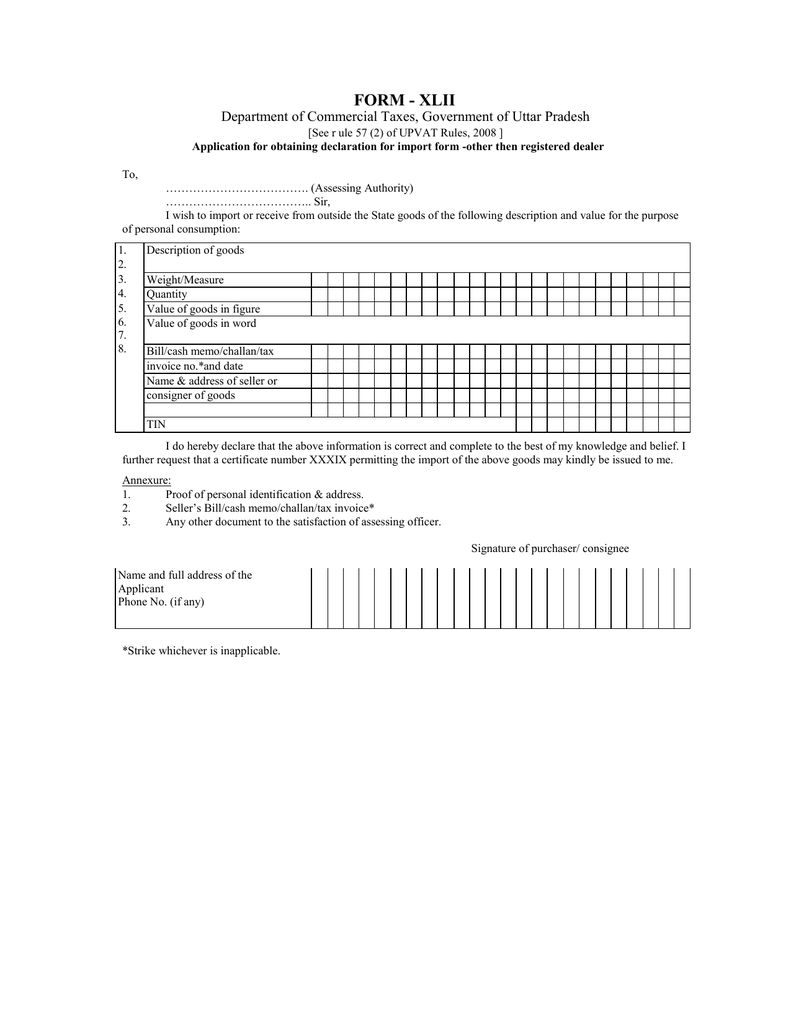 FORM - XLII
Department of Commercial Taxes, Government of Uttar Pradesh
[See r ule 57 (2) of UPVAT Rules, 2008 ]
Application for obtaining declaration for import form -other then registered dealer
To,
………………………………. (Assessing Authority)
……………………………….. Sir,
I wish to import or receive from outside the State goods of the following description and value for the purpose
of personal consumption:
1.
2.
3.
4.
5.
6.
7.
8.
Description of goods
Weight/Measure
Quantity
Value of goods in figure
Value of goods in word
Bill/cash memo/challan/tax
invoice no.*and date
Name & address of seller or
consigner of goods
TIN
I do hereby declare that the above information is correct and complete to the best of my knowledge and belief. I
further request that a certificate number XXXIX permitting the import of the above goods may kindly be issued to me.
Annexure:
1.
Proof of personal identification & address.
2.
Seller's Bill/cash memo/challan/tax invoice*
3.
Any other document to the satisfaction of assessing officer.
Signature of purchaser/ consignee
Name and full address of the
Applicant
Phone No. (if any)
*Strike whichever is inapplicable.