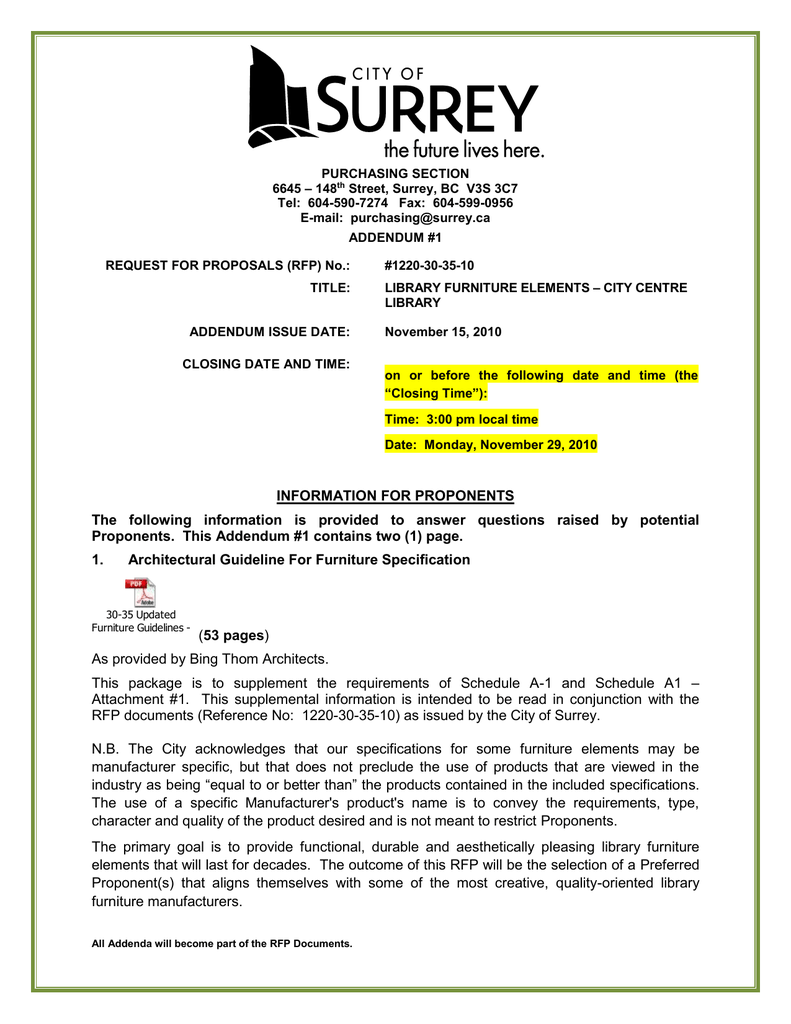 PURCHASING SECTION
6645 – 148th Street, Surrey, BC V3S 3C7
Tel: 604-590-7274 Fax: 604-599-0956
E-mail: [email protected]
ADDENDUM #1
REQUEST FOR PROPOSALS (RFP) No.:
TITLE:
ADDENDUM ISSUE DATE:
CLOSING DATE AND TIME:
#1220-30-35-10
LIBRARY FURNITURE ELEMENTS – CITY CENTRE
LIBRARY
November 15, 2010
on or before the following date and time (the
"Closing Time"):
Time: 3:00 pm local time
Date: Monday, November 29, 2010
INFORMATION FOR PROPONENTS
The following information is provided to answer questions raised by potential
Proponents. This Addendum #1 contains two (1) page.
1.
Architectural Guideline For Furniture Specification
30-35 Updated
Furniture Guidelines - Bing Thom Architects.pdf
(53 pages)
As provided by Bing Thom Architects.
This package is to supplement the requirements of Schedule A-1 and Schedule A1 –
Attachment #1. This supplemental information is intended to be read in conjunction with the
RFP documents (Reference No: 1220-30-35-10) as issued by the City of Surrey.
N.B. The City acknowledges that our specifications for some furniture elements may be
manufacturer specific, but that does not preclude the use of products that are viewed in the
industry as being "equal to or better than" the products contained in the included specifications.
The use of a specific Manufacturer's product's name is to convey the requirements, type,
character and quality of the product desired and is not meant to restrict Proponents.
The primary goal is to provide functional, durable and aesthetically pleasing library furniture
elements that will last for decades. The outcome of this RFP will be the selection of a Preferred
Proponent(s) that aligns themselves with some of the most creative, quality-oriented library
furniture manufacturers.
All Addenda will become part of the RFP Documents.