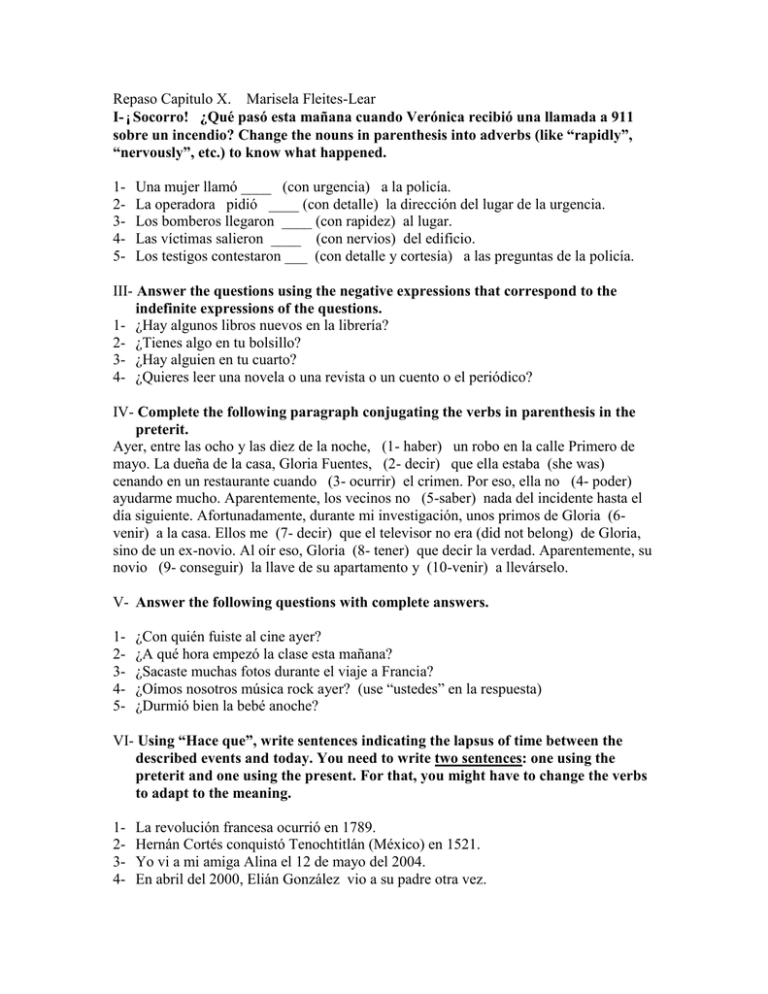 Repaso Capitulo X. Marisela Fleites-Lear
I-¡Socorro! ¿Qué pasó esta mañana cuando Verónica recibió una llamada a 911
sobre un incendio? Change the nouns in parenthesis into adverbs (like "rapidly",
"nervously", etc.) to know what happened.
12345-
Una mujer llamó ____ (con urgencia) a la policía.
La operadora pidió ____ (con detalle) la dirección del lugar de la urgencia.
Los bomberos llegaron ____ (con rapidez) al lugar.
Las víctimas salieron ____ (con nervios) del edificio.
Los testigos contestaron ___ (con detalle y cortesía) a las preguntas de la policía.
III- Answer the questions using the negative expressions that correspond to the
indefinite expressions of the questions.
1- ¿Hay algunos libros nuevos en la librería?
2- ¿Tienes algo en tu bolsillo?
3- ¿Hay alguien en tu cuarto?
4- ¿Quieres leer una novela o una revista o un cuento o el periódico?
IV- Complete the following paragraph conjugating the verbs in parenthesis in the
preterit.
Ayer, entre las ocho y las diez de la noche, (1- haber) un robo en la calle Primero de
mayo. La dueña de la casa, Gloria Fuentes, (2- decir) que ella estaba (she was)
cenando en un restaurante cuando (3- ocurrir) el crimen. Por eso, ella no (4- poder)
ayudarme mucho. Aparentemente, los vecinos no (5-saber) nada del incidente hasta el
día siguiente. Afortunadamente, durante mi investigación, unos primos de Gloria (6venir) a la casa. Ellos me (7- decir) que el televisor no era (did not belong) de Gloria,
sino de un ex-novio. Al oír eso, Gloria (8- tener) que decir la verdad. Aparentemente, su
novio (9- conseguir) la llave de su apartamento y (10-venir) a llevárselo.
V- Answer the following questions with complete answers.
12345-
¿Con quién fuiste al cine ayer?
¿A qué hora empezó la clase esta mañana?
¿Sacaste muchas fotos durante el viaje a Francia?
¿Oímos nosotros música rock ayer? (use "ustedes" en la respuesta)
¿Durmió bien la bebé anoche?
VI- Using "Hace que", write sentences indicating the lapsus of time between the
described events and today. You need to write two sentences: one using the
preterit and one using the present. For that, you might have to change the verbs
to adapt to the meaning.
1234-
La revolución francesa ocurrió en 1789.
Hernán Cortés conquistó Tenochtitlán (México) en 1521.
Yo vi a mi amiga Alina el 12 de mayo del 2004.
En abril del 2000, Elián González vio a su padre otra vez.
VII- Invent a question for the following answers. Use "hace que" in the question.
Attention: You might have to change the subject in the question.
1- Llegué a este país hace 8 años.
2- El jefe nos pagó hace 2 días.
VII- Write a paragraph describing an emergency situation (real or imaginary) in
which you or someone you know were involved. Please, use as much of the new
vocabulary as possible. At least write 6 sentences with 6 different verbs in the
preterit. Try to use irregular verbs.