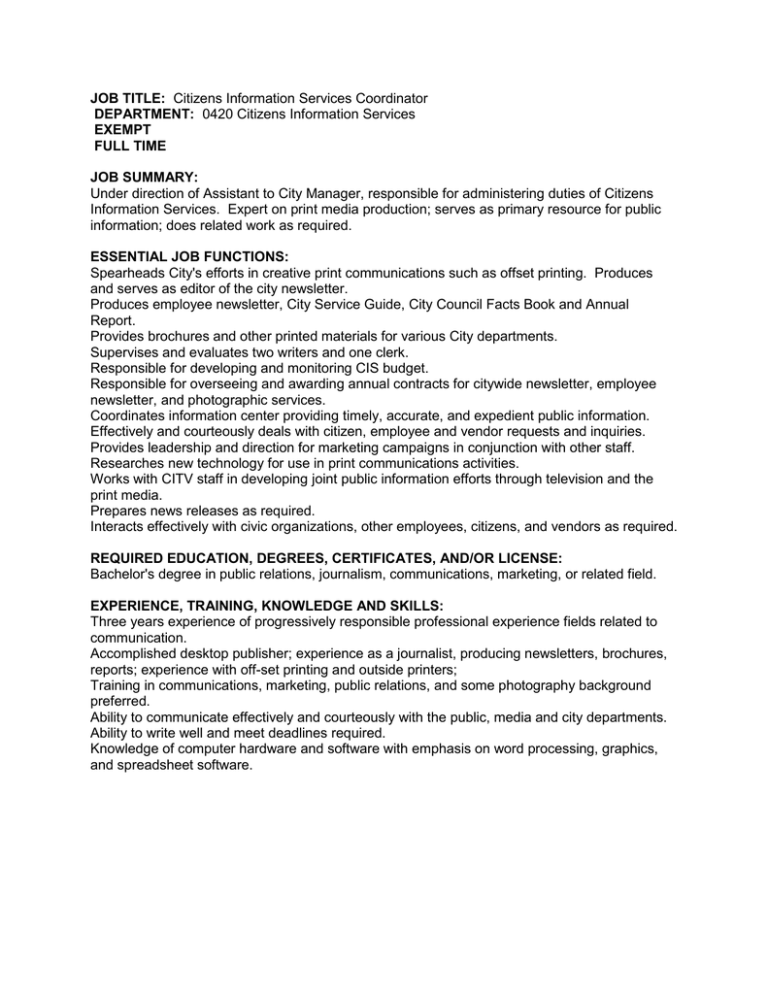 JOB TITLE: Citizens Information Services Coordinator
DEPARTMENT: 0420 Citizens Information Services
EXEMPT
FULL TIME
JOB SUMMARY:
Under direction of Assistant to City Manager, responsible for administering duties of Citizens
Information Services. Expert on print media production; serves as primary resource for public
information; does related work as required.
ESSENTIAL JOB FUNCTIONS:
Spearheads City's efforts in creative print communications such as offset printing. Produces
and serves as editor of the city newsletter.
Produces employee newsletter, City Service Guide, City Council Facts Book and Annual
Report.
Provides brochures and other printed materials for various City departments.
Supervises and evaluates two writers and one clerk.
Responsible for developing and monitoring CIS budget.
Responsible for overseeing and awarding annual contracts for citywide newsletter, employee
newsletter, and photographic services.
Coordinates information center providing timely, accurate, and expedient public information.
Effectively and courteously deals with citizen, employee and vendor requests and inquiries.
Provides leadership and direction for marketing campaigns in conjunction with other staff.
Researches new technology for use in print communications activities.
Works with CITV staff in developing joint public information efforts through television and the
print media.
Prepares news releases as required.
Interacts effectively with civic organizations, other employees, citizens, and vendors as required.
REQUIRED EDUCATION, DEGREES, CERTIFICATES, AND/OR LICENSE:
Bachelor's degree in public relations, journalism, communications, marketing, or related field.
EXPERIENCE, TRAINING, KNOWLEDGE AND SKILLS:
Three years experience of progressively responsible professional experience fields related to
communication.
Accomplished desktop publisher; experience as a journalist, producing newsletters, brochures,
reports; experience with off-set printing and outside printers;
Training in communications, marketing, public relations, and some photography background
preferred.
Ability to communicate effectively and courteously with the public, media and city departments.
Ability to write well and meet deadlines required.
Knowledge of computer hardware and software with emphasis on word processing, graphics,
and spreadsheet software.