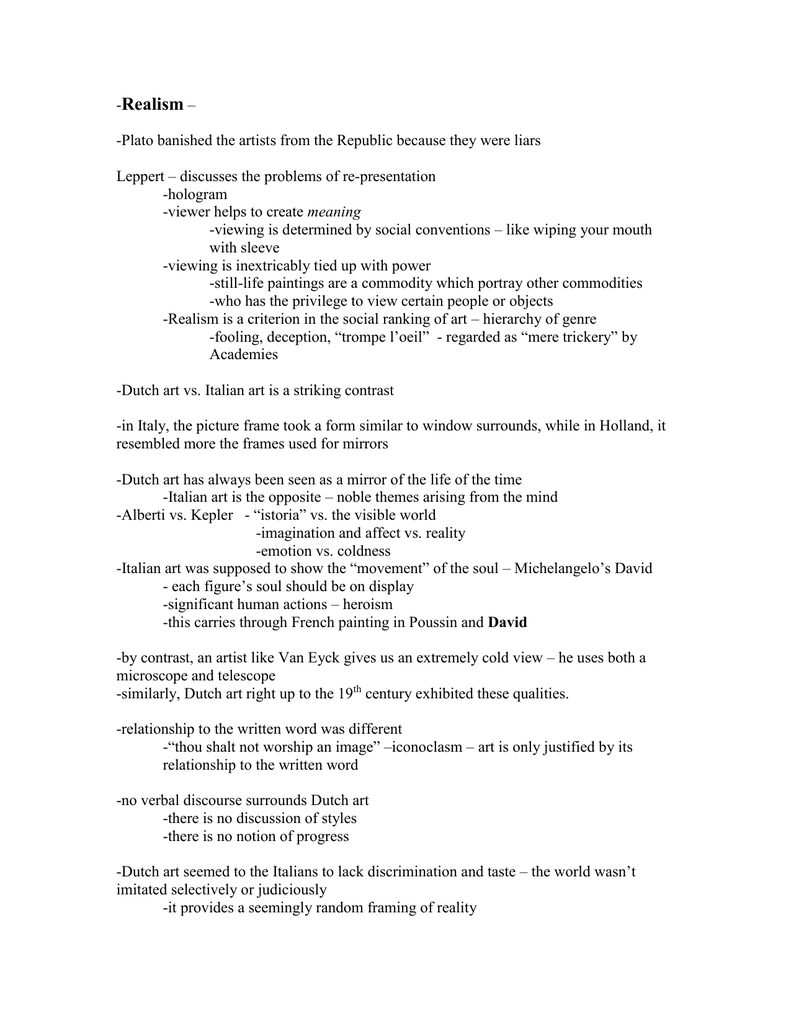 -Realism –
-Plato banished the artists from the Republic because they were liars
Leppert – discusses the problems of re-presentation
-hologram
-viewer helps to create meaning
-viewing is determined by social conventions – like wiping your mouth
with sleeve
-viewing is inextricably tied up with power
-still-life paintings are a commodity which portray other commodities
-who has the privilege to view certain people or objects
-Realism is a criterion in the social ranking of art – hierarchy of genre
-fooling, deception, "trompe l'oeil" - regarded as "mere trickery" by
Academies
-Dutch art vs. Italian art is a striking contrast
-in Italy, the picture frame took a form similar to window surrounds, while in Holland, it
resembled more the frames used for mirrors
-Dutch art has always been seen as a mirror of the life of the time
-Italian art is the opposite – noble themes arising from the mind
-Alberti vs. Kepler - "istoria" vs. the visible world
-imagination and affect vs. reality
-emotion vs. coldness
-Italian art was supposed to show the "movement" of the soul – Michelangelo's David
- each figure's soul should be on display
-significant human actions – heroism
-this carries through French painting in Poussin and David
-by contrast, an artist like Van Eyck gives us an extremely cold view – he uses both a
microscope and telescope
-similarly, Dutch art right up to the 19th century exhibited these qualities.
-relationship to the written word was different
-"thou shalt not worship an image" –iconoclasm – art is only justified by its
relationship to the written word
-no verbal discourse surrounds Dutch art
-there is no discussion of styles
-there is no notion of progress
-Dutch art seemed to the Italians to lack discrimination and taste – the world wasn't
imitated selectively or judiciously
-it provides a seemingly random framing of reality
-almost obsessive focus on the skill of representation
-symbolic role of mapping – the Dutch were the world leaders in this
-to illustrate an important event, the Italians would paint a stage-like picture,
while the Dutch would draw a map
-this objectivity extends to religion
-the Dutch practiced incredible religious tolerance
-also to the microcosm – the analysis of the infinitesimal
-Francis Bacon was interested in the pursuit of human knowledge through experiment
and observation
-art should not be mere imitation, but "techne"
-a means of investigation
-also a means of liberation from mystery and religion
-art can bring us a kind of mastery of the unknown
-fascinated by the "camera obscura"
-what he valued above all in his own tastes was "an artless art"
-Empiricism – Bacon had many followers in Holland – one important one was Isaac
Beeckman, the head of the Dordrecht Latin school
-corresponded with Descartes, and compiled a translation of Bacon
-published corrections to Bacon's experiments
-was also an ordained minister
-beeckman wrote extensive diaries in which he described being distracted from the
sermon in church by the mathematical problems contained in the window panes over his
head.
-he examines the movements of clouds, the flicker of candle light, he even once
did an imaginary autopsy of his brother sitting next to him.
-"everything that is important can be seen"
Abraham van Beyeren, Still Life with a Silver Wine Jar,
-self-portrait of the artist in the reflection
-spots of highlight imitate the glints of light registered on camera obscura
-camera obscura was enhanced by the discoveries of Johannes Kepler, a German
astronomer who was one of the first to agree with the Copernican view of the solar
system
-Kepler stumbled upon a discovery in the science of optics
-the idea that the eye creates a "picture" on the retina
-it is concave, therefore a perfect recording of the curved lens
-we are erroneous to create flat pictures – it's not an accurate record of vision
-more importantly, our very apprehension of reality is in fact a representation
-we should think of these artists in the same context as those scientific geniuses of the
17th century, the microscopist van Leeuwenhoek, who turned his lens on the miniature
world contained in a drop of water, and Galileo, who turned his telescope to the heavens.
-Leeuwenhoek lived in the same town with Vermeer
-this strengthens a kind of notion of vanitas – the world we see is merely surface
Jan Vermeer came from Delft –a city with the proudest tradition of crafted objects in
Holland and the most conservative guild system
-but the painter doesn't really weave tapesties or blow glass –he merely feigns all this
-this caused a certain amount of unease as prices for paintings climbed higher than the
goods represented in paintings
-many believed that cheap manufacture of tiles and porcelain in Delft was a consequence
of the fact that people only really cared about beautiful tiles in paintings
Vermeer, Soldier and Laughing Girl, 1657
-the man takes up way too much of the surface of the picture in classical terms
-Vermeer seems to show off the use of the camera obscura
-the half-opened window allows him to play with the illusion of glass and reflection
-map in the background
-and yet we still sense a symbolic meaning – perhaps this man is threatening
Jan Vermeer, The Art of Painting, c. 1666-1673, Oil on canvas, 130 x 110 cm,
Kunsthistorisches Museum, Vienna
-This was Vermeer's largest and most ambitious painting, commissioned by the Artists'
Guild of Delft. It shows a 16th century Italian painter in his studio, painting a model
dressed up as Clio, the muse of History.
-David Bailly, Still Life, 1651
-artist from Leiden -holds his maulstick
-it is actually a young student – Bailly is in the oval portrait
-sits beside an assemblage of materials of nature and man
-it is a mind-boggling assembly of objects, materials and representations
-Bacon: "nature must be squeezed to reveal her secrets"
-yet there is still allegory and memento mori – candle, bubbles, hourglass, skull, jewels,
coins, books
-inscription at lower right – to vanity
-this seems to delight in the visual, transitory qualities of life and warn against them as
well
-but the warning is like a formula which has to be inserted by convention
-in reality, Bailly's bubbles will never burst, his flowers never droop
-a kind of eternal life is achieved through representation
-Bailly was the Dean of Leiden's Guild of St. Luke – craft was fastidiously recorded and
billed
-the kladschilder was the rough painter – charged by the degree of finish
-as distinct from the fijnschilder – charged by the number of hours
Tourists II - 1988
Auto body filler,
fiberglass and mixed media
Life-size
Frankfurt am Main. Galerie
Neuendorf AG
Hanson's art addresses human attitudes - fatigue, frustration, and rejection. By selecting
ordinary individuals leading unremarkable lives, Hanson identifies American cultural
stereotypes of the last quarter century and asks that we look at ourselves through them.
His sculptures encourage the viewer to think more carefully about the human condition
and to recognize intolerance and prejudice.
Hanson's signature subjects - despondent middle-aged and elderly Americans and playful,
innocent children - derive from a number of influences. Raised in rual Minnesota in a
closely-knit Swedish-American family, Hanson was proud of his solid middle- class
background. Later, while teaching in Atlanta in the 1960s during the turbulent civil rights
movement, he became more socially and politically engaged. In creating tough works
bearing graphic titles like Abortion (1965) and Gangland Victim (1967), he became
affiliated with the socio- political figurative sculptors George Segal and Edward
Kienholz. However, by 1970, he had moved away from the more controversial work and
settled into his mature, realist style. By fusing his interests in the ordinary man with more
common social concerns, Hanson created an empathic narrative on the declining
American condition - the dreams of youth turned to adult realities of alienation,
indifference, anxiety, and malaise.
Friends and family members were often the models for Hanson's works, selected not for
the creation of a "portrait" but for his vision of an objective "type." For the mold-making
process, the model was positioned in a natural pose. Then, a live cast was taken by
covering the model with a quick-setting silicon rubber. Polyester resin and fiberglass or
bronze was poured into the separate body- part molds, which Hanson would later piece
together to create the figure, sometimes combining limbs from different models. The skin
was air-brushed with oil paint, details were hand- painted, synthetic and human hair was
plugged into the scalp and the figure. With the addition of real clothing, accessories, and
props, the sculpture is brought to life and the narrative begins.
Along with American artists George Segal, Edward Kienholz, and John De Andrea,
Hanson has been a major influence on contemporary artists who use hyper-realistic
figuration such as Dinos and Jake Chapman, Charles Ray, and Vanessa Beecroft.
Hanson's sculptures have also informed the development of the late 20th century art
movement first identified as Mannequin Art and associated with artists like Paul
McCarthy and John Miller, among others.
Richard Estes
American, born Kewanee, Illinois,1932
Qualicraft Phonebooths, (1974)
Color serigraph on paper mounted on paper-clad aluminum
33 3/8 x 46 15/16 in. (84.8 x 119.1 cm.)
Richard Estes
D Train, 1988
Screenprint on wov
Diagram from Johannes Kepler's treatise on optics, 1604
Jacob Ruisdael, Landscape with a Ruined Castle and a Village Church, 1665-72,
Oil on canvas, 109 x 146 cm, National Gallery, London
Abraham van Beyeren, Still Life with a Silver Wine Jar, (date unknown) Oil on
canvas, 99,5 x 120,5 cm
Mauritshuis, The Hague
Diagram of a "camera obscura", by Athanasius Kircher, 1646.
Jan Vermeer, Soldier and Laughing Girl, 1657, oil on canvas, Mauritshuis, The
Hague
Jan Vermeer, Girl with a Pearl Earring, 1665, Mauritshuis, The Hague 47x40 cm
Jan Vermeer, The Art of Painting, c. 1666-1673, Oil on canvas, 130 x 110 cm,
Kunsthistorisches Museum, Vienna
David Bailly, Still Life, 1651, oil on canvas, Stedelijk Museum, Leiden
Samuel van Hoogstraten, Still-life, 1666-68, Oil on canvas, 63 x 79 cm,
Kunsthalle, Karlsruhe
Gustave Caillebotte, Rainy Day, Paris, 1876, oil on canvas, Art Institute of
Chicago
Richard Estes, Qualicraft Phonebooths, 1974, Color serigraph on paper mounted
on paper-clad aluminum
33 3/8 x 46 15/16 in. (84.8 x 119.1 cm.)
Duane Hanson, Tourists II 1988 Auto body filler, fiberglass and mixed media.
Life-size. Galerie Neuendorf, Frankfurt
Richard Estes, D Train, 1988, Screenprint on wove paper
Ron Mueck Mask II, 2001, large-scale sculpture cast in fiberglass resin and
silicon. Private collection, London
-This sculpture is actually an out-size self-portrait of the artist.
Arcimboldo, "Capriccio" – Portrait of Emperor Rudolf of Austria, c.1570, oil on canvas.
-This bizarre painting was adored by Rudolf of Austria. He loved Arcimboldo's art so
much, he gave him the job of "Court Counterfeiter" in the Austrian royal court.
Hyacinthe Rigaud, Portrait of Louis XIV, 1701, oil on canvas, Louvre
-The ultimate example of pompous royal portraiture
Goya, Family of Charles IV, 1800, oil on canvas, Prado Museum, Madrid
-But does this look like a royal family?
Unknown photographic artist, ThomasSutcliffe Mort and Theresa Mort c.1847,
daguerreotype, National Portrait Gallery of Australia
-Early photographic portraits tend to be very stiff and lifeless – the sitters had to remain
perfectly still for more than an hour without interruption.
Peter Paul Rubens, Self-portrait with Isabella Brant, 1609, Oil on canvas, Alte
Pinakothek, Munich
-Rubens was the greatest Flemish painter of the 17th century. This is one of very few
pictures in which he depicted himself "informally"
Albracht Durer, Self-Portrait, 1498, Oil on panel 52 x 41 cm, Museo Nacional del Prado,
Madrid
-Durer portrays himself as fashionable and successful
Albrecht Durer, Self-Portrait, 1500, Oil on panel 67 x 49 cm, Alte Pinakothek, Munich
-In this photo, the artist conceives of himself as a Christ-like mystic
Adélaïde Labille-Guiard, Self-portrait with Two Pupils, 1785, oil on canvas,
Metropolitan Museum, N.Y.
-A self-portrait of a prosperous artist of the late 18th century
Marie-Denise Villers, Young Woman Drawing, 1801, oil on canvas, Metropolitan
Museum, N.Y.
-A slightly more brooding self-portrait by an artist of the early 19th century
Theodore Gericault, Portrait of a Young Man, (thought to be a self-portrait), c.1810,
Louvre
-Gericault here embodies all the attitudes of the Romantic movement
Cover of Rolling Stone magazine, June 2, 1994. Photograph by Mark Seliger
-In the 1990's, this cover picture of Kurt Cobain became the definitive image of a
tormeted, angst-ridden artist
Still image from the movie "Frida" (2002). Salma Hayek portrays the legendary Mexican
muralist Frida Kahlo.
Frida Kahlo, Self-Portrait, 1926, oil on canvas.
-Kahlo became famous among the "avant-garde" art world of the day for her combination
of folk-art technique and complete self-absorption.
Frida Kahlo, Self Portrait Dedicated to Leon Trotsky, 1937, National Museum of Women
in the Arts, Washington
-Frida painted this picture as a token of love for Russian Communist dissident Leon
Trotsky
Frida Kahlo, A Few Small Cuts, 1935, oil on canvas
-Her paintings often portray nightmarish scenes of violence in which she is always the
victim
Frida Kahlo, The Two Fridas, 1948, oil on canvas
-This painting depicts Frida's twin psychological persona – Mother and Lover
Cindy Sherman, Untitled, colour photographic print, from the series "History Portraits",
1990
-In the 1990's, Sherman started portraying herself in elbaorate costumes and make-up
derived from historical paintings
Caravaggio, Portrait of a boy, called the "Sick Bacchus", 1593, oil on canvas
Cindy Sherman, Untitled, gelatin-silver print, approx 7.5" x 9.5", from the series
"Untitled Film Stills", 1979
-This series launched Sherman's career in the art world. Each image is a photograph of
herself in different, highly staged contexts.
Like Cindy Sherman, Madonna has constantly shifted between identities in her
performance career, drawing them from various sources as suits the moment.