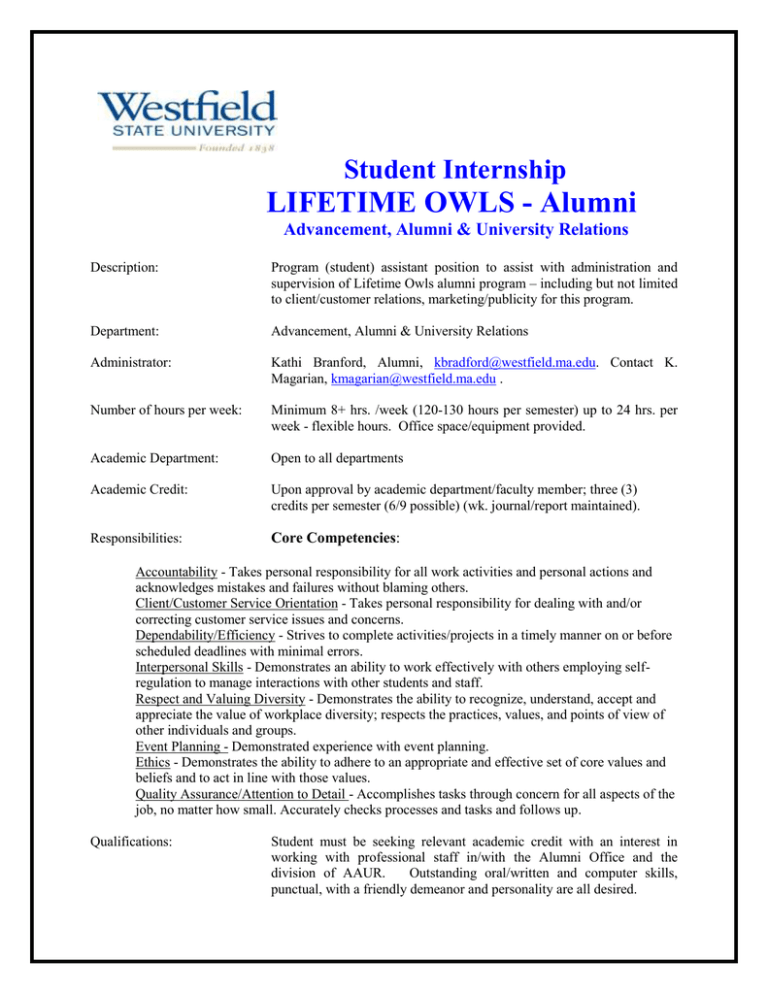 Student Internship
LIFETIME OWLS - Alumni
Advancement, Alumni & University Relations
Description:
Program (student) assistant position to assist with administration and
supervision of Lifetime Owls alumni program – including but not limited
to client/customer relations, marketing/publicity for this program.
Department:
Advancement, Alumni & University Relations
Administrator:
Kathi Branford, Alumni, kbradford@westfield.ma.edu. Contact K.
Magarian, kmagarian@westfield.ma.edu .
Number of hours per week:
Minimum 8+ hrs. /week (120-130 hours per semester) up to 24 hrs. per
week - flexible hours. Office space/equipment provided.
Academic Department:
Open to all departments
Academic Credit:
Upon approval by academic department/faculty member; three (3)
credits per semester (6/9 possible) (wk. journal/report maintained).
Responsibilities:
Core Competencies:
Accountability - Takes personal responsibility for all work activities and personal actions and
acknowledges mistakes and failures without blaming others.
Client/Customer Service Orientation - Takes personal responsibility for dealing with and/or
correcting customer service issues and concerns.
Dependability/Efficiency - Strives to complete activities/projects in a timely manner on or before
scheduled deadlines with minimal errors.
Interpersonal Skills - Demonstrates an ability to work effectively with others employing selfregulation to manage interactions with other students and staff.
Respect and Valuing Diversity - Demonstrates the ability to recognize, understand, accept and
appreciate the value of workplace diversity; respects the practices, values, and points of view of
other individuals and groups.
Event Planning - Demonstrated experience with event planning.
Ethics - Demonstrates the ability to adhere to an appropriate and effective set of core values and
beliefs and to act in line with those values.
Quality Assurance/Attention to Detail - Accomplishes tasks through concern for all aspects of the
job, no matter how small. Accurately checks processes and tasks and follows up.
Qualifications:
Student must be seeking relevant academic credit with an interest in
working with professional staff in/with the Alumni Office and the
division of AAUR.
Outstanding oral/written and computer skills,
punctual, with a friendly demeanor and personality are all desired.