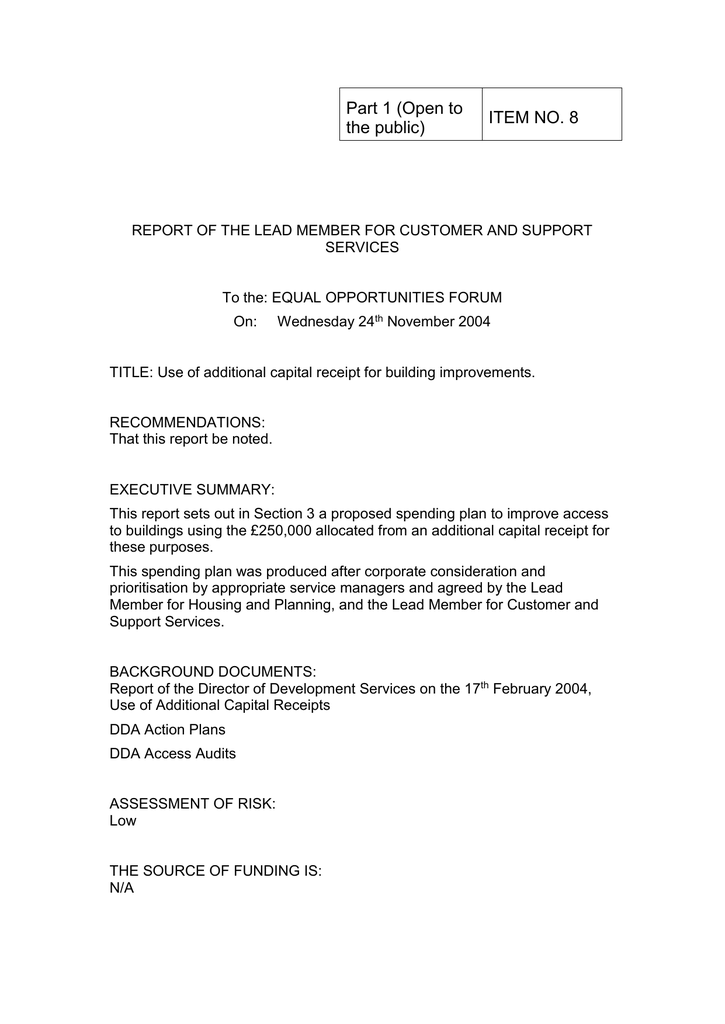 Part 1 (Open to
the public)
ITEM NO. 8
REPORT OF THE LEAD MEMBER FOR CUSTOMER AND SUPPORT
SERVICES
To the: EQUAL OPPORTUNITIES FORUM
On:
Wednesday 24th November 2004
TITLE: Use of additional capital receipt for building improvements.
RECOMMENDATIONS:
That this report be noted.
EXECUTIVE SUMMARY:
This report sets out in Section 3 a proposed spending plan to improve access
to buildings using the £250,000 allocated from an additional capital receipt for
these purposes.
This spending plan was produced after corporate consideration and
prioritisation by appropriate service managers and agreed by the Lead
Member for Housing and Planning, and the Lead Member for Customer and
Support Services.
BACKGROUND DOCUMENTS:
Report of the Director of Development Services on the 17th February 2004,
Use of Additional Capital Receipts
DDA Action Plans
DDA Access Audits
ASSESSMENT OF RISK:
Low
THE SOURCE OF FUNDING IS:
N/A
LEGAL ADVICE OBTAINED:
N/A
FINANCIAL ADVICE OBTAINED:
NO
CONTACT OFFICER:
David Horsler (Assistant Director)
WARD(S) TO WHICH REPORT RELATES:
All Wards
KEY COUNCIL POLICIES:
Compliance with DDA legislation
Improving BVPI's
DETAILS:
1.0 Background
1.1 The disability Discrimination Act 1995 came into force on 1st October 2004.
The Act affects all service providers and requires them to make
"reasonable adjustments" to remove barriers and enable access to
disabled people.
1.2 The City Council has established DDA Action Plans for each key service
area. The Action Plans detail the changes to policy, practice and
procedures by providing auxiliary services or aids to comply with the act
and the alterations to the physical features of the built environment
required.
1.3 Approval has been given to the use of an additional capital receipt of
£500,000 for service improvements to both the highways (£250,000) and
buildings (£250,000).
1.4 Members have established priorities for adaptations to buildings as
follows:
1) Buildings with a high profile including those that provide access to
buildings to public services.
2) Buildings with community use and a high foot fall
3) Other buildings
2.0 Changes to the Built Environment
2.1 The City Council has undertaken a disabled access audit of all its service
assets to establish what physical changes are required to the built
environment.
2.2 Corporate consideration has been given to identify key areas of service
delivery and the prioritisation of building works. The strategic long-term
future of individual assets, service objectives and the amount of
anticipated disabled visitors has also been considered when establishing
priorities.
2.3 Disabled access adaptations are being incorporated into all existing
ongoing renewal/refurbishment schemes.
3.0 Proposals
3.1 It is proposed to allocate the £250,000 from the "windfall receipt" in
accordance with the schedule set out below:
3.2
Existing refurbishment schemes
Building
Beesley Community Centre
Guildhall Community Centre
Boothstown Community Centre
Wardley Community Centre
Crompton House
Alexandra House Day Centre
Civic Centre Reception
Irlam Pool
Total
Estimated Cost
]
]
]
]
£70,000
£25,000
£10,000
£10,000
£10,000
£125,000
Service Priorities
Minerva House
Sahal Court
Burrows House
Cleveland House
Brierley House Day Centre
Rainbow Community Centre
Princess Park Garden Centre
Fit City Eccles
General Library Works
Height Civic Youth Centre
Clifton Civic Youth Centre
Oasis Civic Youth Centre
Eccles Cemetery
Contingency
Additional Survey Work
£9,100
£12,600
£5,500
£6,100
£17,100
£14,800
£5,200
£8,000
£16,000
£1,600
£1,500
£1,500
£10,000
£12,000
£4,000
Total
£125,000
Note: Figures quoted are estimates and may be subject to review.
4.0 Conclusion
4.1 The Schedule above allocates the "windfall" monies between current
projects where it is sensible to ensure that appropriate access is provided
whilst other building works are taking place on site and new works
reflecting service managers' key priorities.
4.2 Work is continuing to develop a rolling programme of disabled access
improvement works, which will require an allocation of additional funding in
order for them to be delivered. To this end a capital bid has been
submitted against the council's capital programme for additional funds
over the next three years.
4.3 It is intended to consult with disabled people and their representative
organisations during all stages of improvement works.