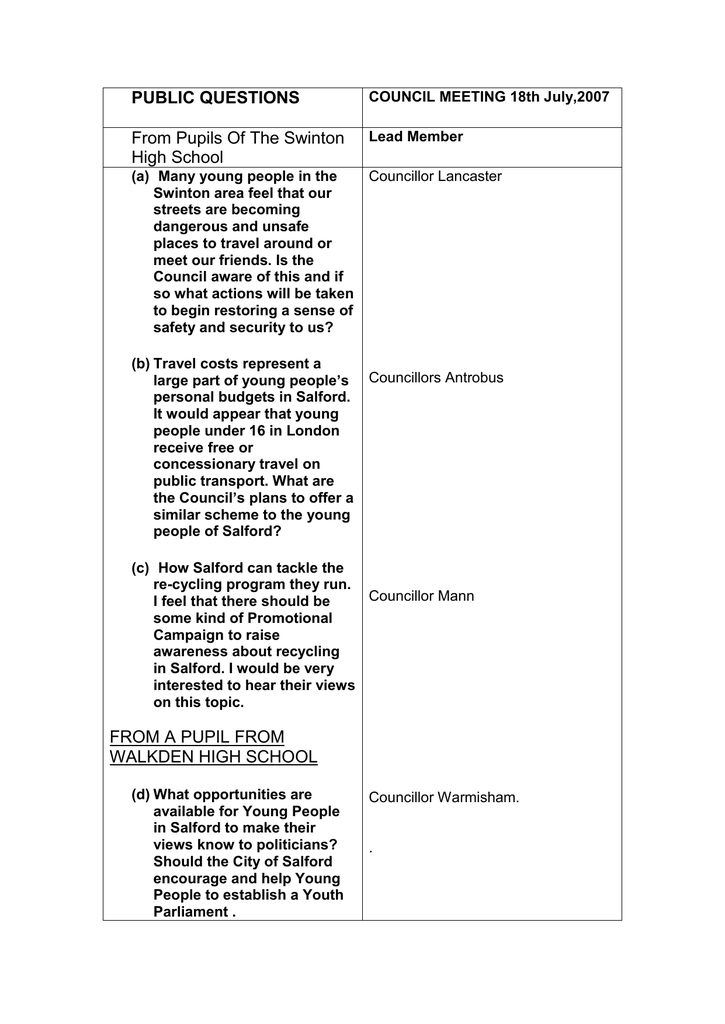 PUBLIC QUESTIONS
COUNCIL MEETING 18th July,2007
From Pupils Of The Swinton
High School
Lead Member
(a) Many young people in the
Swinton area feel that our
streets are becoming
dangerous and unsafe
places to travel around or
meet our friends. Is the
Council aware of this and if
so what actions will be taken
to begin restoring a sense of
safety and security to us?
Councillor Lancaster
(b) Travel costs represent a
large part of young people's
personal budgets in Salford.
It would appear that young
people under 16 in London
receive free or
concessionary travel on
public transport. What are
the Council's plans to offer a
similar scheme to the young
people of Salford?
Councillors Antrobus
(c) How Salford can tackle the
re-cycling program they run.
Councillor Mann
I feel that there should be
some kind of Promotional
Campaign to raise
awareness about recycling
in Salford. I would be very
interested to hear their views
on this topic.
FROM A PUPIL FROM
WALKDEN HIGH SCHOOL
(d) What opportunities are
available for Young People
in Salford to make their
views know to politicians?
Should the City of Salford
encourage and help Young
People to establish a Youth
Parliament .
Councillor Warmisham.
.