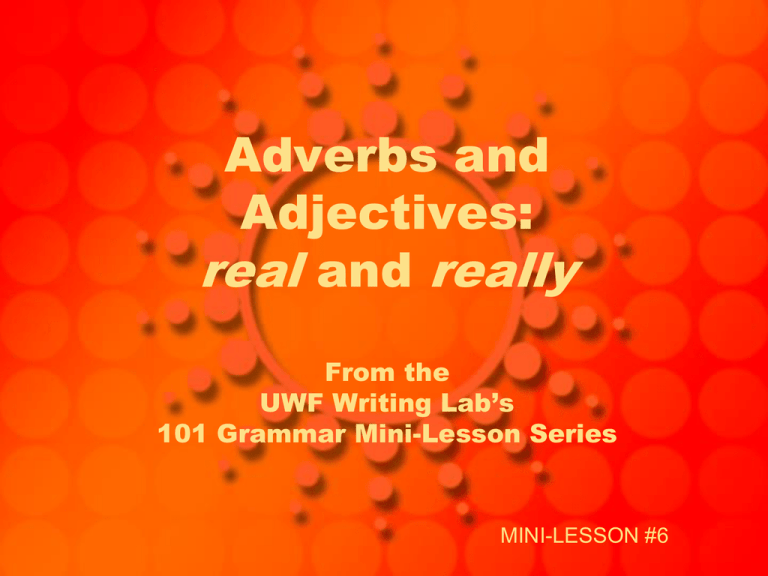 Adverbs and
Adjectives:
real and really
From the
UWF Writing Lab's
101 Grammar Mini-Lesson Series
MINI-LESSON #6
REAL
• Real is an adjective and should be used
to modify or describe only a noun or a
pronoun. Real is usually interchangeable
with genuine.
– Example:
• That is a real diamond.
• That is a genuine diamond.
REALLY
• Really is an adverb and should be used
only to modify verbs, adjectives, and
other adverbs. Remember, however, that
really is an overused equivalent of very,
unusually, and other such modifiers.
– Examples:
• Incorrect:
– That is a real difficult concept.
• Correct:
– That is a really difficult concept.
– That is a very difficult concept.
Real versus Really
•
•
•
•
Real
Real interest
Real knowledge
Real honor
Real crisis
•
•
•
•
Really
Really interesting
Really knowledgeable
Really honorable
Really critical
Let's practice!
Find any incorrect uses of real and really:
• I really feel like avoiding my professors today.
Correct!
• I would never say that I am real unattractive,
but I would say that I am real intelligent.
Really
Let's Practice Some MORE!
• The coach is real upset that we lost the game.
Really
• I can surf really awesomely when I am really
sunburned.
Correct!
• The crash was a real surprise to the passengers.
Correct!
Wasn't
that
really
fun?