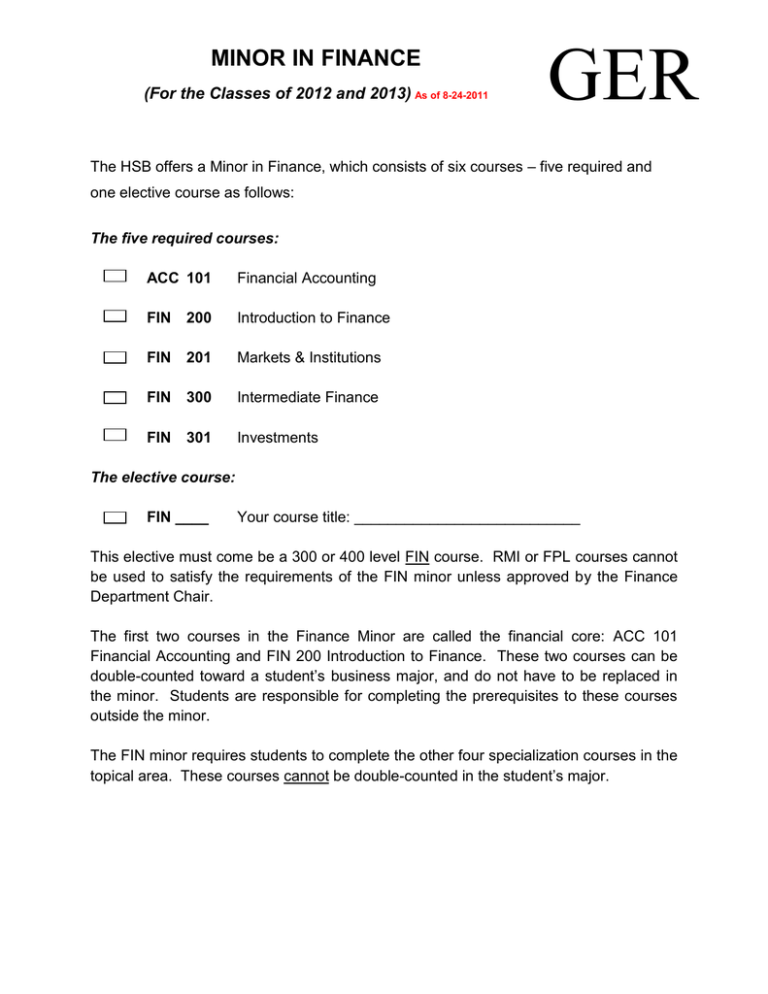 MINOR IN FINANCE
(For the Classes of 2012 and 2013) As of 8-24-2011
GER
The HSB offers a Minor in Finance, which consists of six courses – five required and
one elective course as follows:
The five required courses:
ACC 101
Financial Accounting
FIN
200
Introduction to Finance
FIN
201
Markets & Institutions
FIN
300
Intermediate Finance
FIN
301
Investments
The elective course:
FIN ____
Your course title: ___________________________
This elective must come be a 300 or 400 level FIN course. RMI or FPL courses cannot
be used to satisfy the requirements of the FIN minor unless approved by the Finance
Department Chair.
The first two courses in the Finance Minor are called the financial core: ACC 101
Financial Accounting and FIN 200 Introduction to Finance. These two courses can be
double-counted toward a student's business major, and do not have to be replaced in
the minor. Students are responsible for completing the prerequisites to these courses
outside the minor.
The FIN minor requires students to complete the other four specialization courses in the
topical area. These courses cannot be double-counted in the student's major.