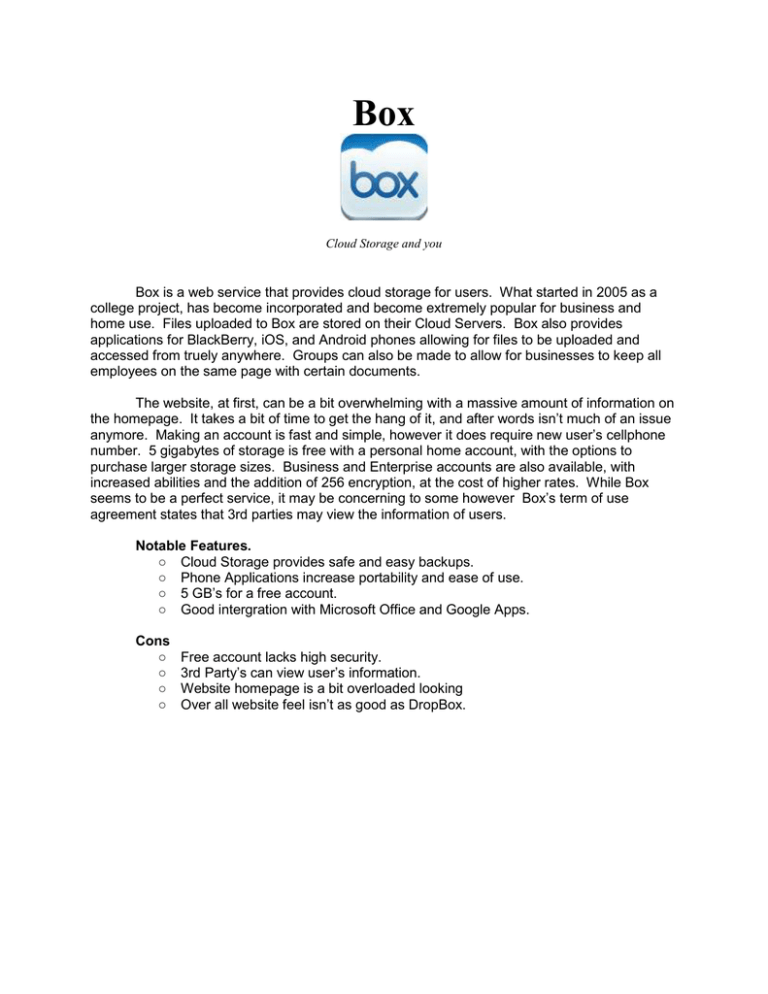 Box
Cloud Storage and you
Box is a web service that provides cloud storage for users. What started in 2005 as a
college project, has become incorporated and become extremely popular for business and
home use. Files uploaded to Box are stored on their Cloud Servers. Box also provides
applications for BlackBerry, iOS, and Android phones allowing for files to be uploaded and
accessed from truely anywhere. Groups can also be made to allow for businesses to keep all
employees on the same page with certain documents.
The website, at first, can be a bit overwhelming with a massive amount of information on
the homepage. It takes a bit of time to get the hang of it, and after words isn't much of an issue
anymore. Making an account is fast and simple, however it does require new user's cellphone
number. 5 gigabytes of storage is free with a personal home account, with the options to
purchase larger storage sizes. Business and Enterprise accounts are also available, with
increased abilities and the addition of 256 encryption, at the cost of higher rates. While Box
seems to be a perfect service, it may be concerning to some however Box's term of use
agreement states that 3rd parties may view the information of users.
Notable Features.
○ Cloud Storage provides safe and easy backups.
○ Phone Applications increase portability and ease of use.
○ 5 GB's for a free account.
○ Good intergration with Microsoft Office and Google Apps.
Cons
○
○
○
○
Free account lacks high security.
3rd Party's can view user's information.
Website homepage is a bit overloaded looking
Over all website feel isn't as good as DropBox.