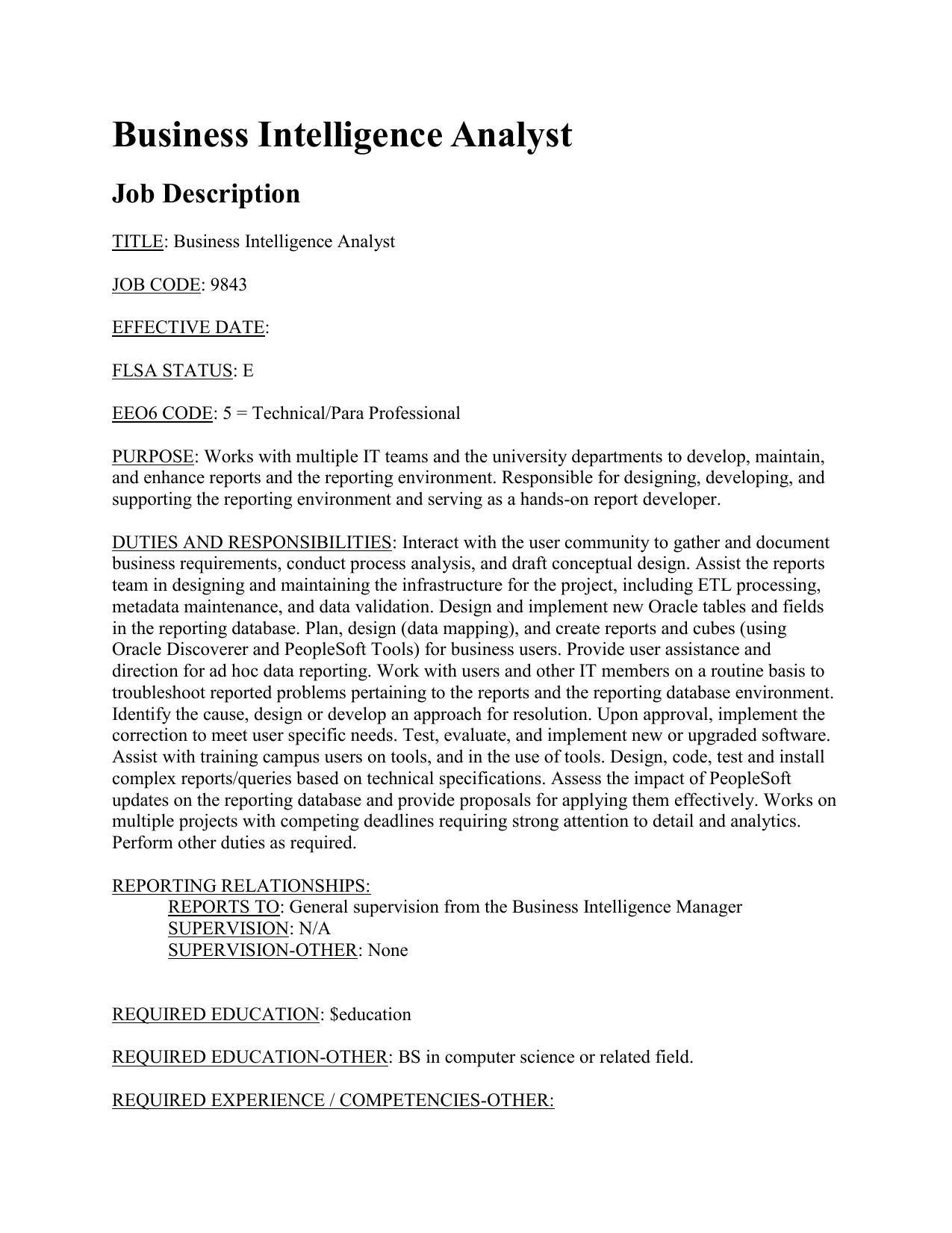 Business Intelligence Analyst
Job Description
TITLE: Business Intelligence Analyst
JOB CODE: 9843
EFFECTIVE DATE:
FLSA STATUS: E
EEO6 CODE: 5 = Technical/Para Professional
PURPOSE: Works with multiple IT teams and the university departments to develop, maintain,
and enhance reports and the reporting environment. Responsible for designing, developing, and
supporting the reporting environment and serving as a hands-on report developer.
DUTIES AND RESPONSIBILITIES: Interact with the user community to gather and document
business requirements, conduct process analysis, and draft conceptual design. Assist the reports
team in designing and maintaining the infrastructure for the project, including ETL processing,
metadata maintenance, and data validation. Design and implement new Oracle tables and fields
in the reporting database. Plan, design (data mapping), and create reports and cubes (using
Oracle Discoverer and PeopleSoft Tools) for business users. Provide user assistance and
direction for ad hoc data reporting. Work with users and other IT members on a routine basis to
troubleshoot reported problems pertaining to the reports and the reporting database environment.
Identify the cause, design or develop an approach for resolution. Upon approval, implement the
correction to meet user specific needs. Test, evaluate, and implement new or upgraded software.
Assist with training campus users on tools, and in the use of tools. Design, code, test and install
complex reports/queries based on technical specifications. Assess the impact of PeopleSoft
updates on the reporting database and provide proposals for applying them effectively. Works on
multiple projects with competing deadlines requiring strong attention to detail and analytics.
Perform other duties as required.
REPORTING RELATIONSHIPS:
REPORTS TO: General supervision from the Business Intelligence Manager
SUPERVISION: N/A
SUPERVISION-OTHER: None
REQUIRED EDUCATION: $education
REQUIRED EDUCATION-OTHER: BS in computer science or related field.
REQUIRED EXPERIENCE / COMPETENCIES-OTHER:
REQUIRED EXPERIENCES/COMPETENCIES: Five+ years experience in systems
design, analysis, and programming experience with a combination of experience in
relational database, client-server concepts, SQL Plus (or Oracle 9i/10g tools), BI tools
(Oracle Discoverer preferred) and OLAP development. Two+ years experience with
Oracle Discoverer. Experience with PeopleSoft Application Campus Solutions (version
8.x+). Certifications in supported technologies are a plus. Strong understanding of all
phases of the application development lifecycle and project management disciplines.
Ability to work on multiple projects with competing deadlines while paying strong
attention to detail and analytics. Excellent organization, teamwork, problem-solving, and
communication (verbal and written) skills. Ability to work well with people in all levels
of the organization.
OTHER REQUIREMENTS: Use of standard office equipment , personal computer, and
Microsoft office. Extremely accurate in all phases of work. General office conditions. Specific
job requirements or physical location of positions allocated to this classification render the
position security sensitive and thereby subject to the provisions of Section 51.215 Texas
Education Code.