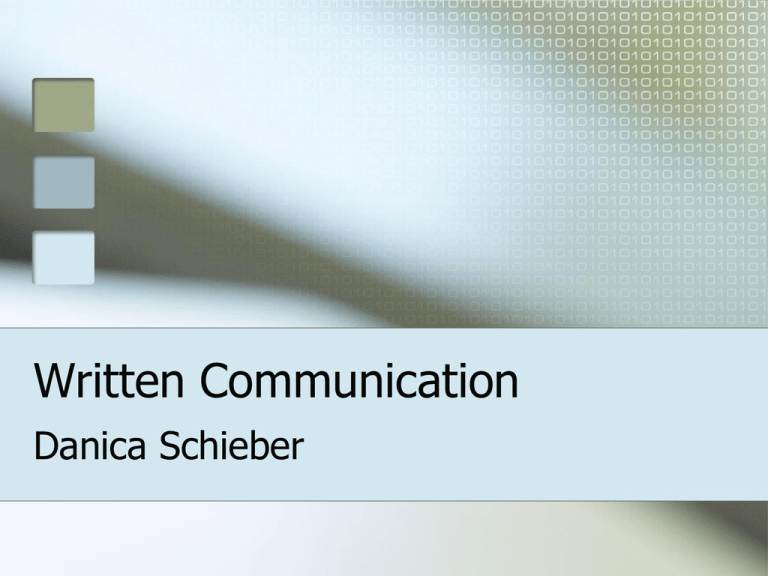 Written Communication
Danica Schieber
Introduction
RPC at ISU
 Business Communication
 Transfer

Backgrounds
Poll everywhere.com
 What best prepared you for your job
with the city?
 Introduce yourself and where you are
from.

Professional Writing
What are some words that come to
mind when we talk about
business/professional writing?
 Let's discuss.

Problems
What are some problems that occur
with miscommunication?
 Famous examples?
 Day-to-day examples?

Audiences
External
 Internal

Rhetorical Principles

The Rhetorical Situation:
Audience
 Purpose
 Context

ETHOS, PATHOS, LOGOS
Source: newliteracyteacher.wordpress.com
Ethos - What to look for in
writing…
How does the author attempt to
establish authority / credibility?
 Expertise on topic / subject?
 Personal experience related to topic?
 Documentation / Quality of Sources?
 Balanced or one-sided?
 Comprehensive approach to topic?

Pathos – What to look for in
writing…





How often or when does the rhetor play
on emotions?
Which emotions is the rhetor going for
(fears, insecurities, anger etc…)? Are the
emotions tied to a motive?
Are deeper issues of justice, mercy,
social responsibility, acceptance etc…at
hand?
Are arguments and claims emotionallycharged?
Nostalgia stories or anecdotes?
Logos – What to look for in
writing…
May appear as:
•
•
Facts – numbers, statistics, data,
science-stuff, research
The text tries to show well-reasoned
ideas
Uses sources:
•
•
Researchers, doctors, specialists,
people with credentials
Surveys, interviews, the stuff that
represents groups of people and their
opinions
Why use all three at once?
Appeals
Ethos
Pathos
If you trust me, I
can persuade you
to listen…
Let me appeal to
your emotions
/imagination
Logos
Let me appeal to
your intellect
Analysis Example- Memo
Who is the audience? What do they
want/need?
 Ethos?- build credibility?
 Pathos?- evoke some kind of
emotion?
 Logos?- logical information?


Is anything missing?
Basic Document Design
1.
2.
Use white space- use lists/bullets
Use headings- be specific, keep
them parallel
(p. 164 and 165)
Don't Do This
Improved
#3 Limit the use of all caps
WHEN PEOPLE READ TEXT IN ALL
CAPS, IT LOOKS AS THOUGH IT IS
SHOUTING AT YOU!
 ALSO, NEVER DO THIS! EVER!!!

#4 No more than 2 fonts
Serif fonts- Times New Roman, Palatino
 Sans Serif fonts- Tahoma, Arial

 Fonts
can influence how the reader
responds to your document.
#5 Decide whether to justify
margins

Full justification- type lines up evenly
on both and right and left margins
More formal
 Uses fewer pages


Ragged right- margins line up only on
the left, but the right lines up in
different places
More informal
 Very short line lengths

#6 Important stuff in top left
and lower right

We read in a "Z" pattern (left to right)
#7 Use a grid to unify
graphic elements
2-3 imaginary columns
 The graphic elements have to line up

#8 Use decoration in
moderation

Highlighting
Decorative Devices
 Color

Specific Genres
Memos
 Minutes
 MD & A

Document Design
Memos- typical format?
 Discuss- Where did we learn
formatting?


Minutes- format?

MD & A- format?
Analysis of Minutes
This is an example of a city's minutes.
 What do we notice about it?
 What will the audience think of it?
 How can it be improved upon?

Practice
Let's analyze the following example of
an MD & A.
 Rhetorical Situation?
 How can it be improved upon?
 Is there anything that the audience
would find confusing?

Guidelines for Effective
Visuals
Check the quality of the data
 Determine the story you want to tell
 Choose the right visual or data
display for the story
 Follow conventions
 Use color and decoration with
restraint
 Be accurate and ethical
 (No Chartjunk!)

The right visual for the story
Use a table for exact values
 Use a chart or graph for relationships
 Use gantt charts to show time lines
 Use photographs to create a sense of
authenticity
 Use drawings to show processes or
dimensions
 Use maps to emphasize location

For each dollar of federal income tax we
pay in 2010, the gov't spends about…
Pie Chart
Misleading?
Wrap-up
Most important things to remember
when creating any document:
 The Rhetorical Triangle:

Audience
 Purpose
 Context


Be clear and concise!
Questions?