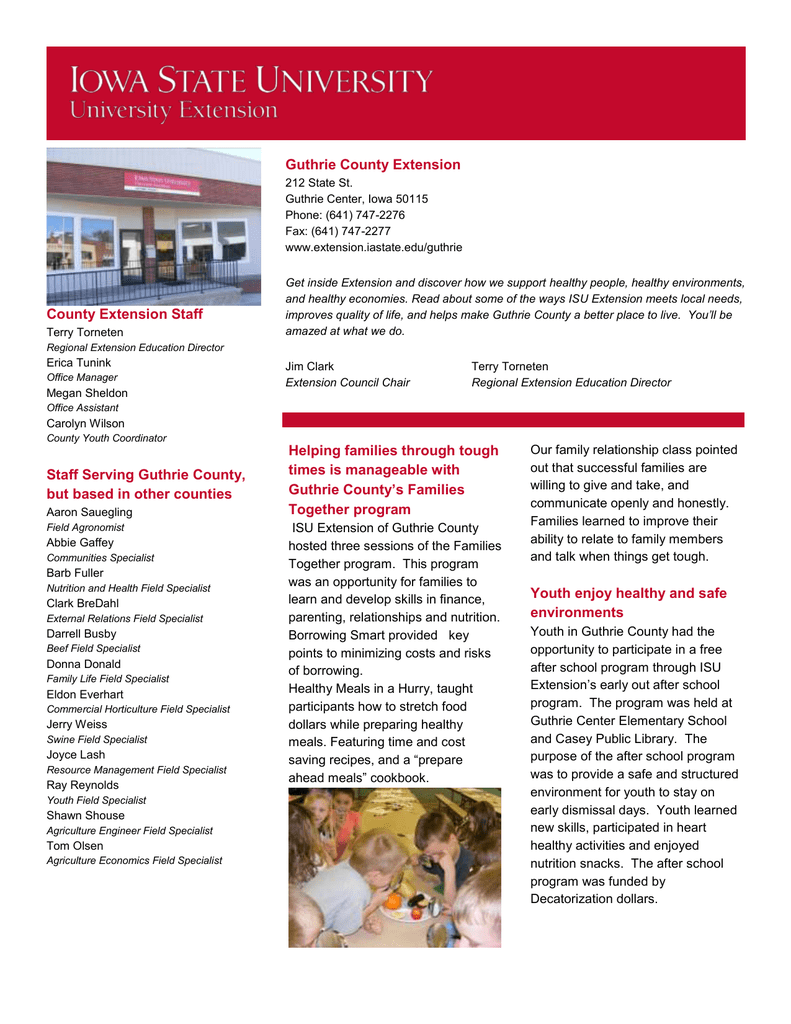 Guthrie County Extension
212 State St.
Guthrie Center, Iowa 50115
Phone: (641) 747-2276
Fax: (641) 747-2277
www.extension.iastate.edu/guthrie
County Extension Staff
Terry Torneten
Get inside Extension and discover how we support healthy people, healthy environments,
and healthy economies. Read about some of the ways ISU Extension meets local needs,
improves quality of life, and helps make Guthrie County a better place to live. You'll be
amazed at what we do.
Regional Extension Education Director
Erica Tunink
Office Manager
Megan Sheldon
Jim Clark
Extension Council Chair
Terry Torneten
Regional Extension Education Director
Office Assistant
Carolyn Wilson
County Youth Coordinator
Staff Serving Guthrie County,
but based in other counties
Aaron Sauegling
Field Agronomist
Abbie Gaffey
Communities Specialist
Barb Fuller
Nutrition and Health Field Specialist
Clark BreDahl
External Relations Field Specialist
Darrell Busby
Beef Field Specialist
Donna Donald
Family Life Field Specialist
Eldon Everhart
Commercial Horticulture Field Specialist
Jerry Weiss
Swine Field Specialist
Joyce Lash
Resource Management Field Specialist
Ray Reynolds
Youth Field Specialist
Shawn Shouse
Agriculture Engineer Field Specialist
Tom Olsen
Agriculture Economics Field Specialist
Helping families through tough
times is manageable with
Guthrie County's Families
Together program
ISU Extension of Guthrie County
hosted three sessions of the Families
Together program. This program
was an opportunity for families to
learn and develop skills in finance,
parenting, relationships and nutrition.
Borrowing Smart provided key
points to minimizing costs and risks
of borrowing.
Healthy Meals in a Hurry, taught
participants how to stretch food
dollars while preparing healthy
meals. Featuring time and cost
saving recipes, and a "prepare
ahead meals" cookbook.
Our family relationship class pointed
out that successful families are
willing to give and take, and
communicate openly and honestly.
Families learned to improve their
ability to relate to family members
and talk when things get tough.
Youth enjoy healthy and safe
environments
Youth in Guthrie County had the
opportunity to participate in a free
after school program through ISU
Extension's early out after school
program. The program was held at
Guthrie Center Elementary School
and Casey Public Library. The
purpose of the after school program
was to provide a safe and structured
environment for youth to stay on
early dismissal days. Youth learned
new skills, participated in heart
healthy activities and enjoyed
nutrition snacks. The after school
program was funded by
Decatorization dollars.
[Youth enjoy healthy and safe
environments] continued
(Front: Sheree McClellan, Teresa Kipp, Jim
Clark, Carol Cain. Back: Keith Wilson, Mark
Allen, Jim Calvert, Bret Hodges. Not Pictured:
Bev Arganbright.)
Guthrie County Extension
Council
Every Iowa county has an elected
Extension Council that guides local
educational programming by partnering
with staff. From needs assessment
through program implementation and
evaluation of outcomes, the council
represents the issues and people of the
county.
We have identified these local issues as
priority topics for current and future
programming:
• Bio-economy
• Youth
• Agriculture
• Healthy lifestyles
We connect you to
Iowa State
University.
We are your local link
to make connections
for campus enrollment, continuing
education, campus visits, campus
exhibits, conferences, camps, and
sporting events.
ISU Extension in Guthrie County
continued a long time tradition in
hosting a Progressive Farmer Farm
Safety Days in May. Nearly 200 third
grade students from Guthrie County
schools attended a fun filled day of
farm safety at the Guthrie County
Fairgrounds. Participants had
hands-on opportunities to learn
about the dangers that lurk on farms
and at their homes; safety stations
included: electrical safety, grain
safety, power take off (PTO) safety,
livestock and animal safety, all
terrain vehicle (ATV) safety, and sun
safety. 2009 brought a special guest
to talk to the youth, a victim of a PTO
accident spoke to the youth. The
family shared their experience and
brought items from the accident for
kids to see. Farm Safety days was
funded by a Community Grant
through Decategorization,
community donations and
volunteers.
Marketing Your Meat in an
Uncertain Economy
The decision to sell, retain
ownership, or background cattle is
always on the mind of cattle
producers. ISU Extension of Guthrie
County hosted a beef marketing
. . . and justice for all
The U.S. Department of Agriculture (USDA) prohibits
discrimination in all its programs and activities on the basis
of race, color, national origin, gender, religion, age,
disability, political beliefs, sexual orientation, and marital or
family status. (Not all prohibited bases apply to all
programs.) Many materials can be made available in
alternative formats for ADA clients. To file a complaint of
discrimination, write USDA, Office of Civil Rights, Room
326-W, Whitten Building, 14th and Independence Avenue,
SW, Washington, DC 20250-9410 or call 202-720-5964.
October 2009
seminar that helped producers with
making marketing decisions. Guest
speakers, Dr. John Lawrence, Dr.
Daryl Strohbehn, and Darrell Busby
presented on timely topics for the
beef industry, including: marketing
projections, herd management, and
pricing corn co-products. This
meeting was supported and
sponsored by various community
business and organizations.
Impacting Famers Production
ISU Extension in partnership with the
Iowa Corn Growers Association and
Butler Agronomy of Guthrie Center,
sponsor and deliver a Crop Fair that
is
open to all producers. Producers
attending the 2009 Crop Fair had
opportunity to learn firsthand
valuable insight on weather patterns,
production trends, and economic
strategies that have and will impact
farmer's bottom line.
Spend Smart. Eat Smart.
This ISU Extension web site helps
people learn more about their foodshopping practices, and changes
they could make to save money and
eat healthier. A variety of options and
interactive activities are available,
including short food preparation howto videos.
www.extension.iastate.edu/foodsavin
gs
Recently, 53% of site users rated it
"excellent." 53% used the cost of
food at home calculator option. 79%
adjusted one or more food buying
habits. 85% increased their
understanding of substituting time or
knowledge/skills to save money at
the supermarket. 88% increased
their food-buying skills. 83%
increased their ability to identify and
include nutritious foods in the family
diet.