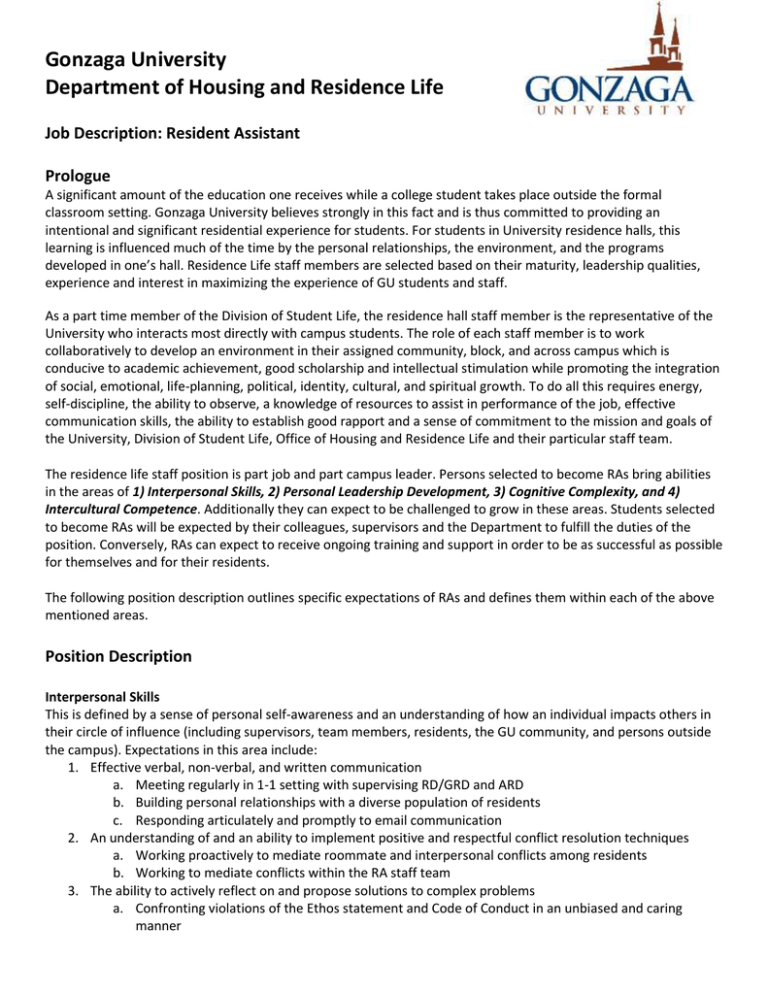 Gonzaga University
Department of Housing and Residence Life
Job Description: Resident Assistant
Prologue
A significant amount of the education one receives while a college student takes place outside the formal
classroom setting. Gonzaga University believes strongly in this fact and is thus committed to providing an
intentional and significant residential experience for students. For students in University residence halls, this
learning is influenced much of the time by the personal relationships, the environment, and the programs
developed in one's hall. Residence Life staff members are selected based on their maturity, leadership qualities,
experience and interest in maximizing the experience of GU students and staff.
As a part time member of the Division of Student Life, the residence hall staff member is the representative of the
University who interacts most directly with campus students. The role of each staff member is to work
collaboratively to develop an environment in their assigned community, block, and across campus which is
conducive to academic achievement, good scholarship and intellectual stimulation while promoting the integration
of social, emotional, life-planning, political, identity, cultural, and spiritual growth. To do all this requires energy,
self-discipline, the ability to observe, a knowledge of resources to assist in performance of the job, effective
communication skills, the ability to establish good rapport and a sense of commitment to the mission and goals of
the University, Division of Student Life, Office of Housing and Residence Life and their particular staff team.
The residence life staff position is part job and part campus leader. Persons selected to become RAs bring abilities
in the areas of 1) Interpersonal Skills, 2) Personal Leadership Development, 3) Cognitive Complexity, and 4)
Intercultural Competence. Additionally they can expect to be challenged to grow in these areas. Students selected
to become RAs will be expected by their colleagues, supervisors and the Department to fulfill the duties of the
position. Conversely, RAs can expect to receive ongoing training and support in order to be as successful as possible
for themselves and for their residents.
The following position description outlines specific expectations of RAs and defines them within each of the above
mentioned areas.
Position Description
Interpersonal Skills
This is defined by a sense of personal self-awareness and an understanding of how an individual impacts others in
their circle of influence (including supervisors, team members, residents, the GU community, and persons outside
the campus). Expectations in this area include:
1. Effective verbal, non-verbal, and written communication
a. Meeting regularly in 1-1 setting with supervising RD/GRD and ARD
b. Building personal relationships with a diverse population of residents
c. Responding articulately and promptly to email communication
2. An understanding of and an ability to implement positive and respectful conflict resolution techniques
a. Working proactively to mediate roommate and interpersonal conflicts among residents
b. Working to mediate conflicts within the RA staff team
3. The ability to actively reflect on and propose solutions to complex problems
a. Confronting violations of the Ethos statement and Code of Conduct in an unbiased and caring
manner
b. Working collaboratively with students in actual and perceived crisis and communicating with
appropriate persons
4. A developed "welcoming spirit" that exudes approachability to all persons in all situations
a. Demonstrate a personable and confident attitude toward others
b. Encourage the building of relationships between residents and among community members
Personal Leadership Development
This is defined by having the ability to articulate one's leadership style and how that may impact roles on staff, in
class, and in future vocational opportunities. Expectations in this area include:
1. Effectively managing time commitments and successfully navigating the expectations of each of these
commitments whether they are academic, personal, co-curricular, or position related
a. Committing to less than 10 hours per week in non-RA leadership positions or outside employment
on or off campus
b. Maintaining a 2.5 cumulative GPA throughout time on staff
c. Prioritizing required campus-wide staff meetings, block meetings, 1-1 meetings, and responsibilities
with block council and RHA
d. Complete rounds on designated duty weekday and weekend nights
2. An ability to maintain personal balance in mind, body, and spirit
3. An acute sense of self-awareness that reflects the ability to identify how ones personal strengths and
weaknesses may positively or negatively impact relationships and work situations
4. An ethical congruency between stated personal values and actions.
a. Role modeling community standards, strong personal values, and positive relationships
5. A servant leadership approach to the on-campus residents, the greater GU campus, the Spokane
community, and the world in which we live.
a. Encourage resident participation in hall, building, Gonzaga and Spokane communities
b. Complete expectations around community development and relationship development with and
among your residents.
6. Comprehending training exercises and being able to apply knowledge to correctly follow departmental and
university procedures
a. Actively participating in weekly staff meetings, development opportunities and evaluative processes
st
b. Enrolling in RA Class in Spring Semester prior to 1 semester on-staff
c. Attending mandatory Fall Training in August and Winter Retreat in January
Cognitive Versatility
This is defined by the capacity to comprehend complex systems and follow logical progressions to desired
outcomes. Expectations in this area include:
1. Understanding and being able to navigate systems
a. Assisting RD and other staff in building openings and closings each semester
b. Maintaining in-semester resident check-in and check-out information as needed
c. Overseeing hall facilities and amenities during the academic year
2. A developing ability to identify and utilize internal and external resources for discovering additional
information, learning new skills and solving problems
a. Recognizing students in crisis or those who exhibit concerning behaviors
b. Synthesizing and reporting student issues or building wide concerns to appropriate University
officials
Intercultural Competence
This is defined by an acceptance of, an appreciation for, and an ability to communicate with people different from
oneself. Expectations in this area include:
1. Gaining an understanding of the Jesuit history, legacy and mission of Gonzaga University
2. An openness to diversity of all kinds and a willingness to engage others in dialogue about issues of diversity
a. Showing a curiosity and desire to know residents of all backgrounds, experiences, beliefs or culture
3. A growing understanding of cross-cultural concerns and how cultural differences affect understanding,
patterns of thinking, and personal behavior
a. Ensuring that students from different backgrounds, experiences, belief systems or cultures
understand Gonzaga, its ways, systems and beliefs.
4. An ability to challenge biased and other unacceptable behavior toward others
a. Actively confronting and reporting all incidents of bias
OTHER INFORMATION
Minimum Qualifications
 Maintain a cumulative GPA of 2.50 or higher while on staff
 Live in assigned on-campus residence for full academic year (excluding Winter Break).
 Be enrolled as a full-time student (12 undergraduate credits or 6 graduate credits)
 Follow all guidelines and expectations found in the GU Student Handbook, Housing Contract, RA Contract
and RA Manual
 Complete 2 semester as a residential student at Gonzaga or other University prior to beginning work as a
RA.
 Hold less than 10 hours of extracurricular leadership activities or outside employment per week (candidates
who will be student teaching, have an off-campus academic internship or practicum may apply, however
the significant time expectations of these experiences will be taking into consideration during the hiring
process)
Supervision Received
A designated Residence Director (RD) or Graduate Residence Director (GRD) supervises each RA staff member.
There are set number of blocks on campus that have a corresponding RD, Assistant Residence Director (ARD), and
Resident Assistants (RAs). The RD and ARD work collaboratively in the management and supervision of facilities,
residents, and RAs. Because each block has different needs and different people bring unique skills and passions to
the position, the duties of a RA may vary slightly across blocks.