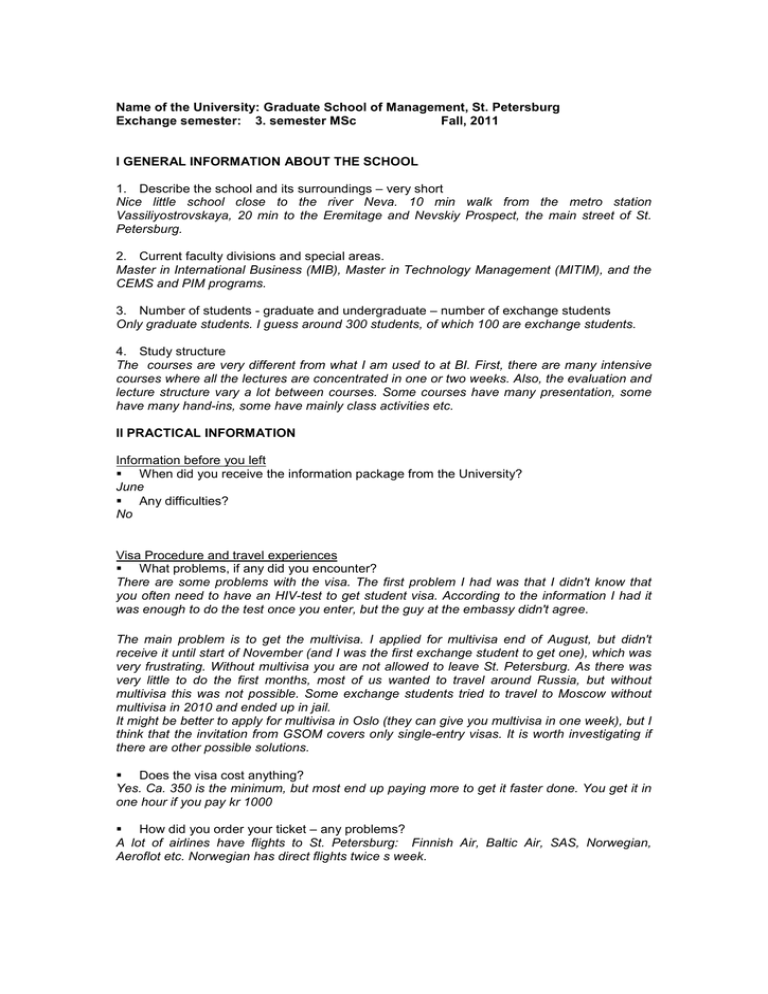 Name of the University: Graduate School of Management, St. Petersburg
Exchange semester: 3. semester MSc
Fall, 2011
I GENERAL INFORMATION ABOUT THE SCHOOL
1. Describe the school and its surroundings – very short
Nice little school close to the river Neva. 10 min walk from the metro station
Vassiliyostrovskaya, 20 min to the Eremitage and Nevskiy Prospect, the main street of St.
Petersburg.
2. Current faculty divisions and special areas.
Master in International Business (MIB), Master in Technology Management (MITIM), and the
CEMS and PIM programs.
3. Number of students - graduate and undergraduate – number of exchange students
Only graduate students. I guess around 300 students, of which 100 are exchange students.
4. Study structure
The courses are very different from what I am used to at BI. First, there are many intensive
courses where all the lectures are concentrated in one or two weeks. Also, the evaluation and
lecture structure vary a lot between courses. Some courses have many presentation, some
have many hand-ins, some have mainly class activities etc.
II PRACTICAL INFORMATION
Information before you left
 When did you receive the information package from the University?
June
 Any difficulties?
No
Visa Procedure and travel experiences
 What problems, if any did you encounter?
There are some problems with the visa. The first problem I had was that I didn't know that
you often need to have an HIV-test to get student visa. According to the information I had it
was enough to do the test once you enter, but the guy at the embassy didn't agree.
The main problem is to get the multivisa. I applied for multivisa end of August, but didn't
receive it until start of November (and I was the first exchange student to get one), which was
very frustrating. Without multivisa you are not allowed to leave St. Petersburg. As there was
very little to do the first months, most of us wanted to travel around Russia, but without
multivisa this was not possible. Some exchange students tried to travel to Moscow without
multivisa in 2010 and ended up in jail.
It might be better to apply for multivisa in Oslo (they can give you multivisa in one week), but I
think that the invitation from GSOM covers only single-entry visas. It is worth investigating if
there are other possible solutions.
 Does the visa cost anything?
Yes. Ca. 350 is the minimum, but most end up paying more to get it faster done. You get it in
one hour if you pay kr 1000
 How did you order your ticket – any problems?
A lot of airlines have flights to St. Petersburg: Finnish Air, Baltic Air, SAS, Norwegian,
Aeroflot etc. Norwegian has direct flights twice s week.
Academic Calendar
 Arrival date – introductory week
Two introduction weeks in the end of August.
 First day of the semester?
1st September.
 Last day of classes?
End of December
 Examination period?
Some courses end in September, but most have exams in December/January. There were
often many alternative exam dates for each course. Many of the exams are taken online.
 Any special events?
The introduction week is great, but apart from this there were few events. The exchange
students make their own events constantly though.
Reception
 How was the reception at the school?
I was met at the airport and had all the help I needed all semester.
 Was the administration and faculty well prepared for your arrival?
Yes. But it took some time before we got the list of available courses.
 Did the school's students participate in the reception of the exchange students?
Yes. The buddy program was very good.
Housing
 What support did you receive from the school in locating housing?
We were taken directly to the dormitory from the airport. The "buddies" might help you to find
other places to stay.
 Any special issues or good ideas for prospective students?
The dormitory has a very low standard and is located quite far from the school. Many students
choose to stay at the dormitory the first weeks to get to know the other exchange students
and then find something closer to GSOM. I think they usually paid 3-4000 kroner a month.
Around ¾ students stayed at the dormitory the whole semester. If you choose to stay at the
dormitory, you should learn to take "taxi" to school. It will cost you around 25 kroner, which is
a reasonable price if you split it on four persons... A taxi will get you to school in five minutes,
compared to 30-45 by buss or metro. Just walk up to one of the old Lada-cars at the bus stop
and start to haggle. Bring someone that speaks Russian the first time.
Costs
 Describe the most important expenses such as rent, books, food, etc.
We didn't need any books, the library and teacher gave us what we needed.
The International Office
 Is there an international office?
Yes
 Who is responsible for incoming exchange students?
The international office
 How does the international office function?
They are very helpful but incredibly slow – you need to remind them constantly to get things
done.
 Do you receive all relevant information?
Yes
Social Activities
 How is your relationship with other students?
Very good, nothing more to say.
 How is the relationship among the exchange students?
Good. We constantly had activities together, e.g. parties, sport tournaments, travels etc
Culture and Language
 Do you have any language problems with the faculty or other students?
No, all lecturers and students speak English fluently.
 How are the possibilities to experience the country and the culture?
We were given language lectures once every week with four different levels (from absolute
beginner to quite advanced where most had Russian parents...).
Cultural and Social Effects from the Exchange Experience
 How do you think the exchange experience will affect you from a cultural and social point
of view?
I learned a lot about Russia and Russian culture. I got some Russian friends and had the
opportunity to travel around Russia. I was in St. Petersburg at a very exciting time, with huge
demonstrations in the streets. It was fascinating to discuss politics with Russians and follow
Russian mass media in that situation, as I got a rather different impression than what was
given by Norwegian media.
 How do you think the exchange experience influences your future career possibilities?
Russia, as the biggest country in the world and our neighbor, is of major importance for many
Norwegian firms. Russia is remarkably different from Norway, and as ordinary Norwegians
have little knowledge about Russia, I believe experience from Russia could be an advantage
in many job situations.
III ACADEMIC INFORMATION
The Teaching situation
 In which language are the courses taught? Any problems?
English. It is possible to choose some bachelor courses taught in Russian
 How would you evaluate the level of study in relationship to the level at BI?
Somewhat lower
 Is the teaching primarily practical or theoretical?
Both. In general more practical than on BI.
 Are the professors using cases, group work or lectures (or a mix)?
A mix
 How is the workload compared to that at BI?
It varies a lot with the course in question, I would say lower in general.
 What is the relationship between the students in the classroom?
Often very few student in the classroom (<20), and the relationship is good. We always had a
good mix of exchange students and Russians.
Required Literature
 Is the literature in English?
Yes
 Is the literature used for detailed knowledge or a broad overview?
Both, depends on the course
 Is exam based on the literature or on the lectures?
Lectures
Exams
 What types of exams were you given?
Ordinary 3 hour written exams, open book exams, presentations, online exams
 What knowledge level was required to pass the exams?
Depends on course. It was hard to gettop grade. Many exams were such that it was difficult to
stand out one way or another.
Other
 Do students have easy access to the library and it's resources?
Yes, very. The librarians are very, very helpful. They will get you whatever you need.
 How is the access to the computers?
Good, but the computers were old and slow
 How is IT used in the teaching or as a distributor of information?
We get mails and access to pages with learning materials, exam dates, results, etc
Description of Courses
Course name:
Exam
Comments
Cases in corporate finance
Home
Brilliant. Not too advanced, but very
focused on application.
Strategy and real options
Written
Easy course
Financial instruments and markets
Online++
Good course, but a bit too easy
Was held by BI-lecturer
Knowledge engineering
Written
Funny, but a bit too easy.
Changing environment and emerging
markets
Online +
presentation
Ok.
Consultant project
Presentation
Good, but depends heavily on the
"customer".
Russian language
Written
Very good.
…………………………………………………………………………………………..
Note: Due to the high variance in quality and difficulty of the different courses, it might be a
good idea to choose more subjects than needed – you don't pay any extra and can simply
skip the subjects you don't like...
Also: be quick when they open for subject registration. The most popular courses are filled
within minutes.