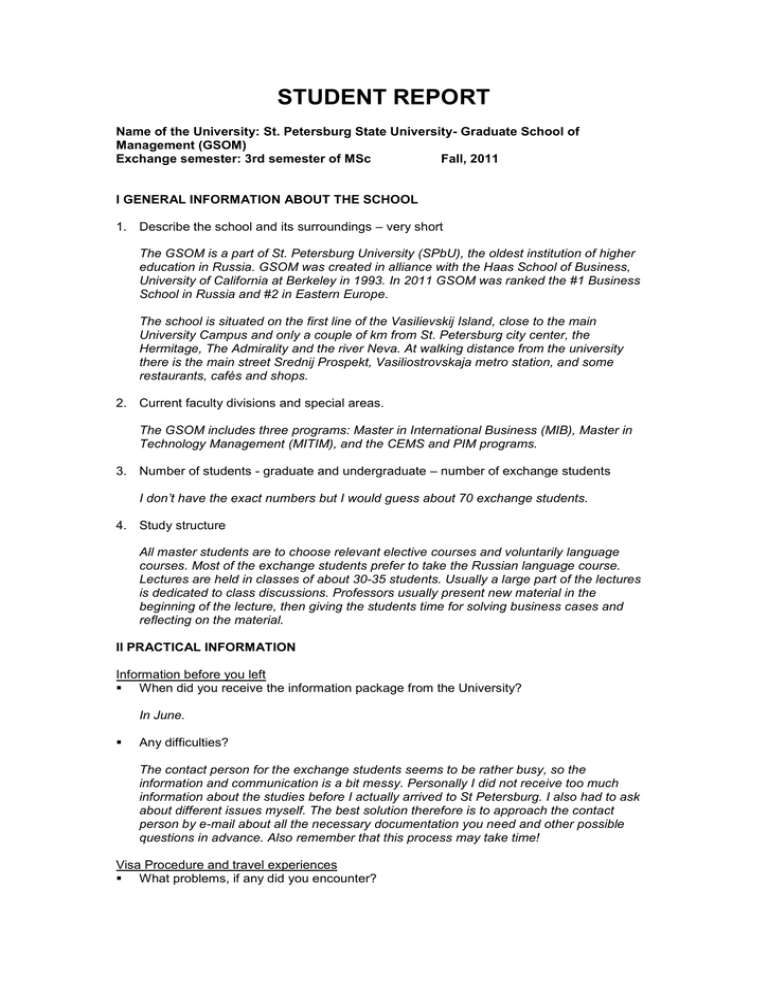 STUDENT REPORT
Name of the University: St. Petersburg State University- Graduate School of
Management (GSOM)
Exchange semester: 3rd semester of MSc
Fall, 2011
I GENERAL INFORMATION ABOUT THE SCHOOL
1. Describe the school and its surroundings – very short
The GSOM is a part of St. Petersburg University (SPbU), the oldest institution of higher
education in Russia. GSOM was created in alliance with the Haas School of Business,
University of California at Berkeley in 1993. In 2011 GSOM was ranked the #1 Business
School in Russia and #2 in Eastern Europe.
The school is situated on the first line of the Vasilievskij Island, close to the main
University Campus and only a couple of km from St. Petersburg city center, the
Hermitage, The Admirality and the river Neva. At walking distance from the university
there is the main street Srednij Prospekt, Vasiliostrovskaja metro station, and some
restaurants, cafés and shops.
2. Current faculty divisions and special areas.
The GSOM includes three programs: Master in International Business (MIB), Master in
Technology Management (MITIM), and the CEMS and PIM programs.
3. Number of students - graduate and undergraduate – number of exchange students
I don't have the exact numbers but I would guess about 70 exchange students.
4. Study structure
All master students are to choose relevant elective courses and voluntarily language
courses. Most of the exchange students prefer to take the Russian language course.
Lectures are held in classes of about 30-35 students. Usually a large part of the lectures
is dedicated to class discussions. Professors usually present new material in the
beginning of the lecture, then giving the students time for solving business cases and
reflecting on the material.
II PRACTICAL INFORMATION
Information before you left
 When did you receive the information package from the University?
In June.

Any difficulties?
The contact person for the exchange students seems to be rather busy, so the
information and communication is a bit messy. Personally I did not receive too much
information about the studies before I actually arrived to St Petersburg. I also had to ask
about different issues myself. The best solution therefore is to approach the contact
person by e-mail about all the necessary documentation you need and other possible
questions in advance. Also remember that this process may take time!
Visa Procedure and travel experiences
 What problems, if any did you encounter?
No particular problems, but I am a Russian citizen myself, so I did not have to proceed on
the same grounds as the other students.

Does the visa cost anything?
Tourist Visa to Russia costs kr 315 done in 4-10 working days or kr 630 for 1-4 days and
around kr 900 for the same day. Student Visa, you will need costs some more.

How did you order your ticket – any problems?
It is an easy process to book tickets online. Norwegian flies two times a week directly
from Oslo to St. Petersburg. SAS flies with one stop everyday, but it is a more expensive
alternative.
Academic Calendar

Arrival date – introductory week
Most of the students arrive in the mid-end of August. Introduction week is the last week of
August and is optional.

First day of the semester?
1st of September

Last day of classes?
17th -30th of December (but it can vary depending on the courses you take). Most of the
professors are willing to set the exam dates taken at school before the Christmas.
However, some online exams have to be taken later on (January). You usually get
several options about when to take the exams, so that you can plan your time individually.

Examination period?
It depend on the courses you take, but mostly from the middle of December until the
middle of January (all the exams taking place after the Christmas are usually online and
can be taken from home).

Any special events?
Career Days, different social events and trips.
Reception
 How was the reception at the school?
Good. All Russian students are very welcoming and nice. The social environment in the
class was great.

Was the administration and faculty well prepared for your arrival?
Not really. Due to the bureaucratic nature of the Russians, there were a lot of fuzz and
unnecessary waiting, paperwork, tests and registrations the first 3 days. But this was kind
of impossible to avoid.
Housing
 Did you have housing at your disposal or did you have to find your own housing?
The school provides housing in the form of a dormitory where it is typical that 2 people
share one room. I stayed at my own apartment (as I have family connections in St.
Petersburg). But I also heard about many exchange students who chose to rent
apartments together instead of living at the dormitory because of different reasons.

What support did you receive from the school in locating housing?
They set it all up for you as long as you choose to live in a dorm. If it's your first time in
Russia, this will probably be the best.

Any special issues or good ideas for prospective students?
It should not be too difficult to find an apartment in the city and if there are several people
who decide to share, the costs will be smaller. However, be careful when searching for
places to live, as there are many scams, particularly with exchange students involved.
Costs
 Describe the most important expenses such as rent, books, food, etc.
The prices on food and nightlife have gone up dramatically lately. I do not have any personal
experience when it comes to rent, since I stayed in a private apartment owned by the family.
Judging from what I had heard from others who lived at the dorm, the standards of living there
are pretty low. But again, one can always find an apartment with some other students if you
absolutely want.
The International Office
 Is there an international office?
Yes

How does the international office function?
It is better to approach them directly if you may have any questions, because you might
probably not be provided with the necessary information in advance.

Do you receive all relevant information?
No. Ask and your questions will be answered (see previous answer).
Exchange promotion
 What kind of activity did you take part in to promote exchange to Norway at your
exchange university?
No formal activities, besides from answering the questions about Norway for the fellow
students in different social gatherings.
Social Activities
 How is your relationship with other students?
Pretty good. Most people are very nice and easy to get in touch with. The overall
environment is really international with people from different parts of the world. There
were also both Bachelor and Master level students (which may be an issue when
students assigned to cooperate on a project together have different ambitions). However,
in regards of the social activities that was not a problem!

How is the relationship among the exchange students?
I got an overall good impression. Especially if one lives at the dorm and participates in all the
parties and social activities there. However, I was always invited to the parties there, even
though I was not staying there.

Is there a student organization, and if so, are the exchange students part of it?
There were a couple of those, but I did not participate.

Are there any special activities and gatherings for exchange students?
Yes, you can sign up on a board for anything from yoga to football. There are also
organized excursions to different places in and around the city. There was also organized
a group discount for the membership at one of the biggest fitness centers.

How do you like it at the school?
The school is nice. Probably Russia's best economics school. The teachers are good and
the co-students are very friendly.
Culture and Language
 Do you have any language problems with the faculty or other students?
No, everyone speaks good English.

How are the possibilities to experience the country and the culture?
Very good. Try to travel around a bit. Russia is much more than St. Petersburg and
Moscow.
Cultural and Social Effects from the Exchange Experience
 How do you think the exchange experience will affect you from a cultural and social point
of view?
I believe it will be highly beneficial and educational.

How do you think the exchange experience influences your future career possibilities?
I am planning to build my career within relationship building with Russian business
partners and apply my insidership status and skills about the Russian business society in
the future job.
III ACADEMIC INFORMATION
The Teaching situation
 In which language are the courses taught? Any problems?
English. The Russians at this school all master English well.

How would you evaluate the level of study in relationship to the level at BI?
The master level in GSOM is pretty much the same as the master level at BI.

Is the teaching primarily practical or theoretical?
A good mix. No exams are 100% based on written examinations. Usually all courses
consists of oral presentations, term-paper, mid-term, cases and final written examination.

Are the professors using cases, group work or lectures (or a mix)?
Mix

How is the workload compared to that at BI?
Many presentations and hand-ins make sure the total workload is pretty much the same.

How is the relationship between faculty and students?
Good.

What is the relationship between the students in the classroom?
Also good.
Required Literature
 Is the literature in English?
All the literature is in English

How do you estimate the level of the literature?
Most of our literature was taken from economical papers like Harvard Business review, so
the level is adequate.

Is the literature used for detailed knowledge or a broad overview?
Both, but often broad overview in the sense you are expected to read way too many
articles

Is exam based on the literature or on the lectures?
Both. Depends very much on the subject. Some exams are open book and based on
understanding of the subject.
Exams
 What types of exams were you given?
Essays, short questions, open book, oral presentations…

What knowledge level was required to pass the exams?
You need to study hard to get good grades as in most countries.
Other
 Do students have easy access to the library and it's resources?
As the library was not so large, there was only one separate group room for discussions and
preparations for the presentations that was possible to book in advance. However, there was
always enough computers and sits for the individual learning.
All the necessary databases are easily accessible for the students. A library card is provided
and can be used for printing and rental of books. Moreover, the library has some literature in
both English and Russia and holds most important magazines like The Economist and
academic papers.

How is the access to the computers?
Easy and good. You get a school login name the first day and a library card and access
with your own laptop or the school's computers.

How is IT used in the teaching or as a distributor of information?
Good. Most slides and resources are posted online. Most teachers use slides in the
teaching.
Description of Courses
I do not think there were any significant differences in subjects over there compared to what I
experience at BI. During the exchange I have taken the following courses:
 New Product Management
 International Logistics
 Changing Policy Environment and International Business
 Consulting Project
Generally satisfied with all subjects, and would recommend to take Consulting project. It gives
opportunity to work with large companies such as PwC, Coca Cola, L'Oreal, etc. You get a
problem and solve it in teams. It was a lot of fun and the supervisor was inspiring and very
engaged in the project.
Any other experiences:
Our Consulting Project group developed digital strategy for L'Oreal (Giorgio Armani brand) on
the Russian market. The project gave us opportunities to get in contact with top management
of the company and a sponsored trip to their HQ in Moscow. A very valuable and learning
experience.
When it comes to things that were difficult, I must mention a long waiting process when it
comes to paperwork (of all kinds). Russians are very concerned with the bureaucracy issues
and it leads to unnecessarily time consuming. Also, I think it was negative that exchange
students were given low priority in terms of course enrolment. There were a limited number of
places in some of the courses. Also, some of the subjects are more popular than other, so it is
important to be early on if you want things to be done quickly and correctly.