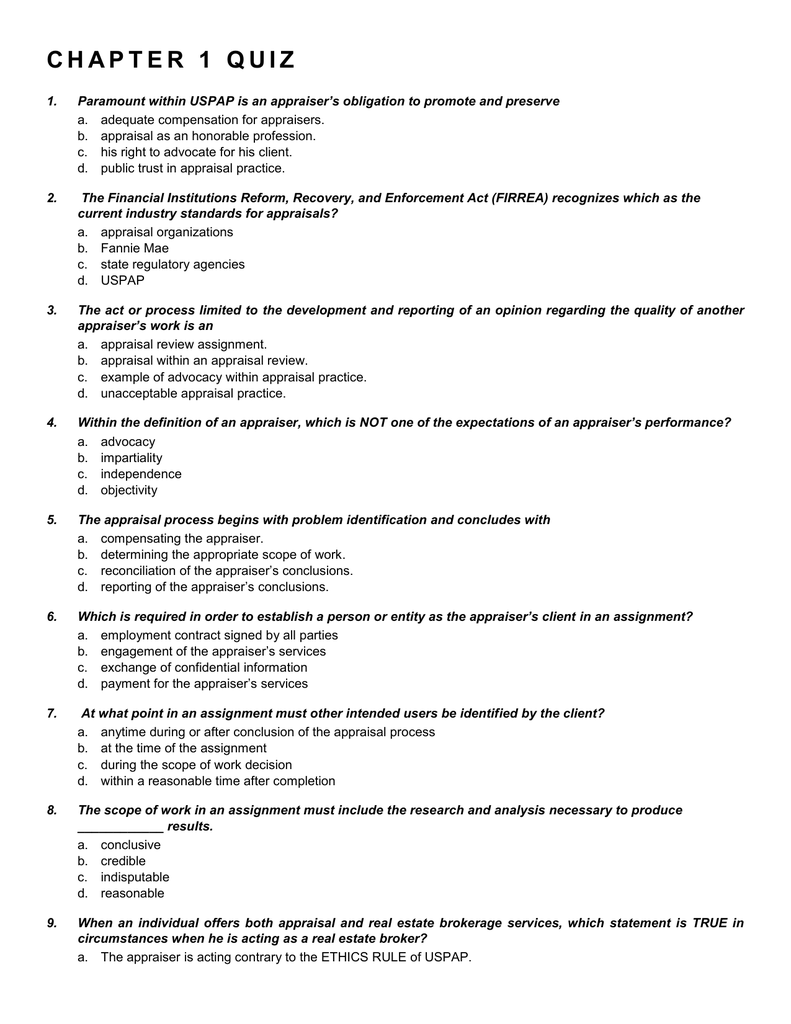 CHAPTER 1 QUIZ
1.
Paramount within USPAP is an appraiser's obligation to promote and preserve
a. adequate compensation for appraisers.
b. appraisal as an honorable profession.
c. his right to advocate for his client.
d. public trust in appraisal practice.
2.
The Financial Institutions Reform, Recovery, and Enforcement Act (FIRREA) recognizes which as the
current industry standards for appraisals?
a. appraisal organizations
b. Fannie Mae
c. state regulatory agencies
d. USPAP
3.
The act or process limited to the development and reporting of an opinion regarding the quality of another
appraiser's work is an
a. appraisal review assignment.
b. appraisal within an appraisal review.
c. example of advocacy within appraisal practice.
d. unacceptable appraisal practice.
4.
Within the definition of an appraiser, which is NOT one of the expectations of an appraiser's performance?
a. advocacy
b. impartiality
c. independence
d. objectivity
5.
The appraisal process begins with problem identification and concludes with
a. compensating the appraiser.
b. determining the appropriate scope of work.
c. reconciliation of the appraiser's conclusions.
d. reporting of the appraiser's conclusions.
6.
Which is required in order to establish a person or entity as the appraiser's client in an assignment?
a. employment contract signed by all parties
b. engagement of the appraiser's services
c. exchange of confidential information
d. payment for the appraiser's services
7.
At what point in an assignment must other intended users be identified by the client?
a. anytime during or after conclusion of the appraisal process
b. at the time of the assignment
c. during the scope of work decision
d. within a reasonable time after completion
8.
The scope of work in an assignment must include the research and analysis necessary to produce
____________ results.
a. conclusive
b. credible
c. indisputable
d. reasonable
9.
When an individual offers both appraisal and real estate brokerage services, which statement is TRUE in
circumstances when he is acting as a real estate broker?
a. The appraiser is acting contrary to the ETHICS RULE of USPAP.
b. He can perform in that capacity provided he does not misrepresent his role.
c. He must always choose to act in the role of an appraiser when providing any valuation service.
d. Regardless, the service would be considered appraisal practice.
10.
Which is an obligation of the COMPETENCY RULE of USPAP?
a. decline all assignments for which the appraiser does not initially possess competency
b. disclose the lack of competency to the client prior to accepting the assignment
c. keep the lack of knowledge and experience confidential in the appraisal report
d. refer the assignment to an appraiser who possesses competency
CHAPTER 2QUIZ
1.
The term describing the conversion of personal property to real property is
a. annexation.
b. appropriation.
c. capture.
d. platting.
2.
Which would most likely be considered real property?
a. area rug
b. built-in window seat
c. lawn furniture
d. sleeper sofa
3.
Which would be a natural attachment that would be classified as fructus industriales?
a. grass
b. ornamental tree
c. perennial flowers
d. wheat
4.
Which concept elaborates on tenant crops?
a. appropriative rights
b. bundle of rights
c. doctrine of emblements
d. rule of capture
5.
Air rights of land ownership are limited by the federal government relating to the
a. horizontal distance to which a building may be constructed.
b. ownership of gasses contained in the air.
c. prevention of interference with air traffic.
d. prohibition of transfer of air rights to others.
6.
Water rights dealing primarily with the shoreline of a non-flowing body of water are known as
a. annexation rights.
b. appropriative rights.
c. capture rights.
d. littoral rights.
7.
For a landowner possessing riparian rights, which is typically an accompanying right?
a. Building a dam to stop or divert the water flow.
b. Releasing sewage in reasonable amounts into the water flow.
c. Taking water from the property to irrigate non-riparian property the riparian owner also owns.
d. Using water in reasonable amounts to irrigate crops on the riparian property.
8.
According to the rule of capture, a property owner
a. is permitted to drain oil or gas from under his own property or from under a neighboring property.
b. may not extract oil or gas that came from under a neighbor's land.
c. must surrender all of the minerals found under the ground to the federal government.
d. owns none of the oil or gas that was produced on his property.
9.
Which is NOT a physical characteristic of real property?
a. immobility
b. indestructibility
c. transferability
d. uniqueness
10.
If a site is 152' × 169', it contains how many acres?
a.
b.
c.
d.
0.51
0.57
0.59
0.90
11.
If a property is legally described using the terms "rod" or "pole," what is the distance being referenced?
a. 3 yards
b. 12 feet
c. 16.5 feet
d. 66 feet
12.
How many linear feet are along one side of the NE 1/4 of a township section?
a. 330
b. 660
c. 1,320
d. 2,640
CHAPTER 3 QUIZ
1.
If Joe leases property that he owns to Susan, what type of ownership interest is held by Joe due to the
lease?
a. fee simple absolute
b. fee simple defeasible
c. leased fee
d. leasehold
2.
Which is a characteristic of a fee simple defeasible estate?
a. The estate is subject to the termination of a lease.
b. The owner possesses the full bundle of rights with no conditions on ownership.
c. Ownership could be forfeited if certain events occur.
d. Possession terminates upon death of the life tenant.
3.
If Stephanie conveyed the fee simple estate subject to a condition subsequent to Larry, Stephanie has
a. created a life estate that is conditioned on the duration of the life tenant.
b. forfeited any rights to a potential future interest in the estate which was conveyed.
c. power of termination to re-enter and possibly begin proceedings to recover the real estate.
d. retained the entire bundle of rights until certain conditions have been satisfied.
4.
If Jerry conveys property subject to a life estate to Samuel, who will gain title in fee simple when the party
holding the life estate passes away, Samuel is known as the
a. life tenant.
b. measuring life.
c. remainderman.
d. reverter.
5.
Which characteristic is common to all freehold estates?
a. Freehold estates do not include future rights of possession.
b. No party possesses the full bundle of rights.
c. Ownership could revert to the previous owner if certain conditions are not met.
d. Possessory interest is of an uncertain duration.
6.
Surrender is the action of
a. forfeiting title in a fee simple estate subject to a condition subsequent.
b. nullifying a life estate.
c. passing title to a remainderman in a life estate.
d. terminating a lease by mutual consent.
7.
Which is a characteristic of a tenancy at will that is NOT common to other types of leasehold estates?
a. It automatically terminates at the death of either the landlord or tenant.
b. The landlord must use force to regain possession of the property.
c. Leases are fully assignable.
d. The tenant is a holdover without the landlord's permission.
8.
Felicia has entered into an agreement with her mother, allowing her mother to occupy a property owned by
Felicia for a specified duration of six months. What type of estate was created?
a. estate for years
b. life estate
c. periodic tenancy
d. tenancy at will
9.
Christine has a one-year lease with the property owner, William. When the lease expires, Christine continues
to pay rent to William at the beginning of each month. What type of arrangement was created when William
accepted rent in this manner?
a. estate for years
b. periodic tenancy
c. tenancy at sufferance
d. tenancy at will
10.
Craig holds a life estate in a property owned by his stepfather, Charles. Craig may occupy the property for
as long as his mother, Charles' wife, is alive. When Craig's mother dies, possession of the property goes
back to Charles. What type of arrangement is illustrated?
a. life estate pur autre vie
b. life estate with the possibility of reverter
c. life estate with power of termination
d. ordinary life estate
CHAPTER 4 QUIZ
1.
John and Suzanne, a married couple, form a corporation in which to hold title of their real estate assets with
no provision for survivorship. How is title to the property being held?
a. joint tenants
b. severalty
c. tenancy in common
d. tenants by the entireties
2.
In co-ownership, reference to an undivided interest emphasizes that the
a. co-ownership provides for survivorship when one of the co-owners dies.
b. exact fractional component of ownership cannot be determined.
c. party holding ownership is an entity rather than an individual.
d. property is not physically divided according to co-owners.
3.
Which is NOT one of the four unities of property ownership?
a. investment
b. possession
c. time
d. title
4.
Which is a true statement regarding tenancy in common?
a. Only one of the four unities is always present.
b. The ownership includes right of survivorship.
c. Ownership interests cannot be unequal.
d. There may be one or more co-owners.
5.
Joseph owns property with his wife, Cassandra, in joint tenancy. Joseph's will specifies that his undivided
interest in the property will go to his children, who are Cassandra's stepchildren. Which is a true statement?
a. Cassandra will continue to be a joint tenant after Joseph's death.
b. Joseph's children will become joint tenants with Cassandra.
c. The property will be physically divided upon Joseph's death automatically.
d. Survivorship will override Joseph's will.
6.
The primary intent of marital property rights is to protect the rights of a surviving spouse when
a. both spouses are named as joint tenants.
b. property ownership is held as tenants by the entireties.
c. the surviving spouse is not specified in the property title.
d. survivorship is specified in the particular ownership.
7.
Fred has conveyed his property to a trust. His attorney will hold the asset on behalf of Fred's children, who
will receive net proceeds from the property. What participant in the trust is Fred's attorney?
a. beneficiary
b. guardian
c. trustee
d. trustor
8.
How many investors, at a minimum, are required to form a REIT?
a. 30
b. 50
c. 100
d. 300
9.
Craig, Jason, and Hugh own real estate as joint tenants. If Craig and Jason die simultaneously, Hugh will
a. become a joint tenant with Craig and Jason's heirs.
b. hold the entire property interest in severalty.
c. own an undivided one-third interest.
d. take title individually as a tenant in common.
10.
If Paula has the right to use and enjoy a timeshare, which is owned in fee by a hotel corporation, Paula has
a. co-ownership with other timeshare owners.
b. a non-fee ownership of the timeshare.
c. ownership in severalty in the timeshare.
d. a proprietary lease for the specified unit.
CHAPTER 4 QUIZ
1.
The basis for governmental regulation of the use of private property is
a. eminent domain.
b. the National Environmental Policy Act.
c. police power.
d. the zoning clause.
2.
A section of the neighborhood has recently been rezoned for residential use only. Zachary's store is located
in this section. Because the property was used as a store prior to the zoning, he will be allowed to continue
to use his property as a store. This is known as a
a. conditional use.
b. nonconforming use.
c. spot zone.
d. variance.
3.
An easement allows the present and any future owner of "Lot D" to drive across a neighbor's property "Lot
S" to reach her own property. This is an example of a(n)
a. appurtenant easement.
b. defeasible easement.
c. easement in gross.
d. encroachment.
4.
Ben's property has an easement in gross that allows Ben to hunt on his neighbor's land. When the neighbor
sells his land to Ben, the easement terminates through
a. abandonment.
b. destruction of the dominant tenement.
c. failure of purpose.
d. merger.
5.
If a tax assessor estimated the market value of a property to be $340,000, what are the annual real property
taxes if the assessment ratio is 35% and mills are 51.7?
a. $5,932.60
b. $6,152.30
c. $6,847.21
d. $7,166.55
6.
Which is NOT a power of government?
a. deed restrictions
b. eminent domain
c. escheat
d. police power
7.
A cost for an improvement that is divided among several property owners on a street and billed by a
jurisdiction would be an example of
a. escheat.
b. improvement burden.
c. special assessment.
d. special tax bill.
8.
The county is taking part of Bill's land for a new park. What is this process called?
a. annexation
b. condemnation
c. eminent domain
d. involuntary takeover
9.
Which established power to the government for taking private property with the payment of just
compensation?
a. allodial system
b. comprehensive plan
c. covenants, conditions, and restrictions
d. Fifth Amendment of the U.S. Constitution
10.
If semi-annual taxes for a property are $1,260, what is the assessed value of the property if the tax rate is 48
mills?
a. $37,000
b. $41,600
c. $52,500
d. $63,900
11.
Which statement is FALSE regarding a gross easement?
a. A dominant tenant's rights can be assigned but do not automatically run with the land.
b. If the servient property is transferred, the easement terminates.
c. It always has both a dominant tenant and a servient tenant.
d. There is no dominant tenement.
12.
A non-possessory interest in real property is also called a(n)
a. encumbrance.
b. leasehold estate.
c. license.
d. servient tenement.
13.
Which is an involuntary, specific lien?
a. easement created by an express agreement
b. IRS lien
c. mechanic's lien
d. mortgage
14.
When liens are paid off out of the proceeds of a foreclosure sale,
a. a judgment lien generally has lowest priority.
b. a lien for real property taxes always has highest priority.
c. a mortgage always has highest priority.
d. priority depends on the amount of the lien.
15.
Which would most likely result in a general lien?
a. IRS lien
b. mechanic's lien
c. mortgage
d. real estate tax lien
CHAPTER 6 QUIZ
1.
In a real estate transaction, the grantor is the _________ and the grantee is the ________.
a. buyer / seller
b. lender / buyer
c. seller / buyer
d. seller / lender
2.
All are essential elements for a valid deed EXCEPT
a. competent grantor.
b. delivery and acceptance.
c. grantee's signature.
d. legal description.
3.
Which clause includes the words "to have and to hold"?
a. conveyance
b. granting
c. habendum
d. recital
4.
When a party signs a document before a notary public stating it was signed voluntarily, it is an
a. accreditation.
b. acknowledgment.
c. alliance.
d. appurtenance.
5.
Which is an example of voluntary alienation?
a. avulsion
b. condemnation
c. dedication
d. foreclosure
6.
When someone dies without a will, he is said to have died
a. devise.
b. escheat.
c. intestate.
d. testate.
7.
If one party to a contract fails to perform his contractual obligations without a legal excuse, it is a(n)
a. assignment.
b. breach of contract.
c. lack of substantial performance.
d. novation.
8.
Where applicable, a particular jurisdiction's statute of frauds requires contracts conveying real estate to be
a. recorded.
b. reviewed by an attorney.
c. verbal.
d. written.
9.
Kim signs a contract agreeing to buy a property from Bob, but Bob does not actually own the property. This
contract is
a. unenforceable.
b. valid.
c. void.
d. voidable.
10.
Lyle contracts to buy Julia's house, but only if he can sell his house. This type of provision written into a
sales contract is called
a. a contingency clause.
b. good consideration.
c. right of specific performance.
d. time is of the essence clause.
11.
Carol and Leslie enter into a contract stating that Carol will pay Leslie $650 per month for the next 20 years.
Carol will live in the house and pay all expenses including property taxes, insurance, and maintenance
costs. Leslie will continue to hold the title until the property is paid off by Carol. What kind of contract do
they have?
a. installment sales contract
b. land lease
c. lease purchase agreement
d. option agreement
12.
A contract clearly states that $5,000 would be kept by the seller should the buyer breach the contract. The
$5,000 is considered
a. the broker's commission.
b. the down payment.
c. earnest money.
d. liquidated damages.
13.
A contract written for the exchange of illegal substances would be void because
a. consideration was not listed.
b. incompetent parties.
c. legality of object.
d. no signatures.
14.
When a new person takes the place of one of the parties to a contract and the withdrawing party is relieved
of all liability, it is called
a. accord and satisfaction.
b. assignment.
c. novation.
d. substantial performance.
15.
Sam offers to sell his house to Brenda for $200,000 if Brenda will pay $45,000 in cash and give Sam a 15year mortgage for the balance at 11% interest. Brenda responds, "I accept your offer, provided that I have to
pay only $40,000 down." This is a
a. counteroffer.
b. defeasible offer.
c. partial acceptance.
d. unilateral acceptance.
16.
When a contract is terminated and each party returns whatever consideration the other had provided, it is
called
a. cancellation.
b. repudiation.
c. rescission.
d. a tender offer.
17.
An option agreement is
a. bilateral in nature.
b. not a contract.
c. the same concept as a right of first redemption.
d. supported by consideration.
18.
Which type of lease would provide the lessee with the least expense and risk?
a.
b.
c.
d.
absolute net—annual increase
gross—flat
net—variable
triple net—flat
19.
A month-to-month lease gives the lessor
a. greater control when it comes to adjusting the rent.
b. less chance of risk that the tenant will leave.
c. a lower rate of rent in short term situations.
d. no opportunity to change the terms of the lease.
20.
In a percentage lease, the amount of rent that is the base or guaranteed minimum the lessee will pay is
called
a. breakpoint rent.
b. market rent.
c. overage rent.
d. starting rent.
21.
Christopher is leasing property from Patricia via an annual increase lease. Which is a characteristic of an
annual increase lease?
a. Adjustments to rent are based on fluctuation of market rental rates and owner's expenses.
b. Annual increase leases only are used with gross leases and reflect change in the Consumer Price Index.
c. Rent increases are a predetermined dollar amount at specified periodic intervals.
d. Rental rate is adjusted by a specified percentage with each adjustment.
22.
In a triple-net lease scenario, which is NOT a typical expense of the lessee?
a. fire insurance on the building
b. property taxes
c. repairing a leaky faucet
d. replacing the roof on the structure
23.
Phillip is leasing an office suite from National Office Properties, Inc., the property owner, via a net/net lease.
In this arrangement, the lessor has
a. been granted a leasehold estate.
b. conveyed a temporary possessory interest.
c. no remaining property rights.
d. permanently surrendered the leased fee estate.
24.
Which is an advantage to the lessee in a percentage lease?
a. If the specified sales volume is not reached, the lease is automatically terminated.
b. Lessor is conveying all property rights during the lease period.
c. Overage rent will always increase at a specified percent each year.
d. Owner of the leased facility is motivated to promote and maintain the property.
25.
Why would an appraiser be interested in expenses being paid by the landlord when reviewing a lease
agreement?
a. clarifies if, in fact, the landlord possesses the leased fee estate
b. defines whether the lease is flat or variable
c. determines the breakpoint rent from overage rent
d. indicates operating expenses for estimating net operating income
CHAPTER 7 QUIZ
1.
If the client is using an appraisal to determine what a property would be worth in a less than typical
marketing period, the appropriate type of value would likely be
a. duress value.
b. investment value.
c. liquidation value.
d. time-adjusted market value.
2.
Which is NOT a condition of a typical arm's length transaction?
a. no atypical concessions
b. no marketing
c. no relationship of the parties to the transaction
d. no unusual terms
3.
Market price is what the
a. appraiser thinks the property should sell for.
b. property is listed for.
c. property should have sold for.
d. property sold for.
4.
An appraiser identifies the definition of market value to be used in an assignment during problem
identification and must additionally
a. cite the source of the definition in the appraisal report.
b. document the author of the definition in the work file.
c. obtain permission from the client to use the specific definition.
d. use the specific USPAP definition of market value for financing transactions.
5.
A property that sold below market value due to a pending foreclosure is influenced mostly by
a. acceleration and depression.
b. cash equivalency.
c. haste and duress.
d. relationship to the lender.
6.
A transaction with no atypical conditions is best described as
a. arm's length.
b. established market value.
c. liquidated.
d. sterile.
7.
The amount to create, produce, or obtain a property is known as
a. cost.
b. price.
c. reproduction.
d. value.
8.
An appraiser is appraising a structure built and used as a special use property. Since the value opinion is to
reflect the property's special use for the particular owner, the appropriate type of value is
a. going concern.
b. market.
c. reproduction.
d. value in use.
9.
Going concern value is most accurately described as a valuation of the
a. business assets.
b. liquid and solid assets.
c. real and personal property.
d. tangible and intangible assets.
10.
The highest and best use for a parcel of land that is improved with an old building has changed, and it has
been determined the improvements should be razed. The building has many ornate stained glass windows
and extensive black walnut wood trim. What value type would be an appropriate in this assignment?
a. liquidation
b. replacement
c. reproduction
d. salvage
CHAPTER 8 QUIZ
1.
Radon gas
a. can indicate the presence of a toxic uranium dump close to the property.
b. can present a problem indoors if allowed to build up to dangerous levels.
c. is a man-made waste byproduct.
d. makes a house worthless because it must be condemned by the EPA.
2.
What statement about electromagnetic fields is FALSE?
a. They are created by moving electrical currents.
b. They can affect other charged objects.
c. They can be produced by high-tension power lines.
d. They have been proven to cause cancer.
3.
It is well known that a murder took place in a house 40 years ago. This could be an example of
a. an internal obsolescence.
b. neighborhood decline.
c. a stigmatism.
d. social force.
4.
A trend of moving to a new suburban area is an example of
a. economic forces.
b. locational forces.
c. physical forces.
d. social forces.
5.
The state's housing finance authority has just issued a low-interest, first-time homebuyer mortgage
program. Sales are spurred as a result of this
a. governmental force.
b. physical force.
c. social force.
d. supply and demand.
6.
Which is an example of the governmental force of revenue generating laws?
a. cost of credit
b. earnings levels
c. permissibility of zoning
d. specific tax policies
7.
Wetlands are protected under what federal Act?
a. Clean Water Act
b. Federal Wetlands Protection and Wildlife Act
c. SARA
d. U.S. Army Corps Act
8.
Sick building syndrome is a result of
a. a former traumatic act.
b. inadequate soil composition.
c. linkages to toxic waste dumps.
d. poor air quality.
9.
The Comprehensive Environmental Response, Compensation, and Liability Act primarily addresses
a. abandoned waste sites.
b. air quality in public buildings.
c. properties ridden with mold.
d. safe drinking water.
10.
Which is an example of linkages?
a. estimated driving time from populated areas to major interstate highways
b. known relationship of environmental concerns and terminal illness
c. proximity of hazardous substances to populated areas
d. relationship of household members when analyzing social forces
CHAPTER 9 QUIZ
1.
Highest and best use
a. allocates land resources efficiently.
b. always considers the intended use of the owner.
c. can be several different uses at any given time.
d. results in a minimal loss of income.
2.
Externalities can be a positive or negative influence on value, primarily due to the property characteristic of
a. balance.
b. immobility.
c. level benefits.
d. surplus productivity.
3.
An interim use might be determined when
a. the appraiser is unable to make a determination due to limited data.
b. the owner cannot make up his mind on what to do.
c. a reasonable and probable change in circumstances is forthcoming.
d. waiting for a volatile market to settle before deciding.
4.
Regarding "physically possible," which would NOT be considered?
a. building materials
b. building set back lines
c. parking requirements
d. size of the building
5.
A school building might be an example of a(n) __________ property.
a. commercial-use
b. multiple-use
c. special-use
d. utility-use
6.
When the highest and best use of the property is "vacant," the current improvements are
a. in a state of equilibrium.
b. lending no value to the vacant site.
c. taking away from the value of the vacant site.
d. taking away from the vacant site value by more than the cost to raze the improvements.
7.
When a buyer will not pay more for something than its cost, the buyer is influenced by
a. contribution.
b. opportunity cost.
c. substitution.
d. supply and demand.
8.
Which is NOT one of the four agents of production?
a. capital
b. gross profit
c. labor
d. land
9.
The law of diminishing returns is most directly linked to which economic principle?
a. change
b. competition
c. contribution
d. substitution
10.
When properties are listed at a certain price in the neighborhood, that price tends to set the limits of value
for other properties around it, according to the concept of
a. balance.
b. competition.
c. contribution.
d. substitution
11.
Which economic principle suggests that value is created through expectation of future benefits?
a. anticipation
b. balance
c. contribution
d. surplus productivity
12.
Which of the following is likely to contribute the most value?
a. adding 500 square feet to a 1,200 square feet house, where 1,200 square feet is the predominant square
footage
b. adding a fence where fences are prohibited
c. adding a second bath to a three-bedroom house, where three bedrooms, two baths is the norm
d. changing granite countertops to laminate
13.
The largest and most expensive house in the neighborhood could likely be experiencing regression through
which economic principle?
a. anticipation
b. conformity
c. substitution
d. surplus productivity
14.
When might a residual physical segment of a land parcel be considered surplus site?
a. if it is needed for future expansion of the subject's improvements
b. if it would be legally permissible to have another house built on it
c. when it cannot be legally sold separately from the subject property
d. when it could freely transfer and be made available to the open market
15.
Which is included within the test of "legally permissible"?
a. allowable to zoning
b. hazard insurance could be obtained
c. police protection is available
d. title is free of encumbrances
CHAPTER 10 QUIZ
1.
The federal government influences the money supply through
a. fiscal and monetary policy.
b. physical and social factors.
c. rules of equilibrium.
d. supply and demand.
2.
The Treasury Department is NOT responsible for
a. federal spending.
b. managing the federal deficit.
c. tax collection.
d. secondary mortgage markets.
3.
The Federal Reserve System has how many regional Federal Reserve Banks?
a. 6
b. 8
c. 12
d. 14
4.
Tools used by the Fed to implement monetary policy include
a. Congressional Acts.
b. discount rates and reserve requirements.
c. fiscal assertiveness.
d. prime rates and subprime rates.
5.
The U.S. Treasury is responsible for __________ policy.
a. economic
b. fiscal
c. monetary
d. social
6.
The amount a commercial bank must keep on deposit is known as
a. equilibrium.
b. monetary policy.
c. reserve requirements.
d. supply and demand.
7.
If the federal government spends less money than revenue, which would likely occur?
a. Interest rates would rise sharply for mortgage loans.
b. Federal Reserve Board would not meet.
c. Market equilibrium would occur in the Federal Reserve.
d. More funds would be available for real estate loans.
8.
Tax credits, such as those created through the American Recovery and Reinvestment Act of 2009, are an
example of which force influencing the value of real property?
a. economic
b. governmental
c. physical
d. social
9.
Which is NOT a source of equity used as capital for acquisition of investment real estate?
a. joint ventures
b. mortgages
c. partnerships
d. pensions funds
10.
What is the lump-sum remaining principle balance referred to that is payable when a mortgage loan is not
fully amortized?
a. balloon balance
b. deficit balance
c. discount balance
d. passive balance
11.
In general, conforming conventional mortgage loans represent
a. less risk of loss to the lender.
b. a loan avenue for borrowers who have a high debt to income ratio.
c. loans that are insured or guaranteed by the government.
d. an opportunity to charge a higher interest rate.
12.
Which is an advantage of the secondary mortgage market?
a. Lenders can sell existing lower interest rate loans to free-up money.
b. The lender is only lending funds from their institutions deposits.
c. Secondary market loans are only for home equity loans, so there is less risk.
d. There are no national requirements for the secondary market.
CHAPTER 11 QUIZ
1.
__________ factors are NOT a force influencing housing cycles.
a. Economic
b. Social
c. Structure
d. Supply
2.
When housing prices fall due to the relocation of a major employer, it is an example of a(n) __________
force influencing value.
a. economic
b. governmental
c. physical
d. social
3.
A neighborhood is undergoing much rehabilitation and property improvement. The movement is not part of
any public movement or initiative but rather from a general trend toward people desiring to live there. What
phase of the neighborhood life cycle is being evidenced?
a. expansion
b. gentrification
c. growth
d. transition
4.
The point in a business cycle when prices fall and production slows until demand catches up with supply is
most likely a period of
a. contraction.
b. expansion.
c. peak.
d. trough.
5.
During the course of a market analysis, an appraiser notes that a particular area which has been
predominately residential properties, is rapidly undergoing a complete change of use to commercial due to
the widening of a street and increasingly higher traffic counts. What is the appraiser observing?
a. decline
b. equilibrium
c. gentrification
d. transition
6.
The various complimentary land uses present in an area are being examined as part of a larger market. What
component of a market area is being analyzed?
a. district
b. neighborhood
c. quadrant
d. zone
7.
An appraiser primarily considers general data concerning the overall conditions of the real estate
marketplace when performing a
a. economic base analysis.
b. household study.
c. market analysis.
d. productivity analysis.
8.
Existing inventory of houses and planned new construction are elements of what type of analysis?
a. competitive supply analysis
b. economic base analysis
c. market segmentation
d. productivity analysis
9.
Analysis indicates that 170 residential lots are needed for sale in the next four years based on projected
demographics. There are currently 80 residential lots available with another 28 soon to be completed. If 50%
of the demand will come in year one and 30% of the demand will come in year two, how many lots are
projected to be needed to satisfy demand in year three?
a. 27
b. 31
c. 34
d. 51
10.
A study is being performed that will examine the benefit of a proposed real estate project in relation to the
project's cost. What type of analysis is being performed?
a. absorption study
b. feasibility study
c. marketability study
d. productivity analysis
CHAPTER 12 QUIZ
1.
Jack appraised a residential dwelling located across the street from a factory that he determined is
negatively affecting the value of the subject property. Jack applied a location adjustment in his sales
comparison approach. However, the client asked that the factory not be discussed in the appraisal report.
Since Jack addressed the condition with an adjustment, has he complied with USPAP?
a. No, because USPAP requires explanation for each adjustment.
b. No, omitting the discussion could produce a misleading report.
c. Yes, since an adjustment was included.
d. Yes, since the client requested the omission.
2.
If a property is known by the appraiser, on the effective date of the appraisal, to have an inoperative
mechanical system component, but the appraiser is considering the component as if it were operating
properly on that date for the purpose of his analysis, what is the appraiser basing his opinions and
conclusions on?
a. anticipated condition
b. extraordinary assumption
c. hypothetical condition
d. hypothetical exception
3.
Josh received an appraisal request from a lender-client who told him to immediately call if the value on the
property is less than the amount stipulated by the lender, as he doesn't intend to pay for an appraisal that
won't benefit his position. Will acceptance of this assignment be in compliance with USPAP?
a. Yes, it is permissible for a client to call the client with the value prior to adequately supporting the opinion.
b. Yes, this would be a hypothetical condition, which is acceptable.
c. No, an appraiser may not accept an assignment with unacceptable assignment conditions.
d. No, it is not permissible unless Josh discloses this fact in the report.
4.
What information is NOT required to be in an appraisal workfile?
a. copy of the bill sent to the client
b. documentation to support the appraiser's opinions and conclusions
c. references to the location of other documentation not in the workfile
d. true copies of any written reports
5.
The scope of work disclosed in an appraisal report must include the
a. appraiser's final conclusions and value opinion.
b. initially planned scope of work at the onset of the assignment.
c. intended use in the assignment.
d. scope of work that was actually performed.
6.
Appraisers must analyze agreements of sale, options, and listings of the subject property current as of the
effective date of an appraisal, in a market value assignment, if it is
a. available in the normal course of business.
b. a matter of public record.
c. not deemed confidential information.
d. required by the client.
7.
While appraising a property, Lydia could not check the furnace to see if it is in good working order due to
the utilities being off at the time of the inspection. Since the home is relatively new and the components
appear to be in good condition, Lydia has a reasonable basis to believe that the furnace is in satisfactory
operating condition, but she is uncertain. Therefore, Lydia bases her conclusion on a(n)
a. expected condition.
b. extraordinary assumption.
c. hypothetical assumption.
d. hypothetical condition.
8.
For reconciliation, in addition to reconciling the quality and quantity of data available within the approaches
used, USPAP also requires an appraiser to ________ the approaches, methods, and techniques used to
arrive at the value conclusion.
a. mathematically average the results of
b. not rely solely on
c. reconcile the applicability and relevance of
d. report the conclusions individually of
9.
In an appraisal report, sufficient information regarding the scope of work includes disclosure of research
and analyses performed and might also include disclosure of
a. the client's objectives for the assignment's results.
b. confidential information used in development.
c. fees and things of value paid to the appraiser.
d. research and analyses not performed.
10.
An appraiser determines the appropriate definition of market value to be used in the assignment during
a. market analysis.
b. problem identification.
c. reconciliation.
d. valuation analysis.