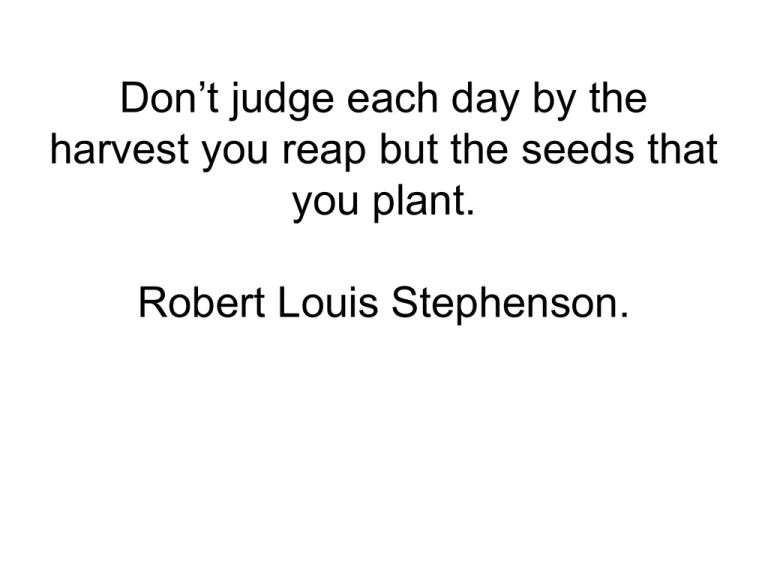 Don't judge each day by the
harvest you reap but the seeds that
you plant.
Robert Louis Stephenson.
Chapter 1 Introduction to
Computers
A World of Computers
• What is computer literacy?
– Knowledge and understanding
of computers and their uses
– Computers are everywhere
p. 1.03 Fig. 1-1
Next
What Is a Computer?
• How is a computer defined?
– Electronic device operating under the control of
instructions stored in its own memory
Accepts data
Raw facts, figures, and
symbols
Processes data into
information
Data that is organized,
meaningful, and useful
Produces and stores results
p. 1.04
Next
What Is a Computer?
• What is the information processing cycle?





Input
Process
Output
Storage
Communication
p. 1.04 Fig. 1-2
Next
Components of a Computer
•
•
•
•
•
Input devices
Output devices
System Unit
Storage devices
Communication devices
Two main components on the
motherboard.
Central Processing Unit (CPU)
Also called a processor
Carries out instructions that tell computer what to do
Memory
Temporary holding place for data and instructions
p. 1.06
Next
Why Is a Computer So
Powerful?
Storage
Reliability
Accuracy
p. 1.08
Speed
Communications
Next
Networks and the Internet
• What is the Internet?
– Worldwide collection of networks that connects
millions of computers
Click to view Web Link,
then click Internet below
Chapter 1
p. 1.09 Fig. 1-8
Next
Computer Software
• Two types
– Systems software
• Operating system (first company to use GUI?)
• Utility programs
– Applications software
• Circuit City
• Best Buy
• Wal Mart
Categories of Computers
What are the categories of computers?
Personal computers (desktop)
Mobile computers
and mobile devices
Midrange servers
Mainframe computers
Supercomputers
p. 1.16
Next
Elements of an Information System
•
•
•
•
•
•
Hardware
Software
Accurate data
Trained information staff
Knowledgeable users
Documented prodedures
• All elements of an information system
must be present and work together to
provide accurate, timely, useful
information.
• Only then, do you have an efficiently
running information system.