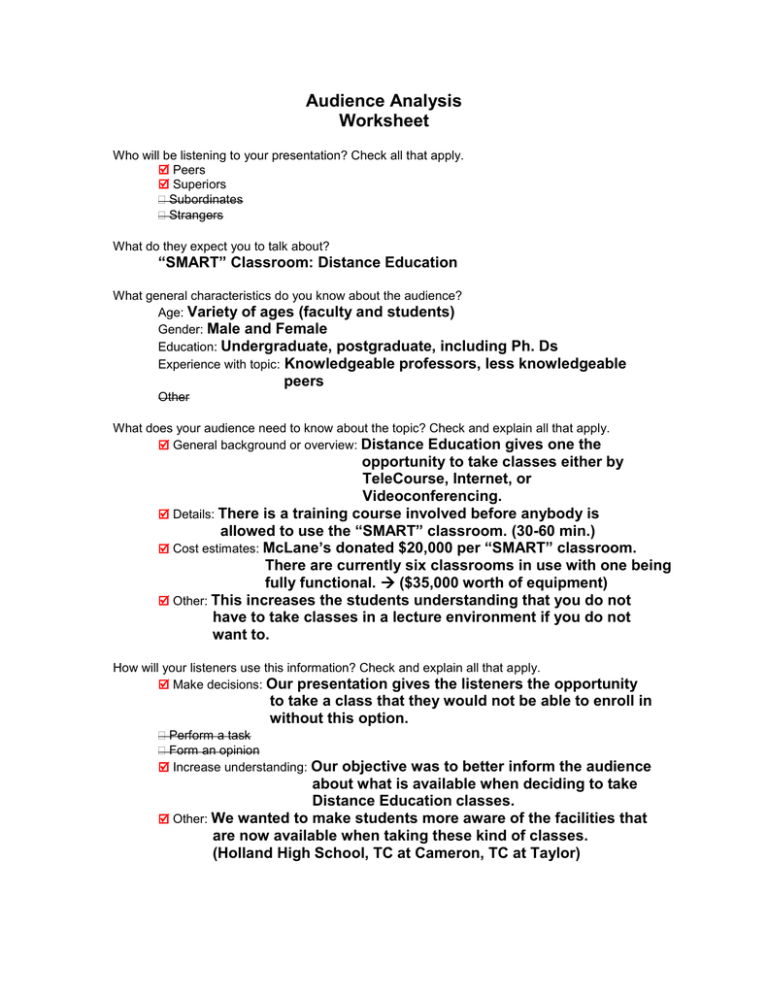 Audience Analysis
Worksheet
Who will be listening to your presentation? Check all that apply.
 Peers
 Superiors
 Subordinates
 Strangers
What do they expect you to talk about?
"SMART" Classroom: Distance Education
What general characteristics do you know about the audience?
Age: Variety of ages (faculty and students)
Gender: Male and Female
Education: Undergraduate, postgraduate, including Ph. Ds
Experience with topic: Knowledgeable professors, less knowledgeable
peers
Other
What does your audience need to know about the topic? Check and explain all that apply.
 General background or overview: Distance Education gives one the
opportunity to take classes either by
TeleCourse, Internet, or
Videoconferencing.
 Details: There is a training course involved before anybody is
allowed to use the "SMART" classroom. (30-60 min.)
 Cost estimates: McLane's donated $20,000 per "SMART" classroom.
There are currently six classrooms in use with one being
fully functional.  ($35,000 worth of equipment)
 Other: This increases the students understanding that you do not
have to take classes in a lecture environment if you do not
want to.
How will your listeners use this information? Check and explain all that apply.
 Make decisions: Our presentation gives the listeners the
opportunity
to take a class that they would not be able to enroll in
without this option.
 Perform a task
 Form an opinion
 Increase understanding: Our
objective was to better inform the audience
about what is available when deciding to take
Distance Education classes.
 Other: We wanted to make students more aware of the facilities that
are now available when taking these kind of classes.
(Holland High School, TC at Cameron, TC at Taylor)
2
What are your audience's biggest concerns or objections? Check and explain all that apply.
 Too expensive: These classrooms cost a lot for the components and
materials that are involved with allowing the teachers
to use the best equipment available for teaching the
students.
 Too difficult
 Other
What do you want your audience to think, know, or do as a result of this presentation?
Our objective was to try to give the audience a better understanding
for the purpose and implementation process of the "SMART"
classrooms.