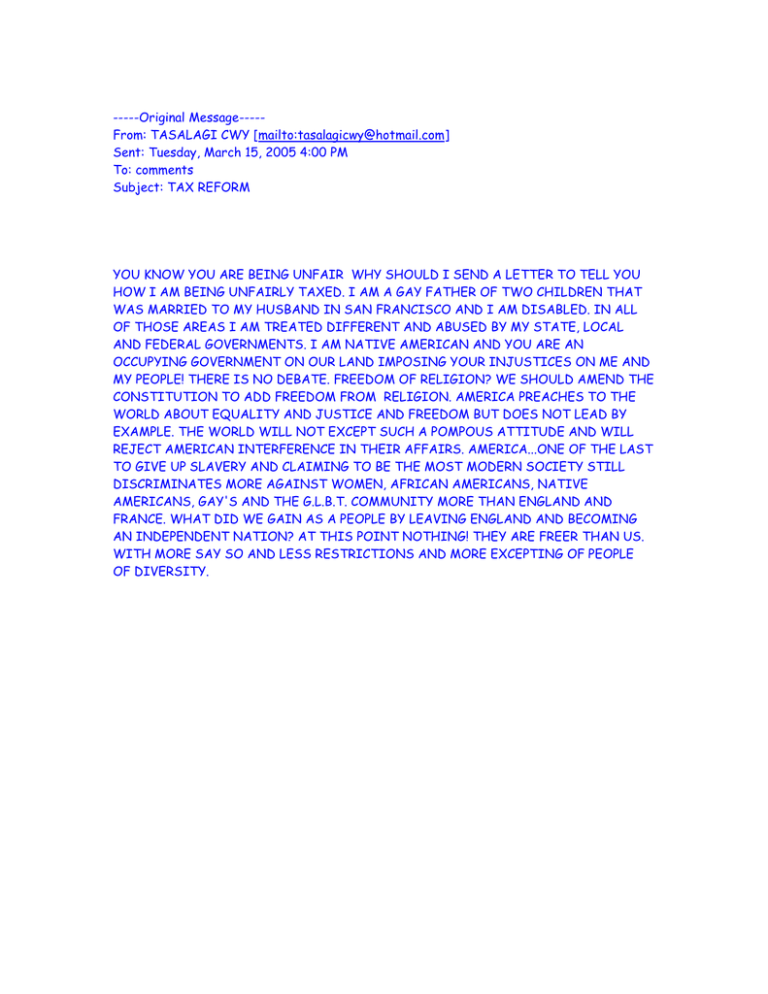 -----Original Message----From: TASALAGI CWY [mailto:tasalagicwy@hotmail.com]
Sent: Tuesday, March 15, 2005 4:00 PM
To: comments
Subject: TAX REFORM
YOU KNOW YOU ARE BEING UNFAIR WHY SHOULD I SEND A LETTER TO TELL YOU
HOW I AM BEING UNFAIRLY TAXED. I AM A GAY FATHER OF TWO CHILDREN THAT
WAS MARRIED TO MY HUSBAND IN SAN FRANCISCO AND I AM DISABLED. IN ALL
OF THOSE AREAS I AM TREATED DIFFERENT AND ABUSED BY MY STATE, LOCAL
AND FEDERAL GOVERNMENTS. I AM NATIVE AMERICAN AND YOU ARE AN
OCCUPYING GOVERNMENT ON OUR LAND IMPOSING YOUR INJUSTICES ON ME AND
MY PEOPLE! THERE IS NO DEBATE. FREEDOM OF RELIGION? WE SHOULD AMEND THE
CONSTITUTION TO ADD FREEDOM FROM RELIGION. AMERICA PREACHES TO THE
WORLD ABOUT EQUALITY AND JUSTICE AND FREEDOM BUT DOES NOT LEAD BY
EXAMPLE. THE WORLD WILL NOT EXCEPT SUCH A POMPOUS ATTITUDE AND WILL
REJECT AMERICAN INTERFERENCE IN THEIR AFFAIRS. AMERICA...ONE OF THE LAST
TO GIVE UP SLAVERY AND CLAIMING TO BE THE MOST MODERN SOCIETY STILL
DISCRIMINATES MORE AGAINST WOMEN, AFRICAN AMERICANS, NATIVE
AMERICANS, GAY'S AND THE G.L.B.T. COMMUNITY MORE THAN ENGLAND AND
FRANCE. WHAT DID WE GAIN AS A PEOPLE BY LEAVING ENGLAND AND BECOMING
AN INDEPENDENT NATION? AT THIS POINT NOTHING! THEY ARE FREER THAN US.
WITH MORE SAY SO AND LESS RESTRICTIONS AND MORE EXCEPTING OF PEOPLE
OF DIVERSITY.