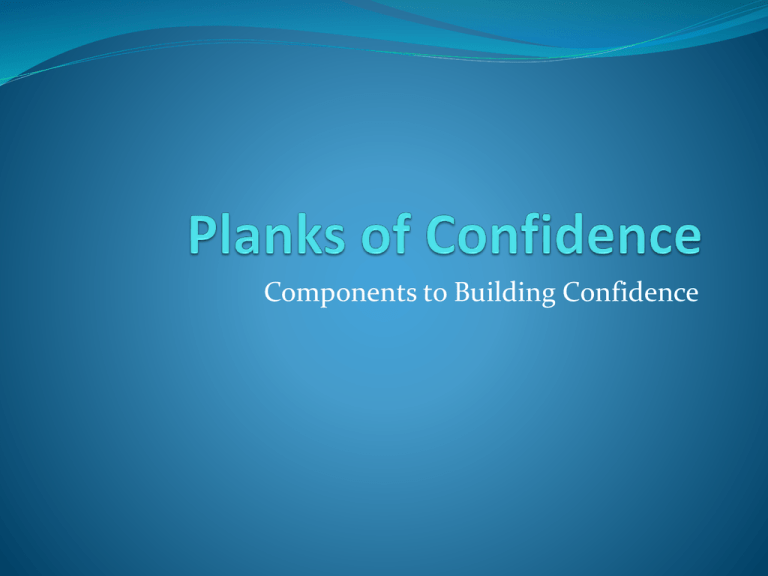 Components to Building Confidence
Content
Have something worthwhile
to say.
Don't base your speaking on
assertions or emotional
appeals.
Organization
Have some type of an outline
that is easy for both you and
your audience to follow.
Don't rely on the "spontaneity"
of the moment.
Guide your audience
Notes
 Jot down your ideas in a brief and directed
form.
 Do not just read your notes to the audience.
 2 biggest problems to avoid when using
note:
 Too many words on a note card
 Too many note cards
Friendliness
Be Congenial
Express friendliness to
get positive feedback
Impression
Having a good start is essential
in building confidence.
Prepare yourself by dressing
and grooming appropriately.
Dedication
Practice, Practice,
Practice
Get used to hearing
your own voice.
Empathy
Know how it feels to feel that
way.
Don't assume that you are the
only person with problemsother people face the same
problems you do.
Newness
Apply some originality
Make the speech your own.
Take a different approach to
the topic.
Conviction
Believe in what you say.
Add your own personal
dimension to the topic.
Enthusiasm
Get fired up to present
your speech.
Inspire your audience.
Questions
Which two or three of the planks
are your strengths? Why?
Which two or three of the planks
are you weakest at? Why?
How can you improve the ones you
are weakest at?