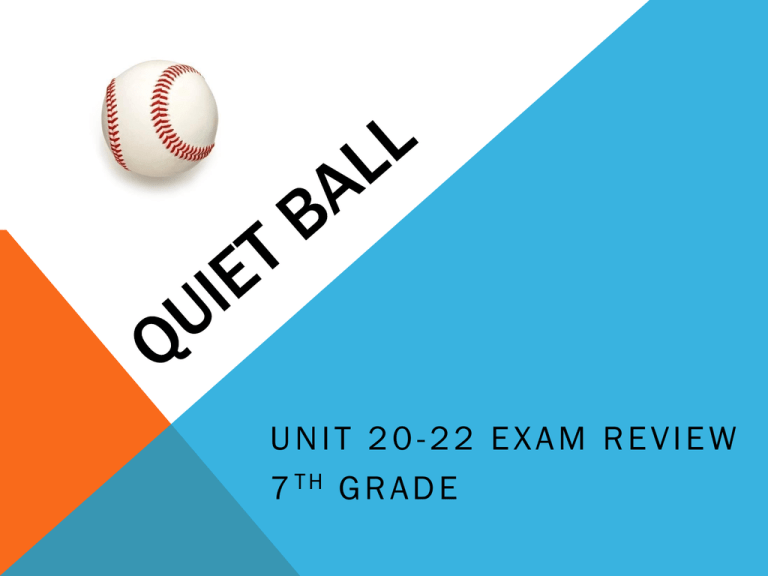 UNIT 20-22 EXAM REVIEW
7 TH G R A D E
WHICH ECOSYSTEM WOULD
INCLUDE JACKRABBITS,
CACTUS AND RATTLESNAKE?
A Desert
WHAT ECOSYSTEM IS THE
COLDEST OF ALL AND NO
TREES LIVE HERE?
A Tundra.
WHAT ECOSYSTEM HAS
MORE BIODIVERSITY
THAN ALL OTHERS?
Tropical Rainforest.
MOSSES ARE ONE OF THE
FIRST SPECIES TO GROW ON
BARE ROCK, WHY IS THE
ENVIRONMENT WELL SUITED
TO THESE PLANTS?
They are small, less complex, and don't
require soil.
WHAT PROOF OF
ECOLOGICAL
SUCCESSION DID WE
NOTICE IN OUR
GARDEN?
Growth of weeds and grasses.
WHAT COULD WIPE OUT A
DEVELOPING FOREST INTO A
GRASSLAND/SAVANNAH?
Forest Fires
WHAT TYPE OF SPECIES IS
RESPONSIBLE FOR STARTING
SUCCESSION IN AN ECOSYSTEM?
A pioneer species which must be a species that
goes through photosynthesis
IF A NON NATIVE PLANT IS
INTRODUCED INTO A DIVERSE
MATURE ECOSYSTEM, AND IT
HAS NO NATURAL PREDATORS,
HOW WILL IT AFFECT THE
COMMUNITY?
It will grow more and reduce the amount of
native species.
AS HUMAN POPULATIONS INCREASE, WHAT
IS HAPPENING TO THE AREA OF
RAINFORESTS?
They are decreasing and reducing the
biodiversity in those areas being destroyed.
WHEN A FOOD WEB HAS
MANY ORGANISMS AS THE
ONE TO THE RIGHT, WHAT
HAPPENS TO THE
SUSTAINABILITY OF THE
ENVIRONMENT?
This leads to a more sustainable ecosystem.
IF TWO CORALS COMPETE AGAINST EACH OTHER IN
A REEF, AND AN INCREASED TEMPERATURE IN ONE
YEAR CAUSES THE RED CORAL TO DIE OUT WHILE
THE ORANGE CORAL IS UNAFFECTED, WHAT
HAPPENS IF THE TEMPERATURE REMAINS HIGH
EVERY YEAR?
The orange coral would eventually take
over the entire reef
IF ONLY THE LOWEST LEVEL OF A
FOREST WAS DESTROYED BY A
WILD FIRE, WHAT ORGANISMS
WOULD BE MOST AFFECTED?
The organisms that live on the ground and rely on
the smaller plants near the ground.
WHAT WOULD HAPPEN TO THE
ORGANISMS THAT LIVED ON THE
FLOOR OF THE FOREST IF A WILD
FIRE DESTROYED THEIR HABITAT IF
ONLY THE LOWEST AREA WAS
AFFECTED?
They would need to move to a different area to
find food and possible shelter.
WHAT TYPE OF BIOME IS COLD AND IS
FULL OF TREES THAT STAY GREEN ALL
YEAR LONG
(LIKE CHRISTMAS TREES)?
Coniferous Forest or Tiaga
WHICH ORGANISMS ARE GOING
TO LIVE IN A DECIDUOUS
FOREST?
Deer, squirrels, chipmunks, trees that lose leaves
in the fall
WHAT AREA OF THIS POND HAS
THE GREATEST AMOUNT OF
DIVERSITY?
On the edge of the lake around the perimeter,
including the sand, water, plants and rocks.