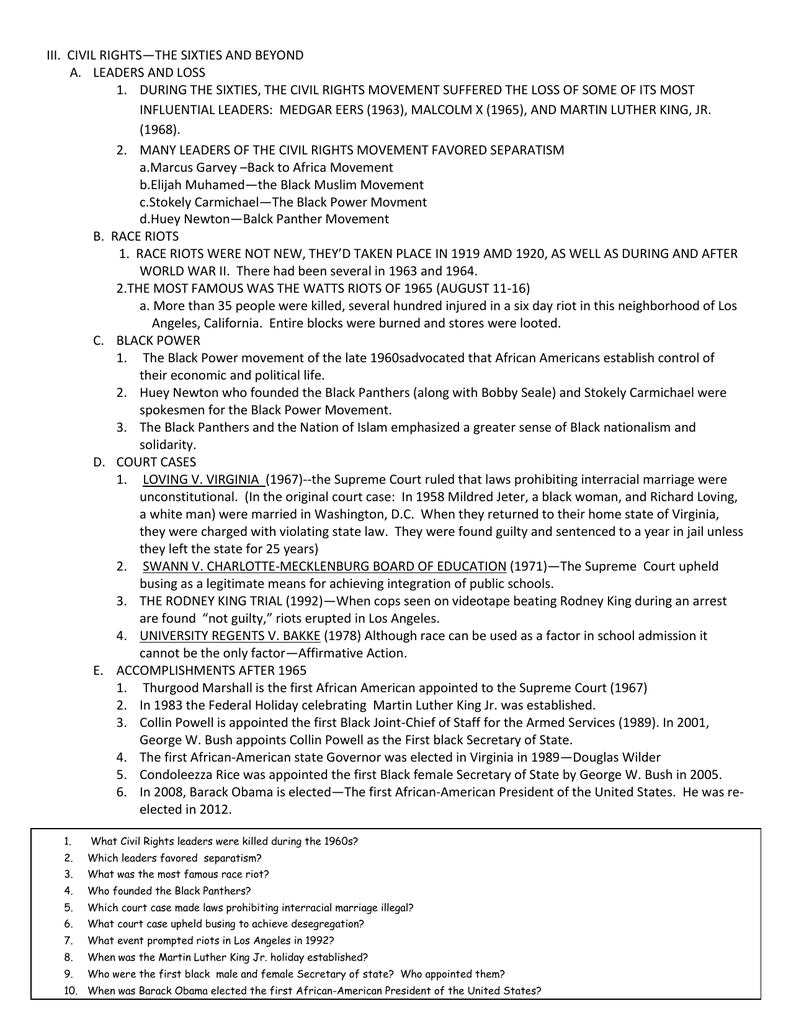 III. CIVIL RIGHTS—THE SIXTIES AND BEYOND
A. LEADERS AND LOSS
1. DURING THE SIXTIES, THE CIVIL RIGHTS MOVEMENT SUFFERED THE LOSS OF SOME OF ITS MOST
INFLUENTIAL LEADERS: MEDGAR EERS (1963), MALCOLM X (1965), AND MARTIN LUTHER KING, JR.
(1968).
2. MANY LEADERS OF THE CIVIL RIGHTS MOVEMENT FAVORED SEPARATISM
a.Marcus Garvey –Back to Africa Movement
b.Elijah Muhamed—the Black Muslim Movement
c.Stokely Carmichael—The Black Power Movment
d.Huey Newton—Balck Panther Movement
B. RACE RIOTS
1. RACE RIOTS WERE NOT NEW, THEY'D TAKEN PLACE IN 1919 AMD 1920, AS WELL AS DURING AND AFTER
WORLD WAR II. There had been several in 1963 and 1964.
2.THE MOST FAMOUS WAS THE WATTS RIOTS OF 1965 (AUGUST 11-16)
a. More than 35 people were killed, several hundred injured in a six day riot in this neighborhood of Los
Angeles, California. Entire blocks were burned and stores were looted.
C. BLACK POWER
1. The Black Power movement of the late 1960sadvocated that African Americans establish control of
their economic and political life.
2. Huey Newton who founded the Black Panthers (along with Bobby Seale) and Stokely Carmichael were
spokesmen for the Black Power Movement.
3. The Black Panthers and the Nation of Islam emphasized a greater sense of Black nationalism and
solidarity.
D. COURT CASES
1. LOVING V. VIRGINIA (1967)--the Supreme Court ruled that laws prohibiting interracial marriage were
unconstitutional. (In the original court case: In 1958 Mildred Jeter, a black woman, and Richard Loving,
a white man) were married in Washington, D.C. When they returned to their home state of Virginia,
they were charged with violating state law. They were found guilty and sentenced to a year in jail unless
they left the state for 25 years)
2. SWANN V. CHARLOTTE-MECKLENBURG BOARD OF EDUCATION (1971)—The Supreme Court upheld
busing as a legitimate means for achieving integration of public schools.
3. THE RODNEY KING TRIAL (1992)—When cops seen on videotape beating Rodney King during an arrest
are found "not guilty," riots erupted in Los Angeles.
4. UNIVERSITY REGENTS V. BAKKE (1978) Although race can be used as a factor in school admission it
cannot be the only factor—Affirmative Action.
E. ACCOMPLISHMENTS AFTER 1965
1. Thurgood Marshall is the first African American appointed to the Supreme Court (1967)
2. In 1983 the Federal Holiday celebrating Martin Luther King Jr. was established.
3. Collin Powell is appointed the first Black Joint-Chief of Staff for the Armed Services (1989). In 2001,
George W. Bush appoints Collin Powell as the First black Secretary of State.
4. The first African-American state Governor was elected in Virginia in 1989—Douglas Wilder
5. Condoleezza Rice was appointed the first Black female Secretary of State by George W. Bush in 2005.
6. In 2008, Barack Obama is elected—The first African-American President of the United States. He was reelected in 2012.
1.
What Civil Rights leaders were killed during the 1960s?
2.
Which leaders favored separatism?
3.
What was the most famous race riot?
4.
Who founded the Black Panthers?
5.
Which court case made laws prohibiting interracial marriage illegal?
6.
What court case upheld busing to achieve desegregation?
7.
What event prompted riots in Los Angeles in 1992?
8.
When was the Martin Luther King Jr. holiday established?
9.
Who were the first black male and female Secretary of state? Who appointed them?
10. When was Barack Obama elected the first African-American President of the United States?