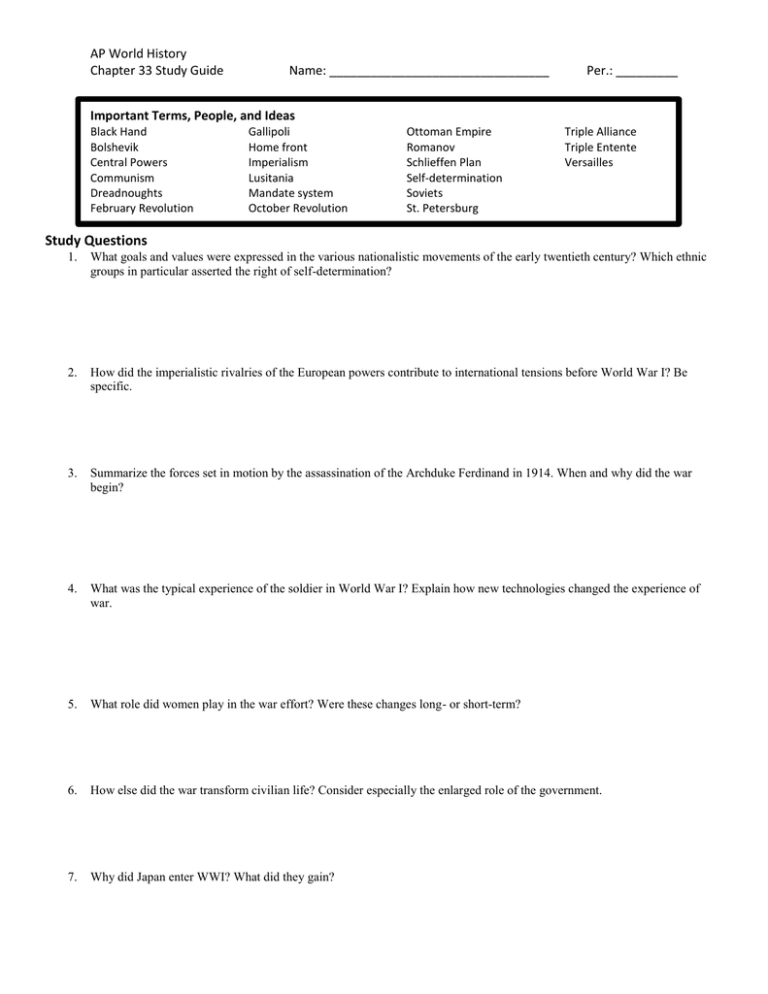 AP World History
Chapter 33 Study Guide
Name: ________________________________
Per.: _________
Important Terms, People, and Ideas
Black Hand
Bolshevik
Central Powers
Communism
Dreadnoughts
February Revolution
Gallipoli
Home front
Imperialism
Lusitania
Mandate system
October Revolution
Ottoman Empire
Romanov
Schlieffen Plan
Self-determination
Soviets
St. Petersburg
Triple Alliance
Triple Entente
Versailles
Study Questions
1.
What goals and values were expressed in the various nationalistic movements of the early twentieth century? Which ethnic
groups in particular asserted the right of self-determination?
2.
How did the imperialistic rivalries of the European powers contribute to international tensions before World War I? Be
specific.
3.
Summarize the forces set in motion by the assassination of the Archduke Ferdinand in 1914. When and why did the war
begin?
4.
What was the typical experience of the soldier in World War I? Explain how new technologies changed the experience of
war.
5.
What role did women play in the war effort? Were these changes long- or short-term?
6.
How else did the war transform civilian life? Consider especially the enlarged role of the government.
7.
Why did Japan enter WWI? What did they gain?
AP World History
Chapter 33 Study Guide
Name: ________________________________
Per.: _________
8.
What factors caused the Russian Revolutions in February and October of 1917? What changes emerged initially from these
revolutions?
9.
How did Lenin and the Bolsheviks come to power?
10. When and why did the United States enter the war? What did this move mean?
11. What was the intent of the League of Nations? What were the weaknesses of this body?
12. How did the mandate system work in the Middle East? Who profited most from this system?
Inquiry Questions
13. Was World War I a preventable war, or were the nations of Europe committed to fighting even before the assassination of the
Archduke Franz Ferdinand? Can you envision a realistic scenario by which the outbreak of war might have been averted?
14. What were the essential elements of Woodrow Wilson's peace program? Which of his Fourteen Points were included in the
final peace treaties? Why was it so difficult to implement his vision?