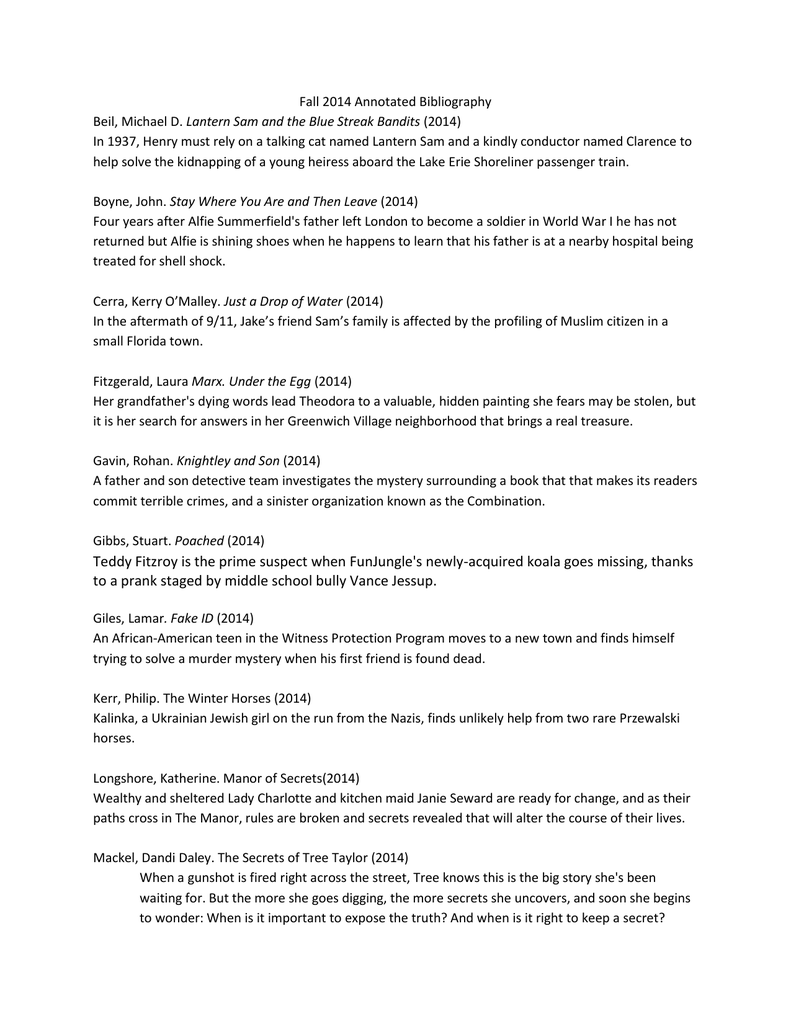 Fall 2014 Annotated Bibliography
Beil, Michael D. Lantern Sam and the Blue Streak Bandits (2014)
In 1937, Henry must rely on a talking cat named Lantern Sam and a kindly conductor named Clarence to
help solve the kidnapping of a young heiress aboard the Lake Erie Shoreliner passenger train.
Boyne, John. Stay Where You Are and Then Leave (2014)
Four years after Alfie Summerfield's father left London to become a soldier in World War I he has not
returned but Alfie is shining shoes when he happens to learn that his father is at a nearby hospital being
treated for shell shock.
Cerra, Kerry O'Malley. Just a Drop of Water (2014)
In the aftermath of 9/11, Jake's friend Sam's family is affected by the profiling of Muslim citizen in a
small Florida town.
Fitzgerald, Laura Marx. Under the Egg (2014)
Her grandfather's dying words lead Theodora to a valuable, hidden painting she fears may be stolen, but
it is her search for answers in her Greenwich Village neighborhood that brings a real treasure.
Gavin, Rohan. Knightley and Son (2014)
A father and son detective team investigates the mystery surrounding a book that that makes its readers
commit terrible crimes, and a sinister organization known as the Combination.
Gibbs, Stuart. Poached (2014)
Teddy Fitzroy is the prime suspect when FunJungle's newly-acquired koala goes missing, thanks
to a prank staged by middle school bully Vance Jessup.
Giles, Lamar. Fake ID (2014)
An African-American teen in the Witness Protection Program moves to a new town and finds himself
trying to solve a murder mystery when his first friend is found dead.
Kerr, Philip. The Winter Horses (2014)
Kalinka, a Ukrainian Jewish girl on the run from the Nazis, finds unlikely help from two rare Przewalski
horses.
Longshore, Katherine. Manor of Secrets(2014)
Wealthy and sheltered Lady Charlotte and kitchen maid Janie Seward are ready for change, and as their
paths cross in The Manor, rules are broken and secrets revealed that will alter the course of their lives.
Mackel, Dandi Daley. The Secrets of Tree Taylor (2014)
When a gunshot is fired right across the street, Tree knows this is the big story she's been
waiting for. But the more she goes digging, the more secrets she uncovers, and soon she begins
to wonder: When is it important to expose the truth? And when is it right to keep a secret?
Nelson, Blake. The Prince of Venice Beach (2014)
Robert "Cali" Callahan gets swept up into the private-investigator business and must deal with looking
for runaways who may not want to be found--and with falling in love with one of them.
Poblocki, Dan. The Book of Bad Things (2014)
A local hoarder has died under mysterious circumstances, and Cassidy finds that there are a great many
bad and dangerous things hidden in her house, including, perhaps, her vengeful ghost.
Tarshis, Lauren. I Survived the Destruction of Pompeii, 79 a.d.
During the infamous eruption of Mount Vesuvius, one boy struggles to escape. Can he survive the most
devastating disaster of ancient times?
Whitby, Adele. Secrets of the Manor Series(2014)
Beth is excited for her birthday, when she will receive an heirloom necklace, but when the necklace goes
missing, Beth must learn the secrets of her manor house in order to clear the name of her maid.
Wiles, Deborah. Revolution (2014)
Struggling to adapt within her newly blended family in 1964 Mississippi, young Sunny witnesses
increasingly scary community agitation when activists from the North arrive in town to help register
African Americans to vote.
Wingit, Dianna Dorisi. A Million Ways Home (2014)
After her grandmother ends up in the hospital, Poppy witnesses a murder and is sent into a makeshift
witness protection program.