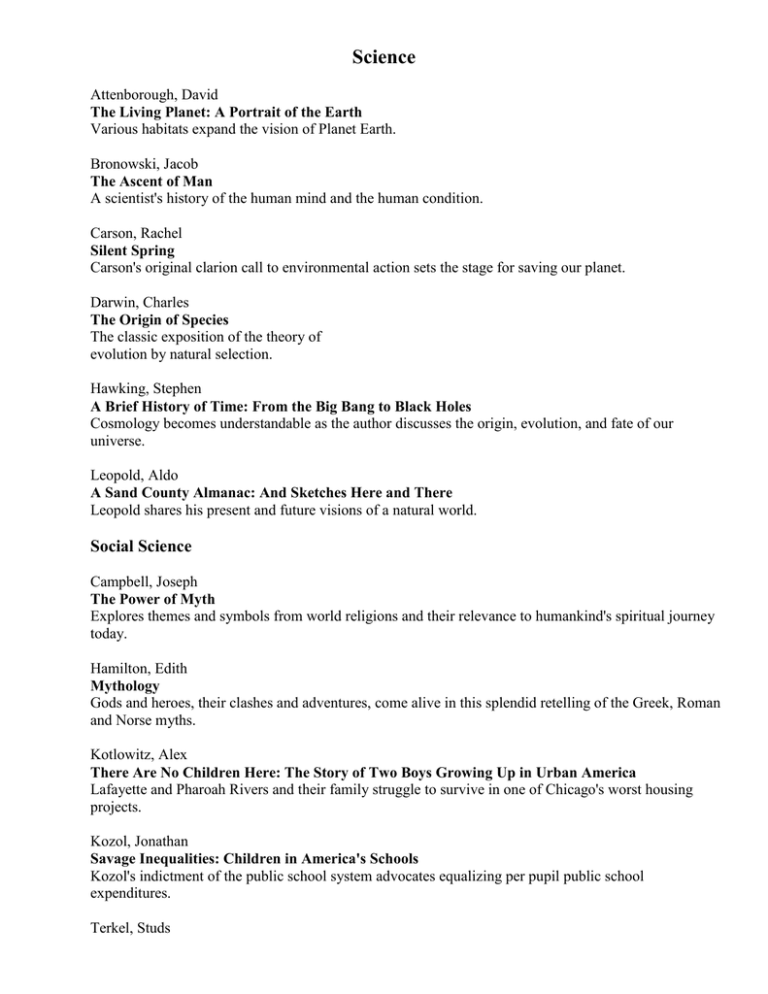 Science
Attenborough, David
The Living Planet: A Portrait of the Earth
Various habitats expand the vision of Planet Earth.
Bronowski, Jacob
The Ascent of Man
A scientist's history of the human mind and the human condition.
Carson, Rachel
Silent Spring
Carson's original clarion call to environmental action sets the stage for saving our planet.
Darwin, Charles
The Origin of Species
The classic exposition of the theory of
evolution by natural selection.
Hawking, Stephen
A Brief History of Time: From the Big Bang to Black Holes
Cosmology becomes understandable as the author discusses the origin, evolution, and fate of our
universe.
Leopold, Aldo
A Sand County Almanac: And Sketches Here and There
Leopold shares his present and future visions of a natural world.
Social Science
Campbell, Joseph
The Power of Myth
Explores themes and symbols from world religions and their relevance to humankind's spiritual journey
today.
Hamilton, Edith
Mythology
Gods and heroes, their clashes and adventures, come alive in this splendid retelling of the Greek, Roman
and Norse myths.
Kotlowitz, Alex
There Are No Children Here: The Story of Two Boys Growing Up in Urban America
Lafayette and Pharoah Rivers and their family struggle to survive in one of Chicago's worst housing
projects.
Kozol, Jonathan
Savage Inequalities: Children in America's Schools
Kozol's indictment of the public school system advocates equalizing per pupil public school
expenditures.
Terkel, Studs
Race: How Blacks and Whites Think and Feel About the American Obsession
This kaleidoscope covers the full range of America's views on racial issues.