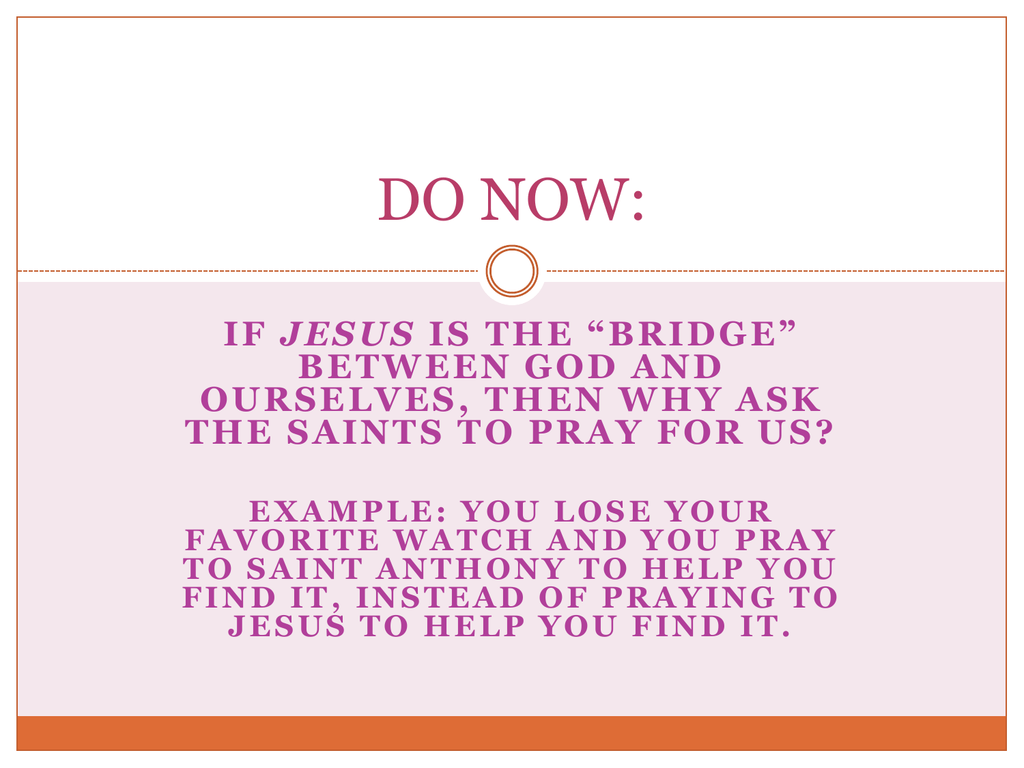 DO NOW:
IF JESUS IS THE "BRIDGE"
BETWEEN GOD AND
OURSELVES, THEN WHY ASK
THE SAINTS TO PRAY FOR US?
EXAMPLE: YOU LOSE YOUR
FAVORITE WATCH AND YOU PRAY
TO SAINT ANTHONY TO HELP YOU
FIND IT, INSTEAD OF PRAYING TO
JESUS TO HELP YOU FIND IT.
"Saint Francis, Pray for us."
 By now you are used to hearing this phrase
throughout the day at prep.
 Besides Francis being the namesake of our school,
why pray to the saints?

Asking Saints to intercede for us is not unlike asking people on
earth to pray for us. Saints were exemplary people when they
were living here on earth, we pray through the saints. It
encourages us to be better while we're here.
Saints vs. saints
Capital "S"
Lowercase "s"
 "Saints"- when the
 "saints"- when the
word is capitalized it
means the person is a
canonized Saint
recognized by the
church
word is not capitalized
it refers to all deceased
people who we believe
to be in heaven.
Communion of Saints
 "We believe in the communion of all the faithful of
Christ, those who are pilgrims on earth, the dead
who are being purified, and the blessed in heaven, all
together forming one Church; and we believe that in
this communion, the merciful love of God and his
saints is always [attentive] to our prayers" (CCC 962)
YOUR Patron Saint Project
 First Middle & Confirmation Name ( if Catholic & Confirmed)
 Marisa Elizabeth Genevieve
 Birthdate & Baptism date ( your parents may know this- if not








stick with birthdate)
July 1 & September 22
St. Felix of Como & St. Maurice
Hobbies ( 5) – Reading, Running, Cooking, Crafts, Dance
St. Catherine of Alexandria ( Libraries i.e. Reading)
St. Sebastien – ( Athletes i.e. Running)
St. Martha ( Cooks)
St. Luke ( Craft workers)
St. Vitus ( Dance)
Saint Martha
 Date and Place of Birth: N/A – Lived during the time of





Jesus in a place called Bethany.
Lifelong Catholic or convert: Let's say convert – she was a
disciple of Christ.
Date and Circumstance of death: N/A. Martha has
several legends about her whereabouts after Christ's death but
none are historically founded.
Best Known for: Serving Christ, Open Hospitality & Giving
Spirit
Virtues exhibited: Kindness, Hospitality, Service to Others.
Temptations or Struggles: Martha and her brother
Lazarus and sister Mary were said to have faced much
criticism and strife because of their association with Jesus.