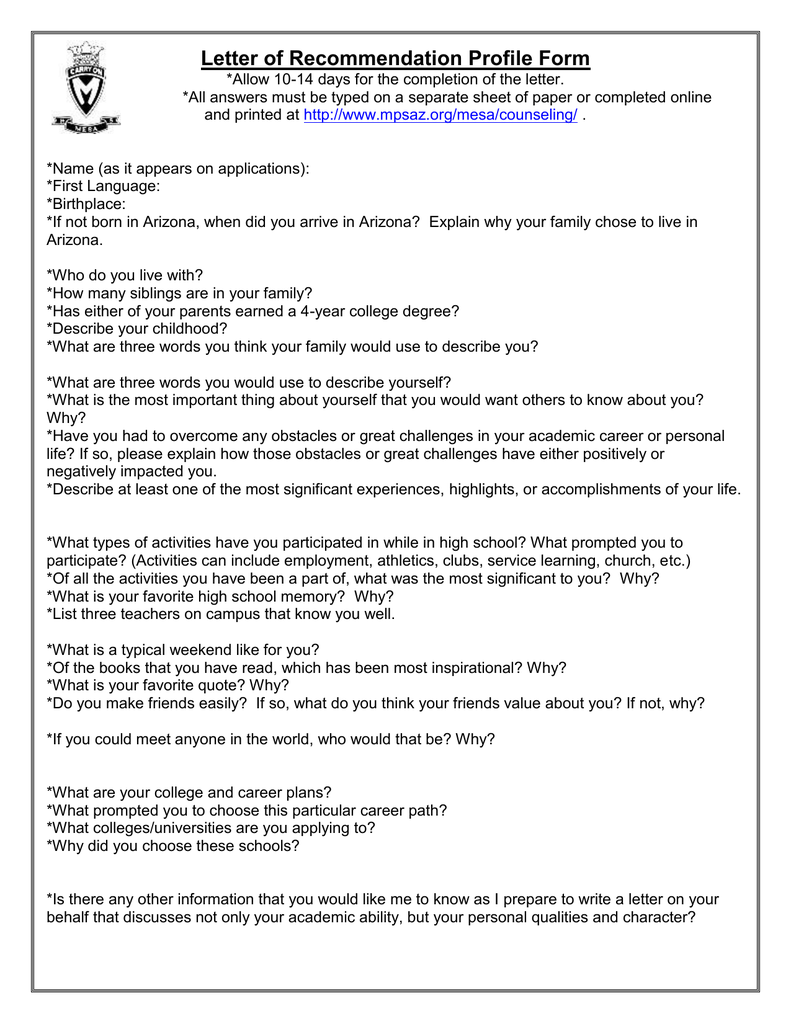 Letter of Recommendation Profile Form
*Allow 10-14 days for the completion of the letter.
*All answers must be typed on a separate sheet of paper or completed online
and printed at http://www.mpsaz.org/mesa/counseling/ .
*Name (as it appears on applications):
*First Language:
*Birthplace:
*If not born in Arizona, when did you arrive in Arizona? Explain why your family chose to live in
Arizona.
*Who do you live with?
*How many siblings are in your family?
*Has either of your parents earned a 4-year college degree?
*Describe your childhood?
*What are three words you think your family would use to describe you?
*What are three words you would use to describe yourself?
*What is the most important thing about yourself that you would want others to know about you?
Why?
*Have you had to overcome any obstacles or great challenges in your academic career or personal
life? If so, please explain how those obstacles or great challenges have either positively or
negatively impacted you.
*Describe at least one of the most significant experiences, highlights, or accomplishments of your life.
*What types of activities have you participated in while in high school? What prompted you to
participate? (Activities can include employment, athletics, clubs, service learning, church, etc.)
*Of all the activities you have been a part of, what was the most significant to you? Why?
*What is your favorite high school memory? Why?
*List three teachers on campus that know you well.
*What is a typical weekend like for you?
*Of the books that you have read, which has been most inspirational? Why?
*What is your favorite quote? Why?
*Do you make friends easily? If so, what do you think your friends value about you? If not, why?
*If you could meet anyone in the world, who would that be? Why?
*What are your college and career plans?
*What prompted you to choose this particular career path?
*What colleges/universities are you applying to?
*Why did you choose these schools?
*Is there any other information that you would like me to know as I prepare to write a letter on your
behalf that discusses not only your academic ability, but your personal qualities and character?