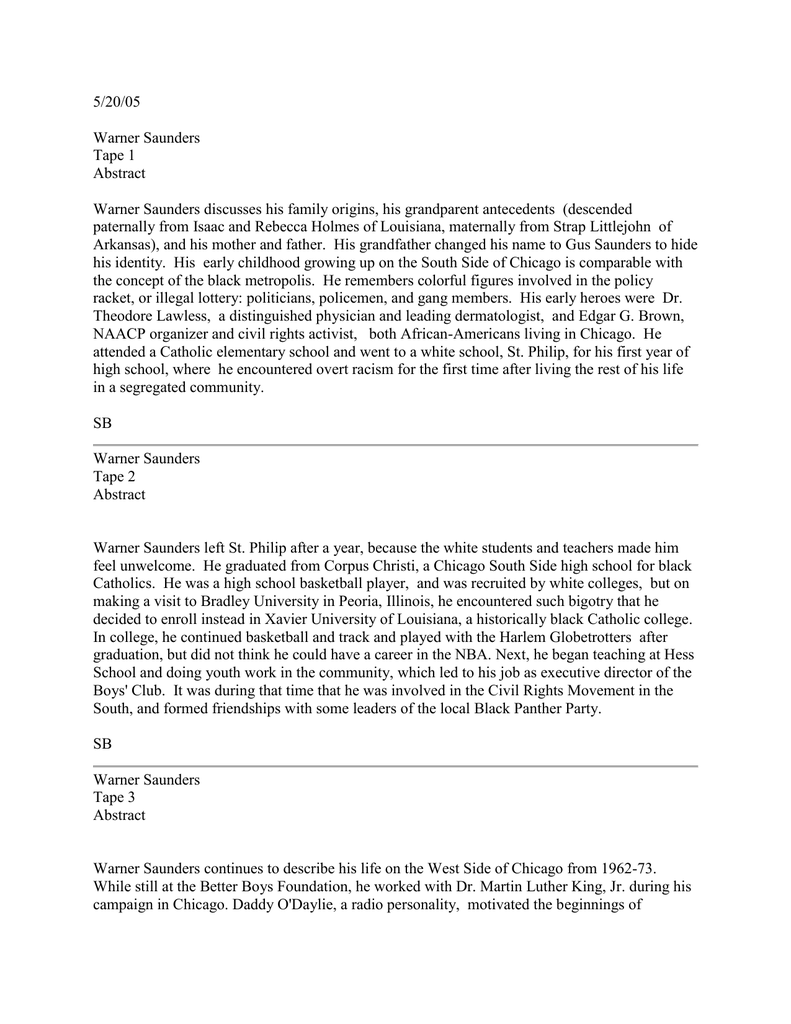 5/20/05
Warner Saunders
Tape 1
Abstract
Warner Saunders discusses his family origins, his grandparent antecedents (descended
paternally from Isaac and Rebecca Holmes of Louisiana, maternally from Strap Littlejohn of
Arkansas), and his mother and father. His grandfather changed his name to Gus Saunders to hide
his identity. His early childhood growing up on the South Side of Chicago is comparable with
the concept of the black metropolis. He remembers colorful figures involved in the policy
racket, or illegal lottery: politicians, policemen, and gang members. His early heroes were Dr.
Theodore Lawless, a distinguished physician and leading dermatologist, and Edgar G. Brown,
NAACP organizer and civil rights activist, both African-Americans living in Chicago. He
attended a Catholic elementary school and went to a white school, St. Philip, for his first year of
high school, where he encountered overt racism for the first time after living the rest of his life
in a segregated community.
SB
Warner Saunders
Tape 2
Abstract
Warner Saunders left St. Philip after a year, because the white students and teachers made him
feel unwelcome. He graduated from Corpus Christi, a Chicago South Side high school for black
Catholics. He was a high school basketball player, and was recruited by white colleges, but on
making a visit to Bradley University in Peoria, Illinois, he encountered such bigotry that he
decided to enroll instead in Xavier University of Louisiana, a historically black Catholic college.
In college, he continued basketball and track and played with the Harlem Globetrotters after
graduation, but did not think he could have a career in the NBA. Next, he began teaching at Hess
School and doing youth work in the community, which led to his job as executive director of the
Boys' Club. It was during that time that he was involved in the Civil Rights Movement in the
South, and formed friendships with some leaders of the local Black Panther Party.
SB
Warner Saunders
Tape 3
Abstract
Warner Saunders continues to describe his life on the West Side of Chicago from 1962-73.
While still at the Better Boys Foundation, he worked with Dr. Martin Luther King, Jr. during his
campaign in Chicago. Daddy O'Daylie, a radio personality, motivated the beginnings of
Saunders's TV broadcast career during the riots in 1968, which turned into a permanent
assignment as talk show host on Channel 7 (WLS-TV), doing For Blacks Only. He joined
Channel 2 (WBBM-TV) as Community Affairs Director in 1973, hosting the show Common
Ground and winning multiple Chicago Emmy awards. In spite of detractors who said he was too
old, he managed to change his career and became a television news reporter and anchor in his
forties at WMAQ-TV in 1980.
S.B.
Warner Saunders
Tape 4
Abstract
Hosting Common Ground in the 1970s, Warner Saunders pioneered a no-holds-barred style and
emotional appeal to lay a foundation now familiar in TV talk shows. As a reporter, he covered
a memorable assignment on Nelson Mandela's release from prison in 1991. He also covered
sports between 1983-1997, reporting the Bulls basketball championships, the rise of Michael
Jordan as a superstar, the Bears' football Superbowl victory, and learned more about writing his
own copy. In 1997, he returned to the anchor desk as the nightly news anchor at Channel
5/NBC, which he has occupied since then. He has become aware of changing racial attitudes in
the television news industry.
While a master's student at Northeastern Illinois University, Warner Saunders met his wife,
Sadako, whose Japanese culture and ethnicity have influenced his thinking about black
Americans. They had a son, Warner Saunders, Jr.
.
S.B.
5/20/05
Warner Saunders
Tape 5
Abstract
In the conclusion to his interview, Warner Saunders goes back to the Civil Rights Movement and
discusses his views on its impact on American society. He answers the interviewer's question
about what he would like to do in the future by giving his personal agenda for self-improvement.
S.B.