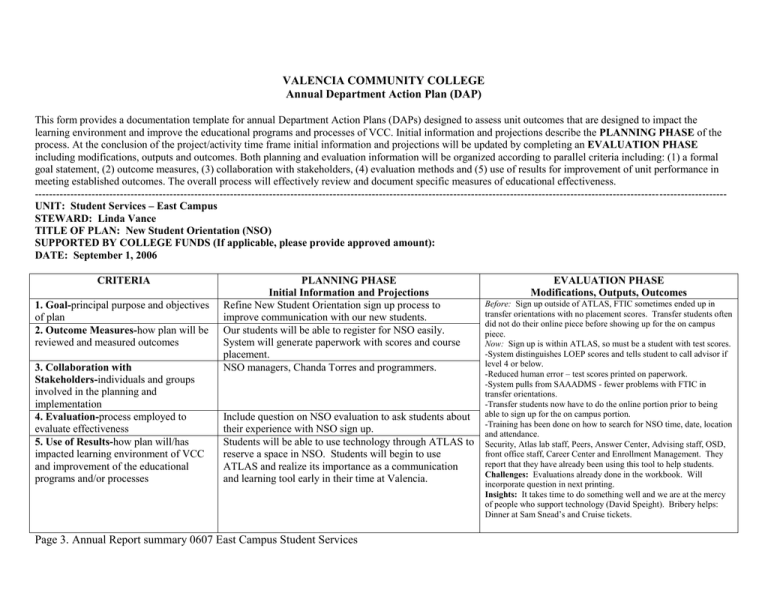 VALENCIA COMMUNITY COLLEGE
Annual Department Action Plan (DAP)
This form provides a documentation template for annual Department Action Plans (DAPs) designed to assess unit outcomes that are designed to impact the
learning environment and improve the educational programs and processes of VCC. Initial information and projections describe the PLANNING PHASE of the
process. At the conclusion of the project/activity time frame initial information and projections will be updated by completing an EVALUATION PHASE
including modifications, outputs and outcomes. Both planning and evaluation information will be organized according to parallel criteria including: (1) a formal
goal statement, (2) outcome measures, (3) collaboration with stakeholders, (4) evaluation methods and (5) use of results for improvement of unit performance in
meeting established outcomes. The overall process will effectively review and document specific measures of educational effectiveness.
--------------------------------------------------------------------------------------------------------------------------------------------------------------------------------------------------UNIT: Student Services – East Campus
STEWARD: Linda Vance
TITLE OF PLAN: New Student Orientation (NSO)
SUPPORTED BY COLLEGE FUNDS (If applicable, please provide approved amount):
DATE: September 1, 2006
CRITERIA
1. Goal-principal purpose and objectives
of plan
2. Outcome Measures-how plan will be
reviewed and measured outcomes
3. Collaboration with
Stakeholders-individuals and groups
involved in the planning and
implementation
4. Evaluation-process employed to
evaluate effectiveness
5. Use of Results-how plan will/has
impacted learning environment of VCC
and improvement of the educational
programs and/or processes
PLANNING PHASE
Initial Information and Projections
Refine New Student Orientation sign up process to
improve communication with our new students.
Our students will be able to register for NSO easily.
System will generate paperwork with scores and course
placement.
NSO managers, Chanda Torres and programmers.
Include question on NSO evaluation to ask students about
their experience with NSO sign up.
Students will be able to use technology through ATLAS to
reserve a space in NSO. Students will begin to use
ATLAS and realize its importance as a communication
and learning tool early in their time at Valencia.
Page 3. Annual Report summary 0607 East Campus Student Services
EVALUATION PHASE
Modifications, Outputs, Outcomes
Before: Sign up outside of ATLAS, FTIC sometimes ended up in
transfer orientations with no placement scores. Transfer students often
did not do their online piece before showing up for the on campus
piece.
Now: Sign up is within ATLAS, so must be a student with test scores.
-System distinguishes LOEP scores and tells student to call advisor if
level 4 or below.
-Reduced human error – test scores printed on paperwork.
-System pulls from SAAADMS - fewer problems with FTIC in
transfer orientations.
-Transfer students now have to do the online portion prior to being
able to sign up for the on campus portion.
-Training has been done on how to search for NSO time, date, location
and attendance.
Security, Atlas lab staff, Peers, Answer Center, Advising staff, OSD,
front office staff, Career Center and Enrollment Management. They
report that they have already been using this tool to help students.
Challenges: Evaluations already done in the workbook. Will
incorporate question in next printing.
Insights: It takes time to do something well and we are at the mercy
of people who support technology (David Speight). Bribery helps:
Dinner at Sam Snead's and Cruise tickets.