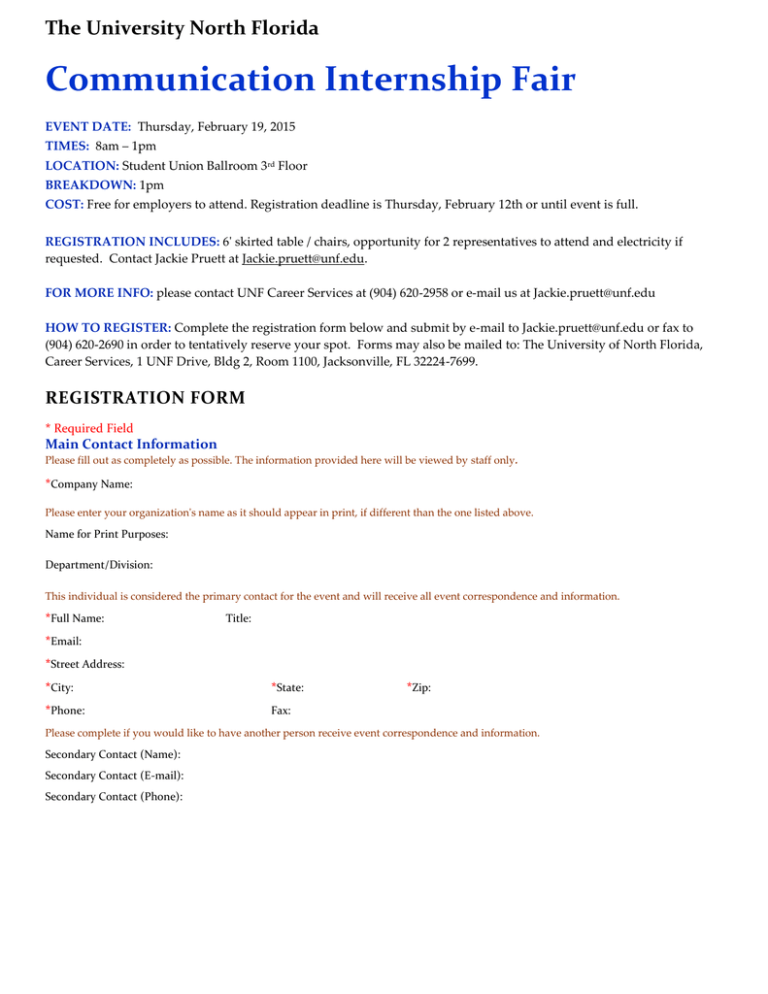 The University North Florida
Communication Internship Fair
EVENT DATE: Thursday, February 19, 2015
TIMES: 8am – 1pm
LOCATION: Student Union Ballroom 3rd Floor
BREAKDOWN: 1pm
COST: Free for employers to attend. Registration deadline is Thursday, February 12th or until event is full.
REGISTRATION INCLUDES: 6' skirted table / chairs, opportunity for 2 representatives to attend and electricity if
requested. Contact Jackie Pruett at Jackie.pruett@unf.edu.
FOR MORE INFO: please contact UNF Career Services at (904) 620-2958 or e-mail us at Jackie.pruett@unf.edu
HOW TO REGISTER: Complete the registration form below and submit by e-mail to Jackie.pruett@unf.edu or fax to
(904) 620-2690 in order to tentatively reserve your spot. Forms may also be mailed to: The University of North Florida,
Career Services, 1 UNF Drive, Bldg 2, Room 1100, Jacksonville, FL 32224-7699.
REGISTRATION FORM
* Required Field
Main Contact Information
Please fill out as completely as possible. The information provided here will be viewed by staff only.
*Company Name:
Please enter your organization's name as it should appear in print, if different than the one listed above.
Name for Print Purposes:
Department/Division:
This individual is considered the primary contact for the event and will receive all event correspondence and information.
*Full Name:
Title:
*Email:
*Street Address:
*City:
*State:
*Phone:
Fax:
*Zip:
Please complete if you would like to have another person receive event correspondence and information.
Secondary Contact (Name):
Secondary Contact (E-mail):
Secondary Contact (Phone):
Representatives
Registration includes chairs for two (2) representatives and a parking pass for 1 vehicle. Additional parking passes may be purchased from
Parking Services on campus on the day of the event for $5.00 each
*Total # of Reps Attending:
1
2
Name of Rep #1:
Name of Rep #2:
Event Options
Please note that you are responsible for bringing extension cords and any other hardware needed.
*Electrical Outlet Needed:
*Internet Access Needed:
Yes or
Yes or
No
No
Profile Information
Keep in mind all "Profile Information" will be available online for students / alumni to view prior to the event.
*Industry:
*Website:
Please input a brief description of your company which could include: mission statement, values, skills or traits you typically look for in the
ideal candidate, company culture or other details that would help students understand who you are and why they should work for your
company.
*Overview:
*Majors Recruiting For:
Degree Levels:
Bachelors
Masters
Doctorate
Certificate
*Position Types:
Internship Paid
Internship Unpaid
DISCLAIMER
Please read the following UNF policy and enter your initials to indicate your compliance.
IT IS THE POLICY OF THE UNIVERSITY OF NORTH FLORIDA NOT TO COMMIT OR PERMIT DISCRIMINATION OR HARASSMENT ON THE BASIS
OF RACE, COLOR, RELIGION, AGE, DISABILITY, GENDER, SEXUAL ORIENTATION, MARITAL STATUS, NATIONAL ORIGIN OR VETERAN STATUS IN
ANY EDUCATIONAL, EMPLOYMENT, SOCIAL OR RECREATIONAL PROGRAM OR ACTIVITY OFFERED BY THE UNIVERSITY. SIMILARLY, THE
UNIVERSITY WILL NOT COMMIT OR PERMIT RETALIATION AGAINST AN INDIVIDUAL WHO COMPLAINS OF DISCRIMINATION OR
HARASSMENT OR AN INDIVIDUAL WHO COOPERATES IN AN INVESTIGATION OF AN ALLEGED VIOLATION OF THIS REGULATION.
*Initials:
Thank you for registering to attend the
_________________ Fair!