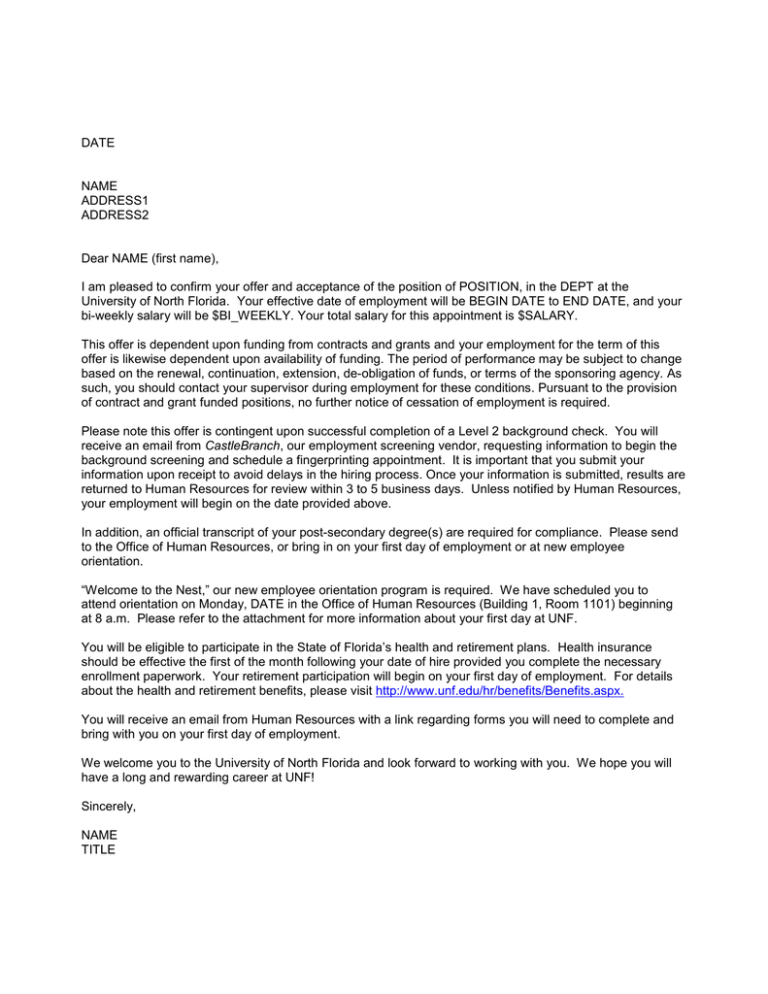 DATE
NAME
ADDRESS1
ADDRESS2
Dear NAME (first name),
I am pleased to confirm your offer and acceptance of the position of POSITION, in the DEPT at the
University of North Florida. Your effective date of employment will be BEGIN DATE to END DATE, and your
bi-weekly salary will be $BI_WEEKLY. Your total salary for this appointment is $SALARY.
This offer is dependent upon funding from contracts and grants and your employment for the term of this
offer is likewise dependent upon availability of funding. The period of performance may be subject to change
based on the renewal, continuation, extension, de-obligation of funds, or terms of the sponsoring agency. As
such, you should contact your supervisor during employment for these conditions. Pursuant to the provision
of contract and grant funded positions, no further notice of cessation of employment is required.
Please note this offer is contingent upon successful completion of a Level 2 background check. You will
receive an email from CastleBranch, our employment screening vendor, requesting information to begin the
background screening and schedule a fingerprinting appointment. It is important that you submit your
information upon receipt to avoid delays in the hiring process. Once your information is submitted, results are
returned to Human Resources for review within 3 to 5 business days. Unless notified by Human Resources,
your employment will begin on the date provided above.
In addition, an official transcript of your post-secondary degree(s) are required for compliance. Please send
to the Office of Human Resources, or bring in on your first day of employment or at new employee
orientation.
"Welcome to the Nest," our new employee orientation program is required. We have scheduled you to
attend orientation on Monday, DATE in the Office of Human Resources (Building 1, Room 1101) beginning
at 8 a.m. Please refer to the attachment for more information about your first day at UNF.
You will be eligible to participate in the State of Florida's health and retirement plans. Health insurance
should be effective the first of the month following your date of hire provided you complete the necessary
enrollment paperwork. Your retirement participation will begin on your first day of employment. For details
about the health and retirement benefits, please visit http://www.unf.edu/hr/benefits/Benefits.aspx.
You will receive an email from Human Resources with a link regarding forms you will need to complete and
bring with you on your first day of employment.
We welcome you to the University of North Florida and look forward to working with you. We hope you will
have a long and rewarding career at UNF!
Sincerely,
NAME
TITLE
Please confirm acceptance of the position as indicated above by signing below. Return the original letter in
the enclosed postage-paid envelope.
NAME
cc:
DATE
Human Resources
HELPFUL INFORMATION FOR NEW HIRES
Welcome to the Nest
"Welcome to the Nest" is our new employee orientation program to help you learn more about the University of
North Florida. During this day-long program, you will meet representatives from many departments across
campus who will provide you with information you will need as you join the UNF family. Part of your day will
include a walking tour of our beautiful campus, so please dress for the weather and wear comfortable shoes*.
During the day, you will also have your Osprey ID card made, learn about our employee portal
called myWings, set up your UNF e-mail account, learn more about our annual and sick leave benefits and
other insurance/retirement benefits. At the end of the day (at approximately 4 p.m.), you'll have the option to
speak with HR representatives, complete paperwork or report to your department. At the end of this orientation
experience, we believe you will have met some great people and learned more about this place we call home.
What to bring on your first day



Photo identification (driver's license, state ID, school ID, military ID, passport, etc.)
Social security card or birth certificate; or passport
Voided personal check (for direct deposit)
Where to park on your first day
When arriving on campus for orientation, first stop at Parking Services (the I-295 entrance) for a temporary
parking pass. Please park in the parking garage Building 38, next to the Arena, second floor or above.
HR Website
We encourage you to review the HR website at http://www.unf.edu/hr. You will find information that will help
familiarize you with the many benefits of working at UNF.
Thanks so much and we look forward to seeing you on your first day! Welcome to UNF and our Osprey family.
* Please contact HR directly at (904) 620-2903 if you need special accommodations in order to participate in the walking tour.
Please allow several days if you require a wheelchair so that we can have one waiting for you when you arrive.